Over the years, I've had my share of experiences with various teapots and tea makers. Some have impressed me, while others have left me longing for more. Today, I'm thrilled to share my thoughts on the GROSCHE Aberdeen Perfect Tea Maker, a product that's been getting much attention in the tea-loving community.
Overview of the GROSCHE Aberdeen PERFECT TEA MAKER
On Monday morning at the office, I tried out the GROSCHE Aberdeen PERFECT TEA MAKER in preparation for our 'best teapot' article.
This device stands out with a unique, all-in-one design featuring a wide-mouth top and an easy-to-remove infuser.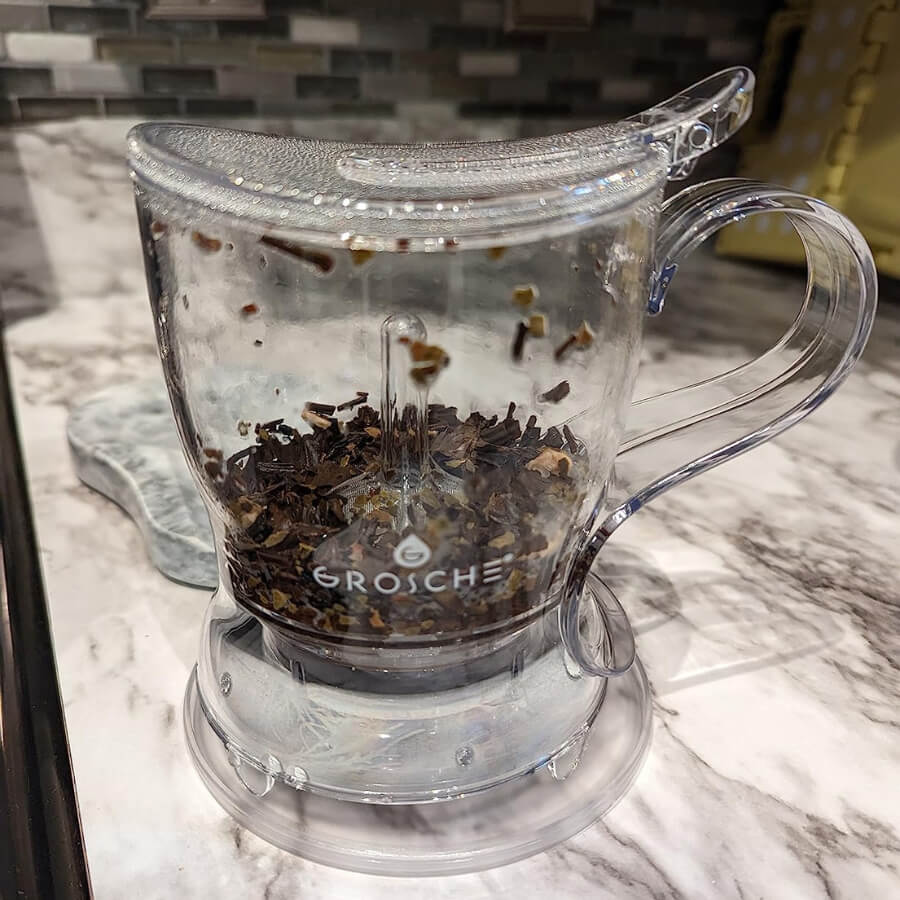 With a generous 17.7 fl. oz. capacity, this teapot caters to casual sippers and tea enthusiasts. Its bottom-dispensing design guarantees user-friendly operation, no matter the tea quantity.
Moreover, this teapot is tea-type agnostic, easily accommodating black, green, herbal, and flowering teas. Thanks to its versatile stainless-steel strainer, every brew is smooth and flavorful.
The Aberdeen scores high on safety and durability too. Crafted from 100% USA Tritan material, it outperforms models using Polypropylene plastic, promising shatterproof reliability.
In short, the GROSCHE Aberdeen PERFECT TEA MAKER is a well-designed, versatile, and durable companion for any tea enthusiast.
Read More: Best Tea Pot Reviews: Find Your Ideal Brew Companion
Easy Use and Functionality
Now, let's talk about how this teapot fares in day-to-day use. I've found it to be incredibly user-friendly. It's as if the GROSCHE Aberdeen PERFECT TEA MAKER was designed keeping us, the tea lovers, in mind.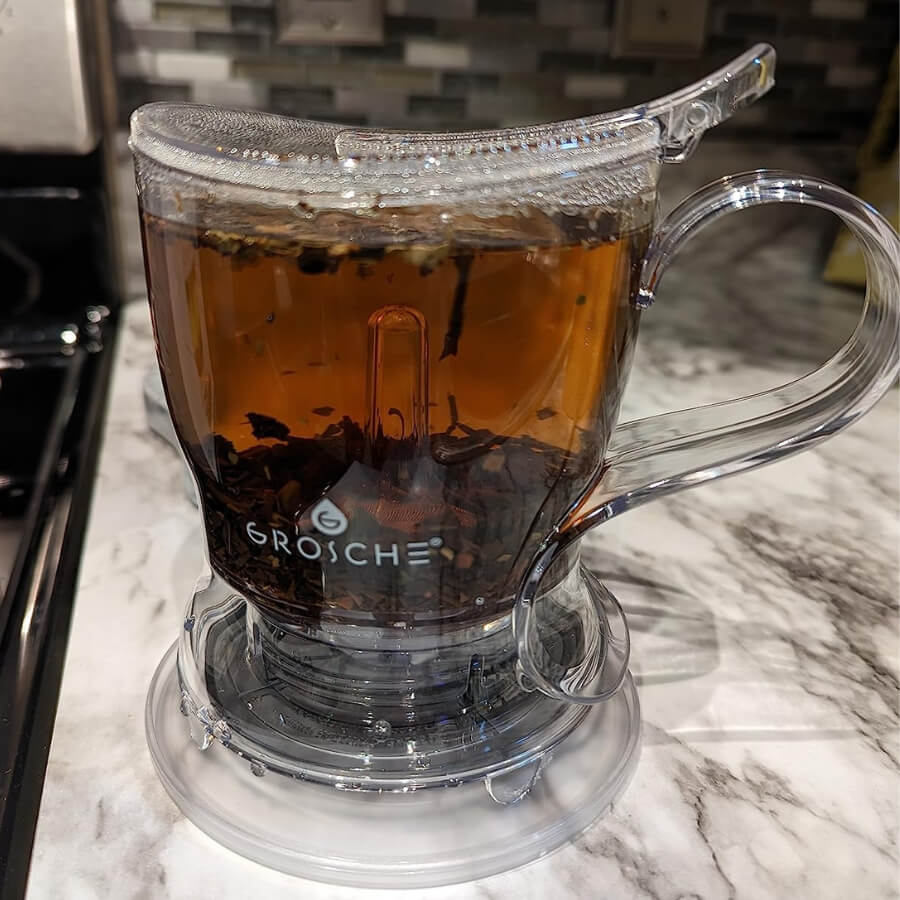 This teapot's charm lies in its simplicity. The bottom-dispensing design takes the fuss out of pouring your tea. Once your tea has steeped to perfection, just place it atop your cup, and voila! The tea flows smoothly into your cup, leaving the leaves behind. It's a neat and mess-free solution that your kitchen counter will thank you for!
If you know the Teavana Perfect Tea Maker, you might be curious about how it stacks up against the Aberdeen. Having used both, I'd say the Aberdeen is a bit more convenient, especially when it comes to cleaning. Its wider top and easy-to-remove infuser make it more user-friendly.
Cleaning and Maintenance
A standout feature of the GROSCHE Aberdeen PERFECT TEA MAKER is the ease of cleaning, a feature that other brands can't quite match. After a soothing cup of chamomile, the cleanup was refreshingly simple. The wide-mouth top and easy-to-remove infuser make the cleaning process a breeze, unlike my past experiences with other brands.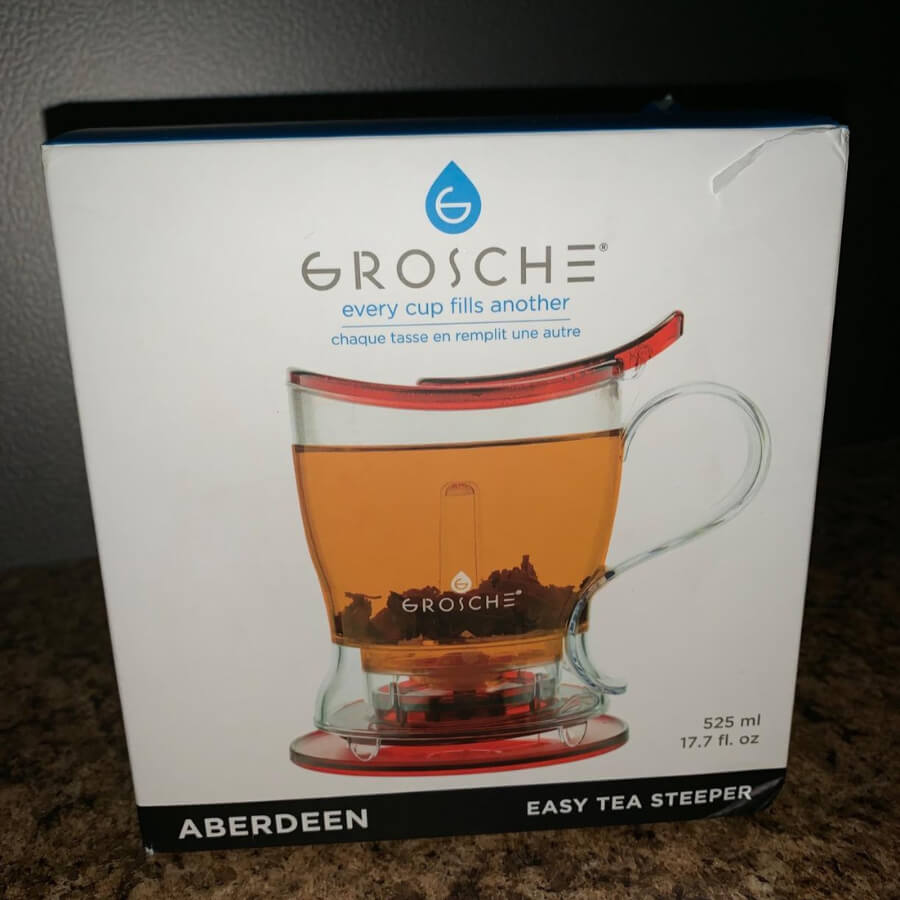 For a tea enthusiast like me, preserving my teapot's pristine condition is crucial. I've devised a gentle yet highly effective solution: mixing baking soda and soap, and applying it with a soft cloth or sponge. This combination effortlessly removes tea stains, leaving my teapot looking brand new.
Brewing Capacity
Aberdeen's brewing capacity is impressive at 17.7 fl. oz. I've experimented with brewing less tea and using it as a dispenser, which works beautifully too. Once, I had a friend over and served her some white tea. She was so impressed she ended up getting an Aberdeen for herself! It's truly a flexible device, suitable for any tea-drinking occasion.
Quality and Durability
Made with 100% USA Tritan material, the GROSCHE Aberdeen PERFECT TEA MAKER is a sturdy, shatterproof companion for all my tea adventures. I have compared it with other brands like Adagio Teas, and Teavana perfected maker, and Aberdeen comes out on top for its quality and durability.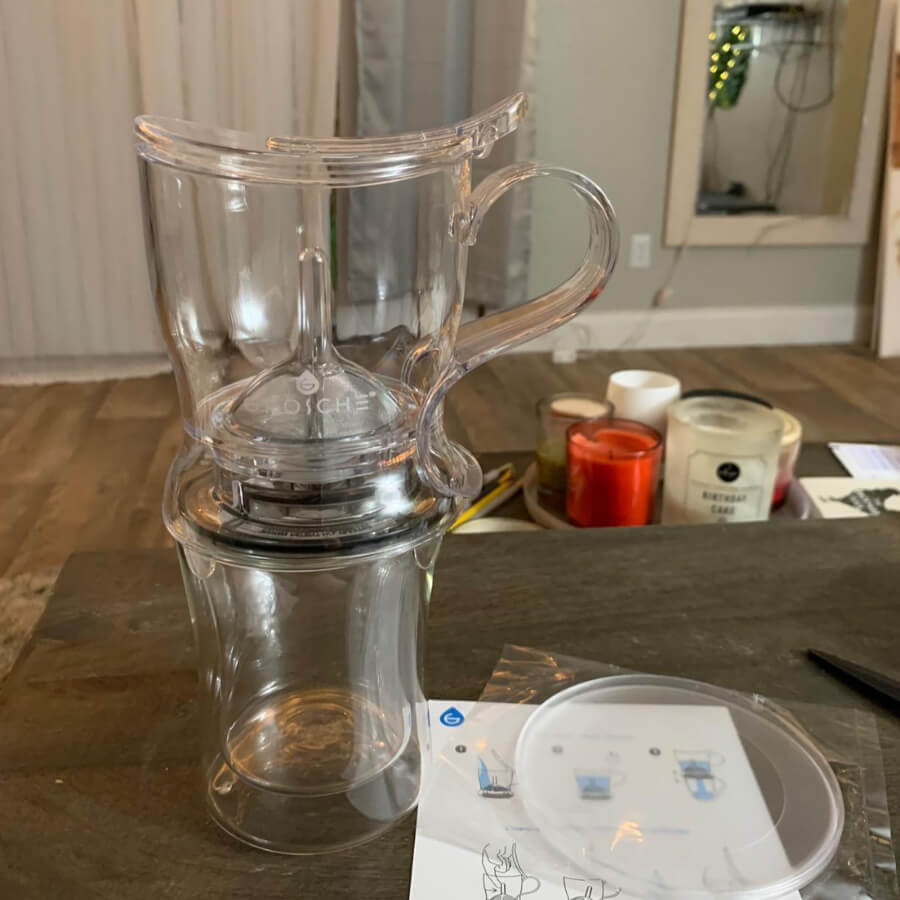 A reminder, though, that stovetop use is unsafe. I usually heat water in my trusty Breville tea kettle, then pour it into the infuser to steep it. So, make sure you have a kettle handy for heating water. Trust me, and it's worth the extra step for Aberdeen's superior tea experience.
Personal Experience and Recommendation
The Aberdeen PERFECT TEA MAKER has made tea-making a joy. Replacing my old Teavana with it was a great choice. My mom even skipped sugar in the tea I brewed, amazed by its magic! When my Teavana broke, I was heartbroken, but the Aberdeen has proven to be a worthy successor, offering user-friendly features and top-notch brewing.
Concluding Thoughts
Weighing all the benefits and drawbacks, the Aberdeen PERFECT TEA MAKER ticks almost all the right boxes. 
The ease of use, cleaning, and quality of the brew are the highlights for me, while the handle design could use a bit of improvement. However, that's a minor hitch in an otherwise stellar product.
Aberdeen is an ideal choice for anyone seeking a teapot that ensures a perfect brew every time. It's my go-to for a daily dose of my favorite loose-leaf teas.
So, fellow tea lovers, it's your turn to try the GROSCHE Aberdeen PERFECT TEA MAKER. Brew your favorite teas to perfection and elevate your tea experience. Remember to share your experiences with me! After all, a good cup of tea is a joy that's best shared. Happy brewing!
Thanks for Spiritea Drinks
Read More:
I'm Shanna, creator of Spiritea Drinks. I'm all about teaching people to grow their own food, tea, cook what they harvest, and eat with the seasons.