I've been on a relentless quest to uncover the best Oolong tea, and today, I want to share that discovery with you.
In the following guide, we'll delve into the diverse world of Oolong tea, exploring its unique varieties, health benefits, and time-honored brewing techniques to help you enjoy this extraordinary tea at its finest.
| | | |
| --- | --- | --- |
| VAHDAM, High Mountain Oolong Tea Leaves from the Himalayas | Check Price | Quick review |
| Twinings Pure Oolong Individually Wrapped Black Tea Bags | Check Price | Quick review |
| FGO – Organic Oolong Tea Bags | Check Price | Quick review |
| Prince of Peace Organic Oolong Tea | Check Price | Quick review |
| The Republic of Tea Dragon Oolong Tea, 36 Tea Bag Tin | Check Price | Quick review |
| The Tao of Tea, Black Dragon Oolong Tea, Loose Leaf | Check Price | Quick review |
| Bigelow Tea Oolong Tea | Check Price | Quick review |
The Testing Criteria for Oolong Tea
The criteria I used for evaluating the Oolong teas:
Taste and Aroma: I first consider the taste and aroma when evaluating Oolong teas. This is where the magic happens! A superior Oolong tea will have a complex flavor profile with a perfect balance of sweetness, bitterness, and astringency. The aroma should be pleasant and distinctive, evoking a sense of the tea's origin.
Tea Leaf Quality: When I examine the tea leaves, I look for consistency in size, color, and shape. High-quality Oolong teas are typically hand-picked and carefully processed to preserve the integrity of the leaf, which impacts the overall taste and brewing capability. Crumbled leaves or excessive dust could be a sign of lower quality.
Origin and Authenticity: The best place to buy oolong tea and its authenticity matter significantly to me. Knowing where to buy oolong tea might be the most important thing. Specific regions are famous for producing certain types of Oolong tea, and teas from these places tend to have unique, authentic characteristics that can't be replicated elsewhere.
Sustainability and Ethical Practices: As a tea lover, it's important that the tea I consume is sustainably sourced and that the workers involved in its production are treated fairly. Therefore, I also seek information about the tea estate's farming practices and workers' welfare.
Value for Money: While price doesn't always equate to quality, it's still important.
I try to choose Oolong teas that have the highest price-quality ratio so you may enjoy a great cup without going broke.
By using these standards, I want to provide a comprehensive assessment that will help you locate the Oolong tea that's just right for you.
The best oolong tea
VAHDAM, High Mountain Oolong Tea Leaves from the Himalayas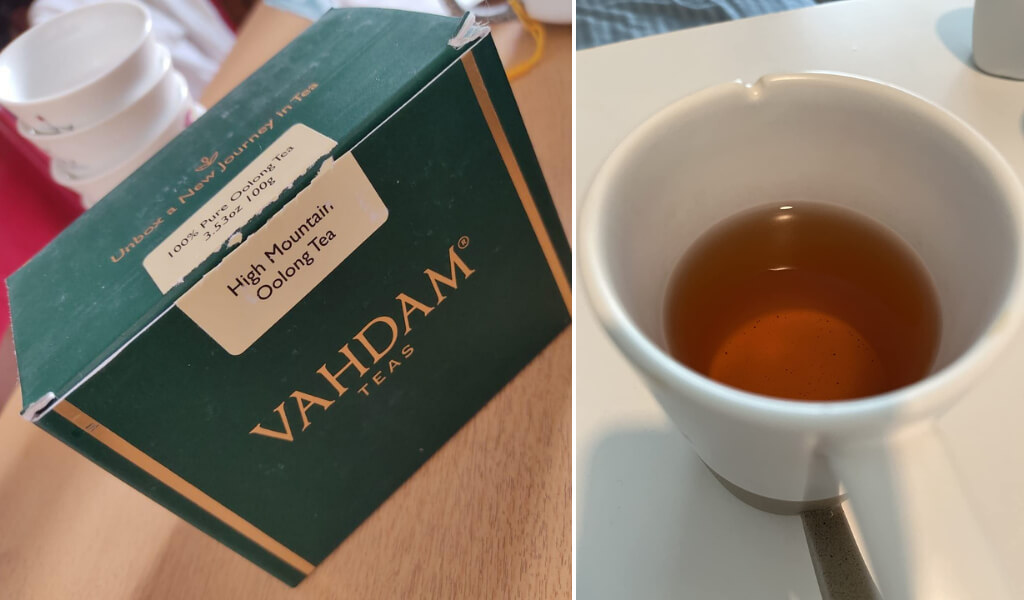 What I liked:
Unique Darjeeling twist in Oolong

Robust flavor profile

Ethical company policies

Exceptional packaging
What I didn't like:
Some inconsistency in leaf appearance
My mother knows my love for teas. She surprised me for my birthday last December – a 36 Tea Bag Tin of The Republic of Tea Dragon Oolong. It was my first encounter with these particular best oolong tea brands, and I must say, I was pleasantly surprised.
The tea takes me back to my experiences with the exquisite Formosa 'Silver-Tipped' teas, albeit with a slightly more robust flavor and a darker brew. What sets it apart is an unexpected twist – a hint of Darjeeling! Imagine a floral undertone combined with a smokey grape or raisin note that hits subtly on the way down. It's unique and adds an interesting complexity to the recognizable Oolong taste I enjoy.
Visually, the leaves show a mix of long strip-style leaves and broken tips, inconsistent in size, shape, and color. The brewed tea is a medium amber color, brighter around the rim, much like the hue of honey. The aroma is just as wonderful, a warm blend of black tea with a subtle hint of citrusy bergamot – inviting and comforting.
With a subtle bergamot citrus undertone, a sweet maltiness, and a trace of leather on the end, the taste profile is well-rounded.
I should also laud VAHDAM. Their dedication to becoming plastic- and carbon-neutral, as well as their support of staff education initiatives, resonated with me. A notable touch is the packaging, which includes a heavy-duty plastic zipping bag for storing thereafter and vacuum sealing the tea in foil to keep it fresh.
What truly sets VAHDAM apart is its commitment to responsible tea procurement. Every sip is a tribute to the beautiful Darjeeling and the fascinating stories of the Himalayan tea estates where these leaves are grown.
Twinings Pure Oolong Individually Wrapped Black Tea Bags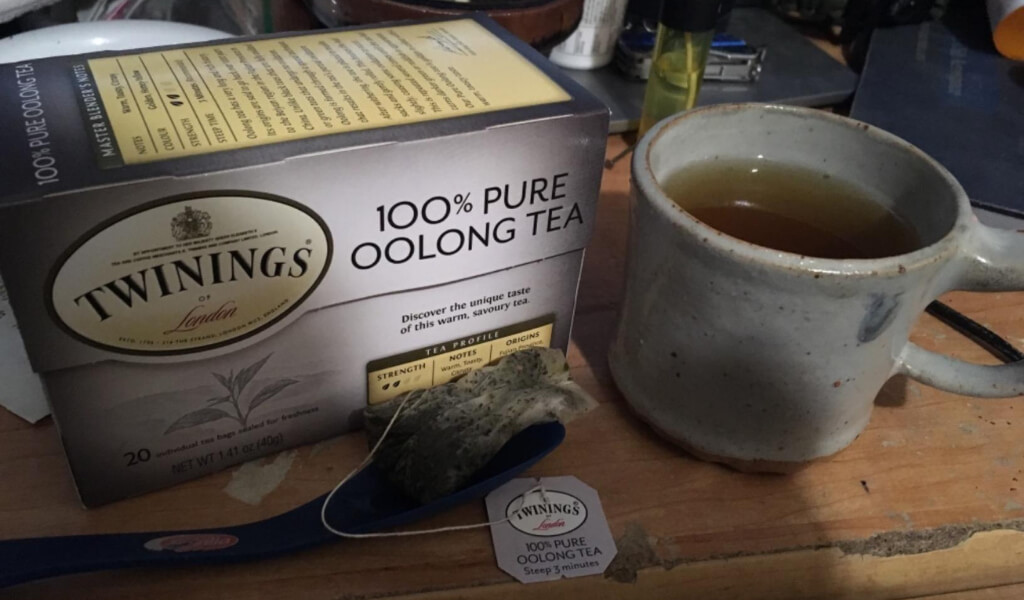 What I liked:
Toasty flavor with a hint of jasmine

Long-lasting strength of each tea bag

The perfect alternative to coffee

Great value for money
What I didn't like:
Packaging could be improved

Not the strongest tea available
Last month, I decided to explore the realm of Chinese teas, and my journey led me to Twinings Pure Oolong. As a tea lover, I was excited to try a variety that traces back over 1000 years to the Baiyun region in the Fujian Province of China. The moment I brewed my first cup, I understood why it has survived through the centuries. It's a tea of exquisite balance, delicacy, and warmth.
The technique used in making this tea results in partial oxidation, creating a unique, toasty flavor. While it's not the top-rated oolong tea, its strength is just right for my taste. A 5-minute steep time is ideal for drawing out the subtle hint of jasmine, leaving me with a delightful infusion that's quite unlike any other tea I've sampled.
What blew me away about Twinings Pure Oolong is its reusability. One tea bag goes a long way – I could pour hot water over it four times and still enjoy a robust brew. It's excellent for those long days when you need a steady supply of caffeine without resorting to multiple tea bags or, heaven forbid, coffee.
Speaking of coffee, this tea is a good option for anyone trying to cut back. I found it strong enough to keep me energized throughout the day, using a simple process of steeping, boiling, and re-steeping that lasted from morning to evening.
Moreover, this tea was a hit when I served it to a group of ladies from my church during an afternoon tea gathering.
Anyone looking to try something new without going broke might consider it because the pricing is fair.
The Baiyun region's centuries-old tea customs are carried inside this little tea bag, giving it a historical punch. You nearly feel the rich history of Fujian Province tea developing in your cup as you take a drink.
The only drawback was the packaging. While the individually wrapped tea bags were perfectly intact, the boxes were damaged due to being shipped in a soft envelope, which was disappointing for such a high-quality product.
Read More: When To Drink Oolong Tea? My Test & Figure Out
FGO – Organic Oolong Tea Bags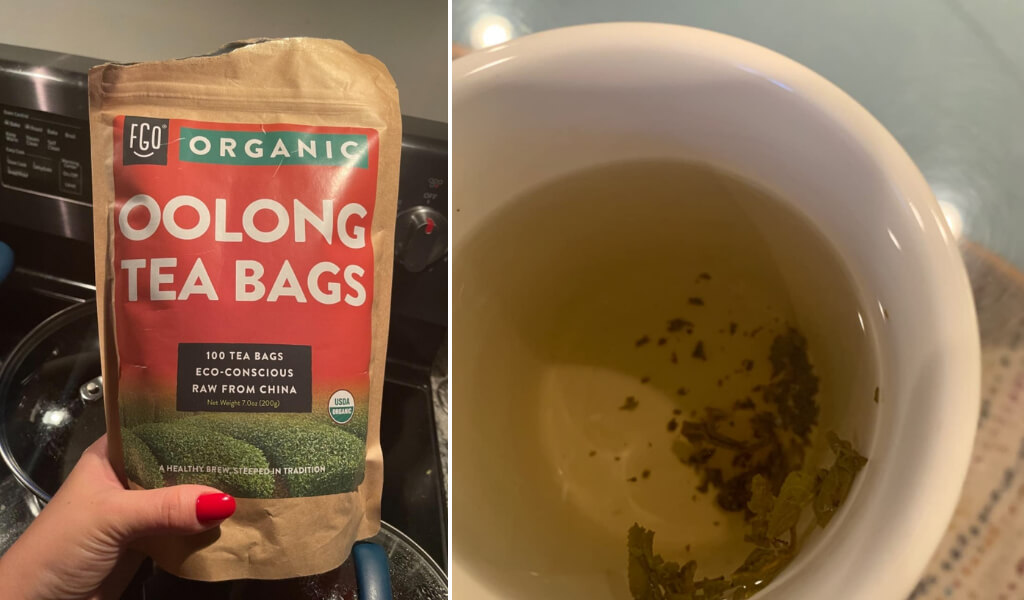 What I liked:
The warm and nutty flavor profile

Excellent quality of tea leaves

Freshness sealed in each bag

Best oolong tea for weight loss
What I didn't like:
Needs straining due to loose leaves

The price is a bit on the higher side
When I first encountered FGO's Organic Oolong Tea, I was intrigued by its unique position as a semi-oxidized tea, a midpoint between the familiar green and black teas. This specific blend hails from China and is 100% raw, promising the best chinese oolong tea brand experience right from the source.
Packaged neatly in resealable bags of 20 or 100 tea bags, it's evident that FGO values freshness and convenience for their customers.
Upon brewing, I was greeted by a warm, nutty flavor that was soothing and refreshing, a much-needed mid-day pick-me-up. This Oolong tea offered a pleasant diversion from the typical pale Japanese tea, brimming with a distinct Chinese green tea flavor. It's worth noting that this is the best loose leaf oolong tea, so be ready with a tea ball or strainer to catch those little floating stems.
As for the quality, I found this best organic oolong tea to be excellent, noticeably above par. Yes, the cost might be slightly high, but it's worth every penny for the taste of freshness in every sip. I found myself gravitating back to this tea again and again.
While the flavor is generally pleasing, it was too strong for my preference. However, adding a dab of orange or regular honey enhanced the taste significantly, making it right for my palate. 
As a bonus, the unique Oolong tea health benefits go beyond traditional health improvements. This may sound amusing, but I heard a rumor on TikTok that spearmint tea, a relative in the flavor profile, could assist in certain physical enhancements.
Prince of Peace Organic Oolong Tea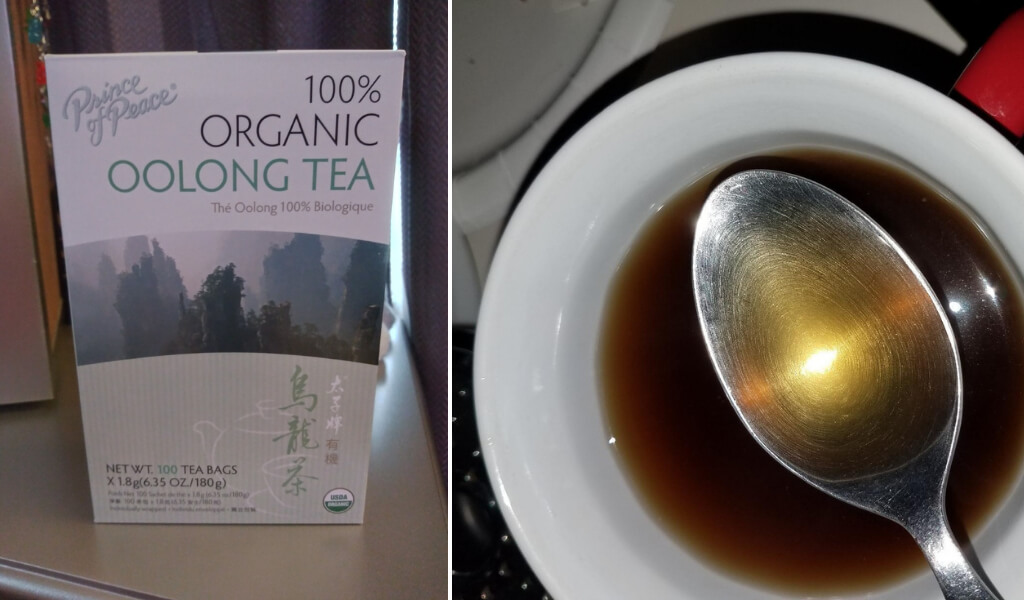 What I liked:
Recalls authentic oolong flavor

Freshness in every steep

Soothing and beneficial for health

Convenient availability online
What I didn't like:
Unavailability in local stores
Living in a bustling city like San Francisco, I tried best tasting oolong tea near Chinatown. My tea journey led me to Prince of Peace Organic Oolong Tea, a blend that recalls my initial encounters with oolong tea's flavorful, delicate nuances. For someone who has tasted several oolong varieties over the years, I can attest that this is one of the best I've experienced in a long time.
After using this tea for about two weeks, I found its delightful freshness. Whether I like steeping or making oolong tea for hot or cold refreshing batch, the fragrance and taste never fail to impress me. Oolong makes the perfect afternoon tea. While mornings call for black tea with milk and sugar, this organic oolong is a comforting afternoon treat, sometimes enjoyed with honey.
Prince of Peace Organic Oolong's soothingness is one feature that makes it stand out. On days when I've been under the weather or indulged too much in refined carbs, a warm cup of this tea has helped bring my blood sugar levels back down and uplift my spirits.
Even as a frequent diner at my favorite Chinese restaurant, where I've often enjoyed this tea, it took me some time to bring this indulgence into my home. After a futile search across local stores, I ordered it online. The availability of this oolong tea on Amazon was a boon.
The Republic of Tea Dragon Oolong Tea, 36 Tea Bag Tin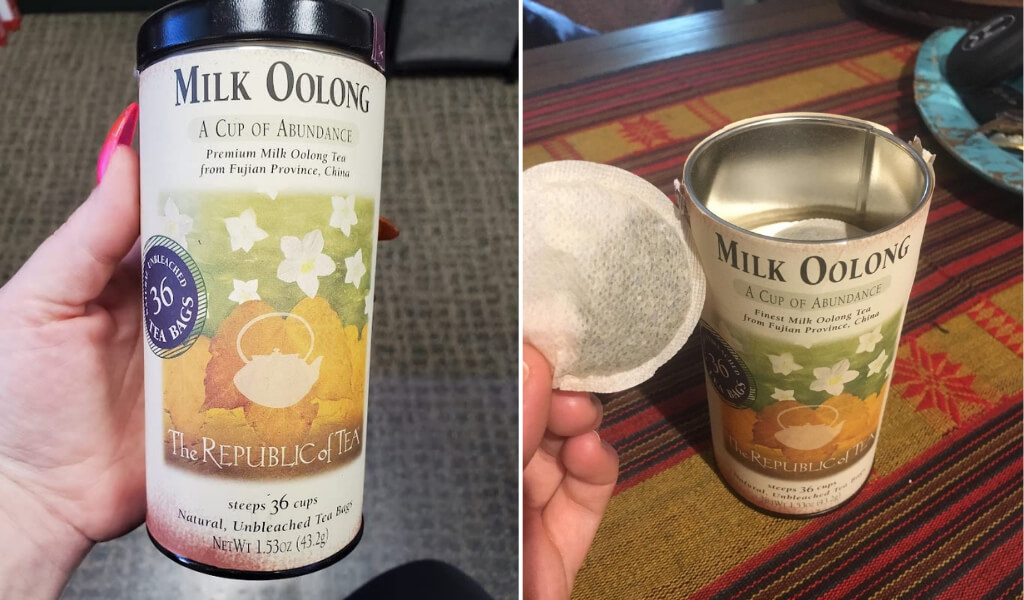 What I liked:
Wide variety of flavors

Mild and pleasing aroma

Sustainable packaging and practices

Peach and orchid overtones
What I didn't like:
Lacking freshness compared to loose tea
My love for tea dates back to my college days when I first discovered The Republic of Tea on campus.
After moving back to my hometown, it took me a few years to stumble upon it again.
Naturally, The Republic of Tea was our best brand of oolong tea due to its affordability, quality, and wide variety of offerings. One of their many products, Dragon Oolong Tea, soon became a household favorite. It's a milder blend, making it a safe bet for those unsure about their preferences or new to the best oolong tea Taiwan. You can enjoy it hot or cold – it's pleasant either way and carries a lovely aroma that's hard to resist.
With its smooth, delectable oolong flavor and subtle undertones of peaches and flowers, this mix will wow you. I've ordered extra for myself and as gifts for others since the perfume is so good.
The Republic of Tea, as a brand, impresses with its focus on sustainability. Their packaging and the tea bag containers are of excellent quality, and it's heartening to see that you can repurchase just the tea bags, reusing your container – an eco-friendly practice I deeply appreciate.
The Republic of Tea takes its environmental responsibility seriously with its sustainable tea packaging practices. The Dragon Oolong blend, with its delicate overtones, is like a floral bouquet in a cup, echoing the fragrances of peaches and orchids. Truly a symphony of flavors.
However, the convenience of the tea bags comes at a cost. I've noticed the tea needs to have the freshness typically associated with loose-leaf tea.
In conclusion, this is a great introduction to the oolong variety and an affordable, sustainable choice for tea lovers. Despite a slight compromise on freshness, the Oolong tea flavor and delicate overtones make it a blend worth trying.
The Tao of Tea, Black Dragon Oolong Tea, Loose Leaf
What I liked:
Toasty aroma and complex flavor

Good for multiple infusions

Value for money

Secure packaging
What I didn't like:
My curiosity was piqued when I spotted The Tao of Tea Black Dragon Oolong during a grocery run. My regular green tea was out of stock, and the word "Dragon" in the name drew me towards it. I'm glad it did because the experience was like uncovering a hidden gem.
This Black Dragon Oolong exceeded my expectations, particularly considering its price. The first thing that struck me was its toasty aroma – it was so captivating that I inhaled the steam for a few minutes before even taking a sip. Taste-wise, it seemed like a love child of Yunnan and Sencha teas. The flavor leans more towards the black tea side, but now and then, you catch this elusive hint of green tea that adds a beautiful complexity to the blend.
As I explored this tea, the term 'Dragon' in its name felt more like an ode to its exquisite flavors. I was quite taken with how the Black Dragon Oolong from The Tao of Tea enchanted my palate. Each taste revealed a new layer of intricacy that was deliciously revealed, similar to a gripping mystery. There's a good reason why this mix has earned a special place in my collection of teas.

One aspect that truly stood out was the lasting power of this tea. I managed to get four infusions out of one batch. Even on the fifth go, when I mixed it with jasmine tea, the Oolong flavor was still distinct. Quite impressive, I must say!
The packaging was also appealing, especially the tin, which I found charming with its nice lid. The sealing tape ensured the product hadn't been tampered with, which was reassuring. However, I noticed the tea jar bent, which could have been better.
Despite a minor hiccup with the packaging, I highly recommend The Tao of Tea Black Dragon Oolong. The robust flavor, subtle floral tones, and impressive infusion longevity are everything I want in my Oolong tea, and I'm sure many other tea lovers will appreciate these attributes too.
Bigelow Tea Oolong Tea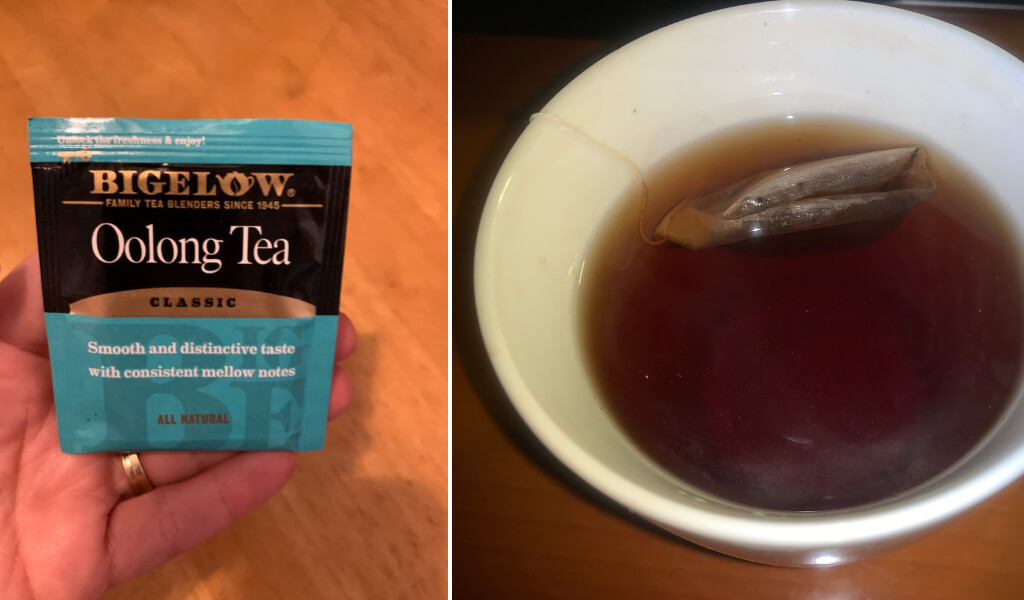 What I liked:
Strong vanilla and caramel flavor

Individually wrapped tea bags

Great value for money
What I didn't like:
Adjusting to the caffeine content
The moment I had my first sip of Bigelow Tea Oolong Tea, I knew it was love at first taste. Its strong flavor, an irresistible blend of vanilla and caramel, hooked me. It was so delightful that I could easily finish a box in just a few days!
This was my first foray into caffeinated teas. I wasn't aware of how much caffeine in oolong tea when I ordered it, an interesting surprise for someone not used to coffee or soda. At first, figuring out the right steeping time was a balancing act. After a few tries, I discovered the perfect balance – even when brewed with cold water and a dash of honey, it tastes great.
What makes this tea truly special is the delicate hint of vanilla. It adds a gentle complexity to the overall flavor that's just so pleasing. The individual wrapping of each tea bag is another detail I appreciate, as it guarantees freshness and convenience.
It also offers incomparable value, proving to be more affordable than comparable products from the grocery store.
Bigelow Tea Oolong Tea is a fantastic choice if you want a strong, delicious tea with a touch of sweetness. It could take some time to get acclimated to if you're sensitive to caffeine, but the flavor is worth the effort.
The choice is yours
These tea varieties I've shared above, ones I've personally enjoyed at home, encapsulate the rich diversity of oolong teas.
Keep in mind that every person has a different palate, therefore the tea that appeals to you the most is the ideal tea for you.
I urge you to start your tea adventure and choose the ideal oolong tea for you. Let your taste buds direct your route, but use this guidance as a starting point. Cheers to that!
Review made by the team of Spiritea Drinks
FAQs
What is the healthiest type of oolong tea?
All types of Oolong tea boast health benefits, but Tieguanyin (Iron Goddess) Oolong often tops the list. This Oolong variant is packed with antioxidants and beneficial compounds that can aid in weight loss, improve heart health, and potentially reduce the risk of developing chronic diseases such as diabetes and cancer.
Can I drink oolong tea every day?
Yes, you can enjoy oolong tea daily. It's a delicious beverage with several health benefits, from aiding digestion to boosting metabolism. However, like any caffeinated drink, moderation is key, and avoiding consuming it late in the day is important to ensure it doesn't interfere with your sleep.
What is the most popular oolong tea in China?
Tieguanyin, also known as Iron Goddess of Mercy, is China's most popular oolong tea. This tea, famed for its floral aroma and lingering sweet aftertaste, is deeply ingrained in Chinese tea culture and is often used for Gongfu tea ceremonies.
How do I choose oolong tea?
Choosing an oolong tea depends on your flavor preferences. For a floral, light flavor, opt for teas like Tieguanyin. If you prefer a more robust, roasted flavor, Wuyi Rock Oolong teas would be ideal. It's always a good idea to buy from reputable brands and look for high-quality, organic options
What brands of oolong tea are in China?
China has a variety of oolong tea brands, such as TenFu's Tea, China Tea (ZhongCha), and Tie Guan Yin. These brands offer a wide range of oolong teas, from traditional favorites like Tieguanyin to unique blends with complex flavors.
Is oolong tea popular in China?
Yes, oolong tea is immensely popular in China. It is significant in Chinese tea culture, and different variants are enjoyed nationwide. Its rich flavor profiles and health benefits make it a beloved choice for many.
What is China's most famous tea?
China's most famous tea is arguably Longjing, also known as Dragon Well green tea. This tea is renowned for its high quality, unique flat leaf shape, and distinctive nutty and sweet flavor. However, oolong teas like Tieguanyin are also incredibly popular and well-known.
What is the number 1 tea brand in China?
The number 1 tea brand in China is TenFu's Tea, known for its extensive range of high-quality tea products. From green tea to oolong, black, white, and puerh, TenFu's Tea has a vast selection that caters to all tea enthusiasts.
What country is famous for oolong tea?
Taiwan oolong tea has been globally renowned for many years. The island's special geography and weather create the perfect conditions for cultivating tea, leading to exceptionally high-quality oolong teas, especially the renowned High Mountain (Gao Shan) teas.
Is oolong tea from China or Taiwan?
Oolong tea originated in China, specifically the Fujian province, and is still widely produced there. However, Taiwan, formerly known as Formosa, has also become famous for producing high-quality oolong teas, which are enjoyed worldwide.
Do Japanese drink oolong tea?
Yes, Japanese people do drink oolong tea, although green teas like Matcha and Sencha are more commonly associated with Japanese tea culture. However, oolong tea has gained popularity in Japan for its distinct flavor and health benefits.
I'm Shanna, creator of Spiritea Drinks. I'm all about teaching people to grow their own food, tea, cook what they harvest, and eat with the seasons.