Clearly I need to work on my dough rolling skills, but this was such a fun and easy dinner to make. I saw this idea for a Two Ingredient Flatbread on BuzzFeed's Tasty and then the day after on Pinch of Yum's Instagram. It was a sign; I needed to make this. That coupled with my pizza cravings, I added fresh basil, mozzarella, red peppers, red onion and zucchini to a flatbread for some homemade 'za. The flatbread is just self-rising flour mixed with full-fat plain Greek yogurt. Each flatbread packs 10 g protein per serving. Cook two ways: place in a skillet for a naan-like bread or bake as a pizza crust.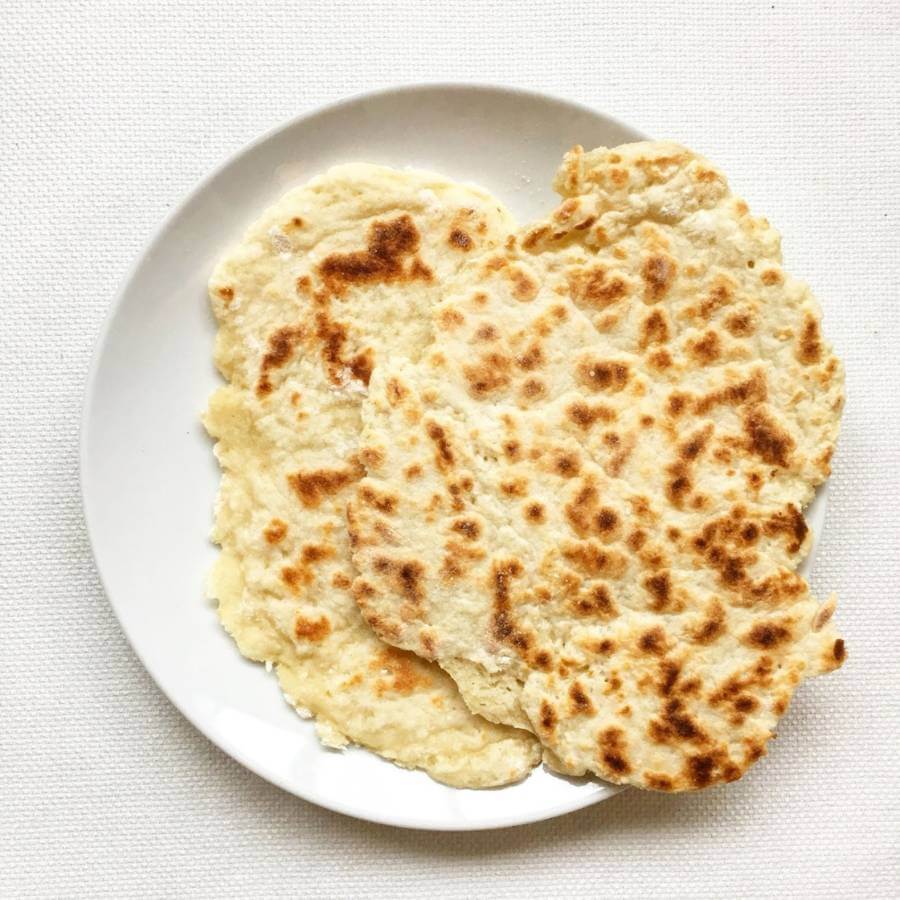 Ingredients (serves 2-4)
1¼ c self-rising flour
1 c plain full-fat Greek yogurt
Directions
In a bowl, mix together flour and yogurt with a spoon until dough forms and all the flour is evenly and smoothly incorporated. (You may need to use your hands to help flour fully mix in; knead for about 1 min.) With your hands, gently form dough into a ball.

On a clean, floured surface, cut dough into 4 wedges. (For a larger flatbread, only cut into 2 pieces.)

Roll out each wedge, adding flour as needed to prevent sticking. I rolled my flatbread until about 1/4″ thick with about an 6-8″ diameter.

Cook dough based on either method below.
For naan-like flatbread:
In a dry, hot skillet over medium-high heat, place rolled-out dough.

Cook 2-4 min per side until golden brown and cooked through.
As pizza dough:
Preheat oven to 400ºF.

Place rolled out dough on a pizza pan or baking sheet.

Bake 5-10 min until firm and cooked through.

Top with desired toppings and bake another 5-10 min until pizza is golden brown.

Either freeze dough or any leftover cooked flatbreads.
5. Enjoy hot!
From BuzzFeed Tasty's "2-Ingredient Flatbread" (skillet version) and Pinch of Yum's "3 Ingredient Pizza Dough."
Nutrition for 1/4 of dough.
192 calories

2.8 g fat (13%)

30.1 g carbs (65%)

10 g protein (22%)

3.5 g sugar
Read More:
The benefits of making homemade flatbread
One of the joys of making homemade flatbread is the knowledge and control over what's going into your food.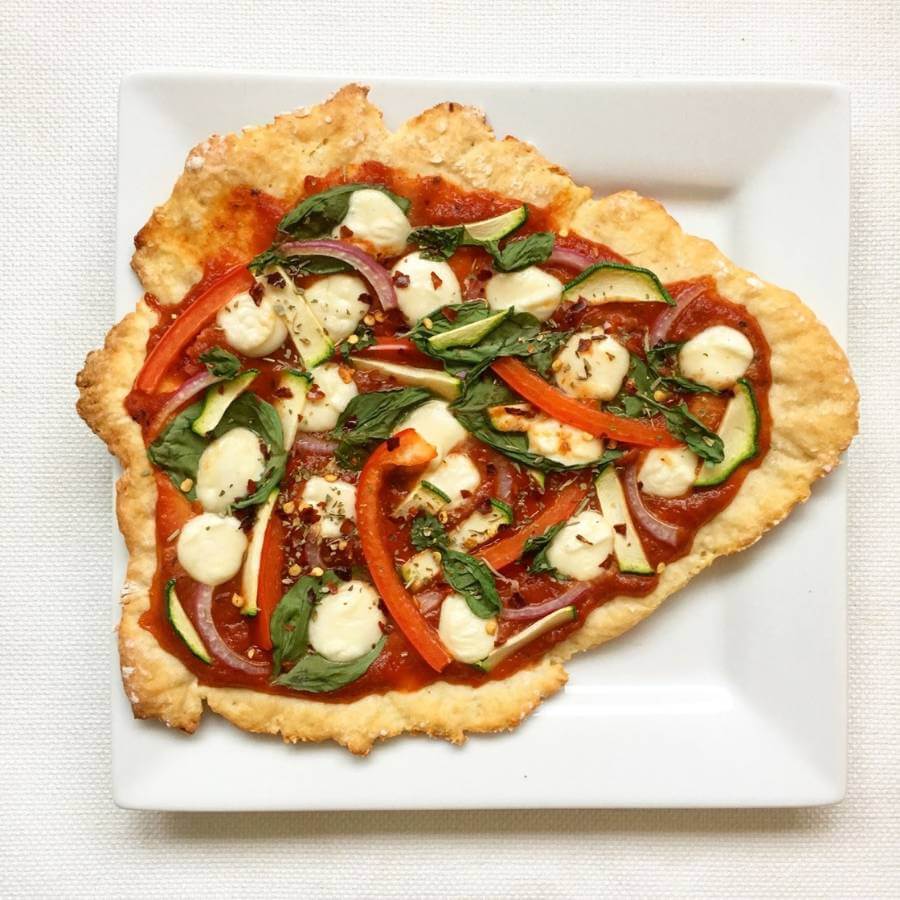 Unlike store-bought flatbreads that may contain preservatives and artificial ingredients, making your own ensures you're eating wholesome ingredients.
Additionally, homemade flatbread is incredibly versatile and can be used in a myriad of dishes, from wraps to pizzas, and even desserts.
Besides the nutritional benefits, there's a certain satisfaction and therapeutic element to kneading and rolling out your dough, making the process not just a culinary exercise, but a soothing activity as well.
Creative topping ideas for Your Flatbread
The beauty of flatbread lies in its versatility. While the recipe provided gives a nod to pizza, there are numerous ways to jazz up your flatbread. For a Mediterranean twist, consider spreading hummus, topped with sliced cucumbers, cherry tomatoes, kalamata olives, feta cheese, and a drizzle of olive oil. If you're in the mood for something sweet, try slathering your flatbread with almond or peanut butter, sliced bananas, a sprinkle of chia seeds, and a drizzle of honey. Those craving an Asian flair might enjoy a spread of hoisin sauce, grilled chicken, scallions, and a sprinkle of sesame seeds. The possibilities are truly endless, allowing you to get creative and cater to your unique palate.
Read more articles here.
I'm Shanna, creator of Spiritea Drinks. I'm all about teaching people to grow their own food, tea, cook what they harvest, and eat with the seasons.