I know the journey to the perfect cup of tea begins long before the Kettle whistles. It starts with the best teapots.
My team and I have embarked on an exhaustive exploration, buying and trying out twenty types of Teapots to help you navigate the sea of options. After months of brewing and tasting, we've whittled it down to a top-notch selection of eight that excelled in each criterion.
We carried out rigorous tests in our office and even took these Teapots home for a more personal tryout. Our mission? To ensure that we bring you a rundown and the most reliable guide to the best Teapot of 2023.
Top 8 best teapots you must have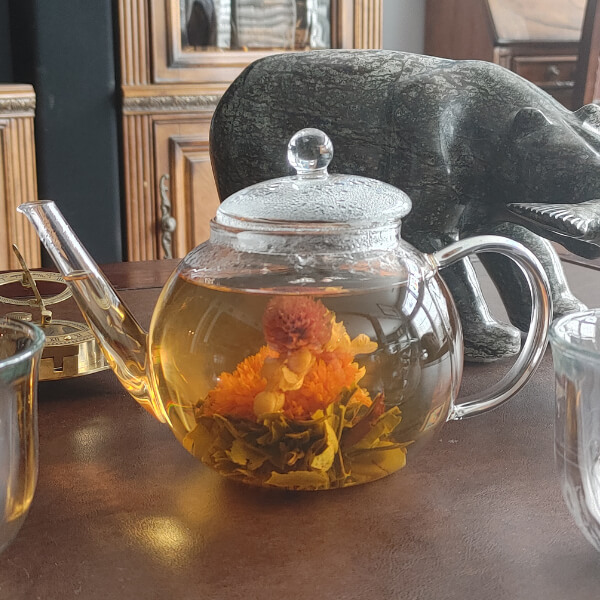 What we liked:
Premium borosilicate glass.

Microwave and dishwasher safe.

Two infusers for multiple brews.

Heat-resistant handle.
What we don't like:
Lid doesn't stay put.

Holds less tea than advertised.
After days of anticipation, the Teabloom Teapot finally arrived at our office, packaged safely and ready to join our teapot trials. Unboxing it was a thrill; its premium borosilicate glass body gleamed like crystal under the office lights, and we couldn't wait to put it to the test.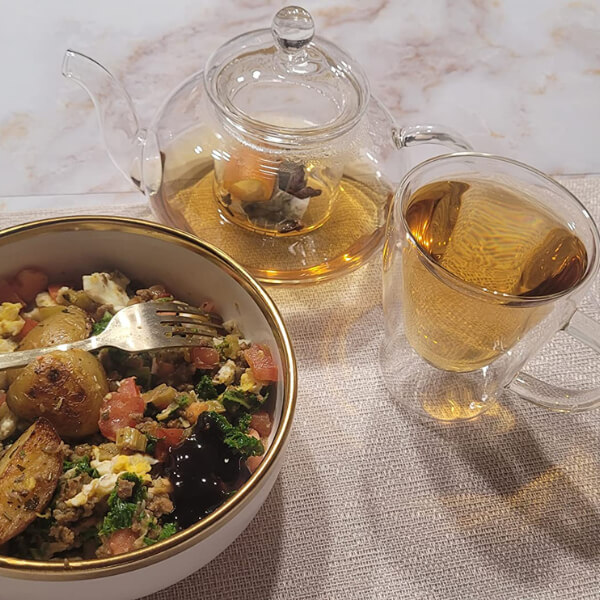 There's something inherently aesthetic about this Teabloom teapot. Its clean, stain-free glass makes it a perfect addition to any kitchen counter. I left it out during our trial week to admire its simple elegance.
Its heat-resistant and microwave-safe features made our tea-brewing sessions safe and convenient. Even after a long, steamy brew, the handle stayed cool, making it safe to lift and pour without mittens. I have to admit, it felt slightly fragile at first, but that's just the deceptive nature of borosilicate glass; it's surprisingly durable and scratch-resistant.
Cleaning these best tea pots was a breeze. Its wide mouth made it easy to clean, and the removable stainless steel top could be stored on the lid, preventing heat loss. Its removable and reusable loose tea infuser doubled up as a flower vase on some days, making this teapot a versatile addition to our workspace.
However, this teapot's true beauty lies in its brewing capacity. It comes with two infusers that allow you to brew two different types of loose tea simultaneously – a feature that came in handy when we couldn't decide between our favorite teas. A few small particles escaped the infuser, but running that last cup through a tea strainer solved that issue.
The lid, however, was a bit tricky to handle; it didn't stay put when the infuser was removed. And while the best teapots claim to hold 40 ounces, in our experience, it was closer to 30 ounces with the infuser in place. Still, it's enough for a comforting solo tea session or a small gathering.
With the dishwasher-friendly feature, cleanup was quick and easy, ensuring we could move on to the next round of tea tasting without delay.
Bottom line: It is a versatile and convenient teapot perfect for tea enthusiasts who value functionality and flexibility. Whether you enjoy adventurous outdoor trips or prefer cozy tea moments at home, this teapot is designed to meet your needs.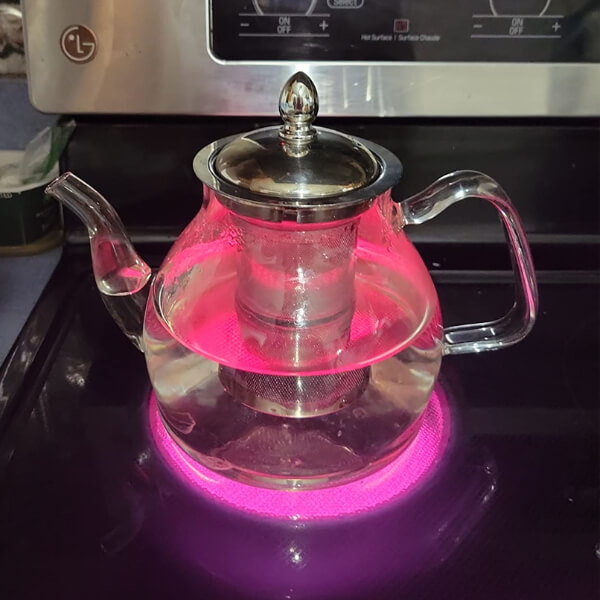 What we liked:
Superb tea purity

Delicate but durable

Ideal pouring arc
What we don't like:
This Chaishot Borosilicate Glass Teapot combines high-quality borosilicate glass and food-grade stainless steel in an elegant design. Its teapot brings aesthetics to your tea session and reliability with its corrosion-free, microwave, and dishwasher-safe features. The wide opening eases the cleaning process, while the tightly fitted lid eliminates the worries of spillage, keeping your tea-time mess-free.
One afternoon, during our weekly tea sampling, Henry, our green tea enthusiast, was smitten by this best teapot for keeping tea hot. He was taken by the way the sunlight caught the crystal clear glass as he poured his favorite Sencha. He remarked that the taste of the tea was notably unadulterated, retaining the tea's natural essence, a factor he attributed to the food-grade stainless steel infuser.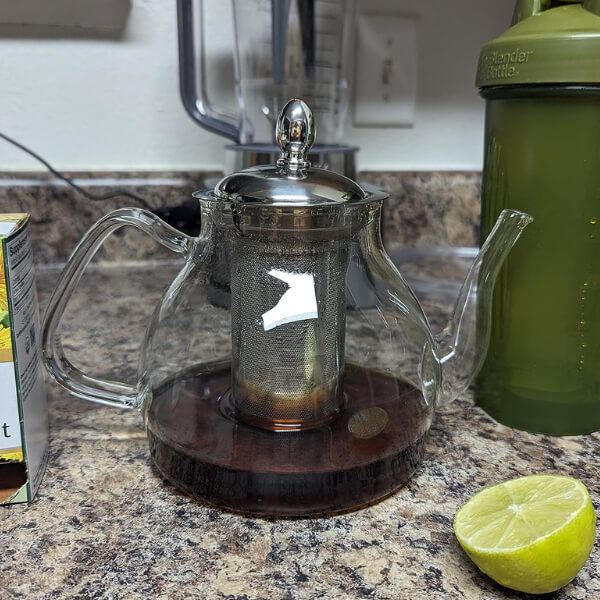 Intrigued by the teapot's 'stovetop safe' claim, Henry decided to test it out one chilly Wednesday evening. Although apprehensive about the teapot's thin glass on a hot burner, he was pleasantly surprised. This best teapot to keep tea hot withstood the heat remarkably well, adding another feather to its cap.
With its 40-ounce capacity, this best teapot to keep tea hot caters to both solo tea sessions and larger tea parties. However, despite its strengths, Henry expressed some reservations about the fragility of the teapot best, cautioning that it might not survive a tough encounter with granite or steel.
Yet, the Chaishot teapot's redeeming quality lies in its perfect pouring arc, eliminating unwanted drips. Its sturdiness was a surprise, as it proved dishwasher-safe and more robust than it initially appeared.
Despite his minor concerns, Henry conceded that the teapot that keeps tea hot was tougher than it looked, providing a beautiful, efficient tea brewing experience. Still, he mused that a sturdier ceramic teapot might be his go-to for daily rough and tumble.
Bottom line: With its generous capacity and sleek glass design, it's ideal for those who enjoy brewing and serving large quantities of tea elegantly and modernly.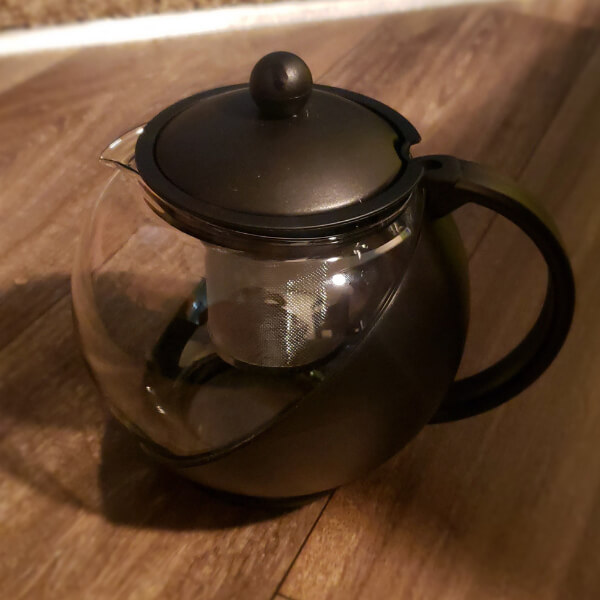 What we like:
Blue borosilicate glass pot.

Convenient mesh filter.

Heat-protective holder.

Good brewing capacity.
What we don't like:
Feels more plastic-like than glass.

The metal strainer warps with hot water.
When I first saw the Primula Half Moon teapot, its quaint, blue borosilicate glass pot caught my attention. The blue hue gives it a cool, serene feel, fitting for those calming tea breaks we all need occasionally.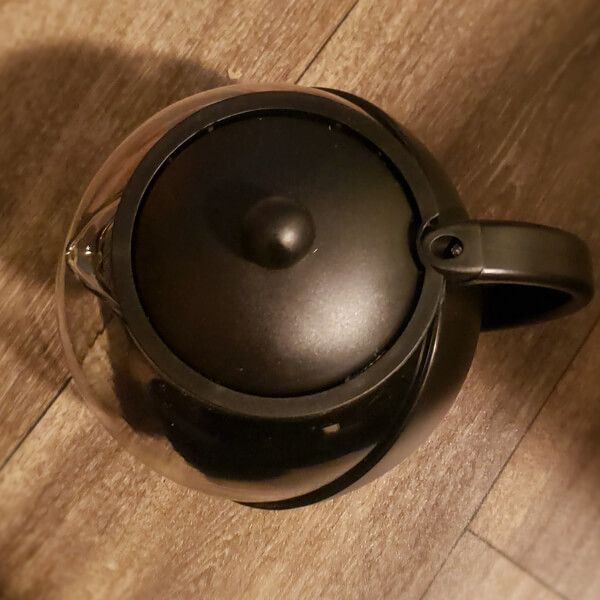 Brewing tea with this teapot for steeping was a seamless experience. The mesh filter was a welcome convenience, letting me easily brew loose-leaf teas. No fussing about with tea bags, and just as conveniently, it handled them with grace when I used them.
The blue protective holder was something that instantly stood out. It lent a reassuring safety feature, preventing my hands from any burns while handling the hot pot. And pouring was a dream, thanks to the comfortably designed handle.
With its 40-ounce capacity, this nice teapot was a hit during our small office tea parties. It was versatile enough to brew just one cup of tea or multiple cups to share with my colleagues.
However, the overall feel of the teapot was lighter than expected, making it feel more like plastic than glass. The metal filter also tended to warp slightly with hot water, though it still performed admirably.
While I liked the Primula Half Moon teapot and found it a worthwhile addition to my tea brewing tools, it might not be my first choice for a gift due to its slightly cheaper feel. Nevertheless, considering its price and functionality, it's a fantastic buy for personal use.
As far as cleaning goes, it was a straightforward affair. The dishwasher-safe feature was a time-saver on those busy days. It's a stylish and convenient addition to any tea lover's collection.
Bottom line: The Primula Half Moon Teapot is perfect for tea enthusiasts who appreciate style and functionality. Its sleek and elegant design helps you enjoy savoring a peaceful time alone.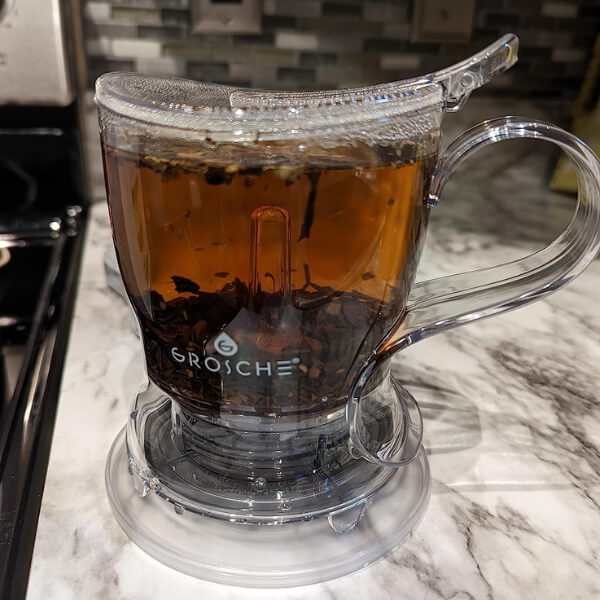 What we like:
Convenient three-piece setup.

Ample capacity for tea brewing.

Easy-to-clean features.

BPA-free safety assurance.
What we don't like:
Absence of markings to measure water volume.
Picture this: It's a crisp Monday morning at the office, and I'm about to try out the GROSCHE Teapot. It's a sleek, stainless steel teapot with a convenient tea steeper – a three-piece setup that promises a hassle-free tea brewing experience.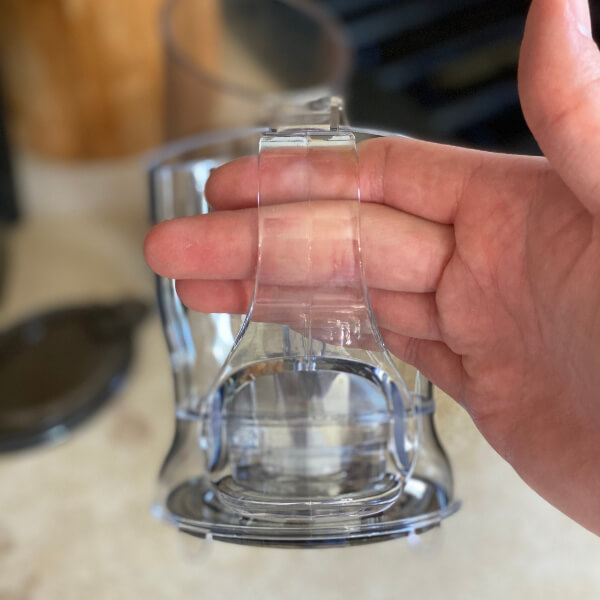 I first noticed its capacity; it comfortably held 17.7 ounces of my beloved green tea. The large tea steeper rested comfortably on top, providing plenty of room for the tea leaves to unfurl and release flavor into the hot water. A quick step later, I was ready to savor the fruit of the GROSCHE Teapot's labor.
But it wasn't just about brewing the tea; the magic of this teapot lies in its thoughtful design. Thanks to their dishwasher-safe feature, the tea infuser basket and lid were incredibly easy to clean. Although the good teapot required a hand wash, it was still manageable. The lid's loop handle was a nifty feature that made carrying the pot around a breeze.
I remember my initial apprehension regarding the BPA-free claim, but after a week of daily use, I had no doubts about its safety. The GROSCHE Teapot is a worthy investment for any tea lover or enthusiast.
However, I did encounter a small hiccup in my tea journey with this teapot. As someone who transitioned from a DAVIDStea steeper, the lack of marked lines to indicate water volume threw me off. This best teapot for green tea took me a few trials to gauge the right amount of water for my preferred 16 oz tea sessions, which would have added to its convenience.
Overall, the GROSCHE Teapot delivered a stellar performance and easily found its place among my tea brewing essentials.
Bottom line: Whether you're enjoying a relaxing tea moment at home or hosting a tea party with friends, the GROSCHE Aberdeen Tea Pot is a must-have addition to elevate your tea brewing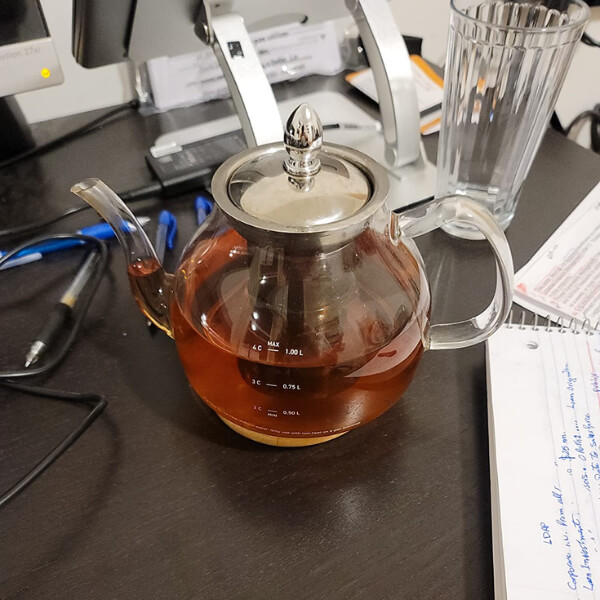 What we like:
Quality material and design.

Versatile infuser and easy-pour spout.

Convenient scale water line.

Ideal tea pots for loose tea

Easy cleaning and helpful temperature guide.
What we don't like:
The handle tends to heat up.

The lid requires occasional screw tightening.
It was an early autumn morning, and the loose leaf tea pot outside my window began shifting into their stunning fall colors. On this cool morning, I decided to take the COSORI Glass Teapot for its inaugural brew.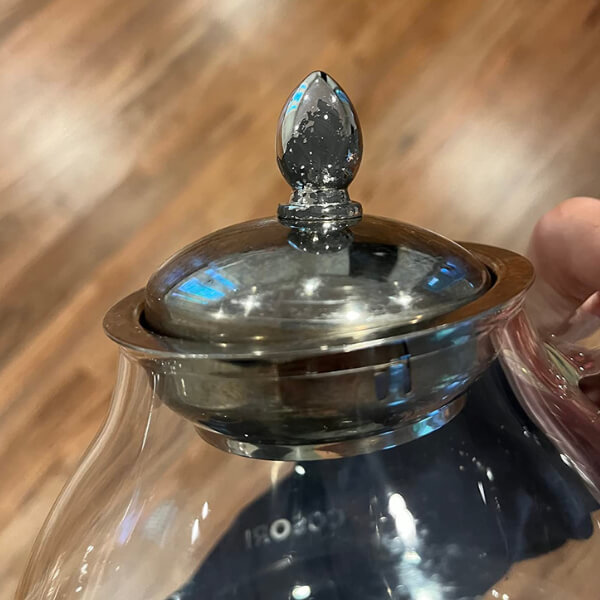 A heaven-sent for tea lovers, the COSORI teapot boasts high-quality stainless steel and heat-resistant borosilicate glass. The inclusion of a pure stainless steel infuser was the cherry on top. With the ability to safely use it on the stovetop and even in the oven at low temperatures, I had multiple brewing options at my fingertips.
The brewing process itself was effortless. The removable stainless steel infuser was versatile enough to accommodate loose leaf and blooming flower tea. The easy-pour spout was a thoughtful addition that I quickly came to appreciate.
One unique feature was the scale water line. This best electric tea pot kept track of the water level and accurately measured water for blooming tea. With a generous 1000 ml capacity and a 360-degree rotating base, it was a joy to use
Cleanup was a breeze as well. Being dishwasher safe, the COSORI Teapot required minimal effort to maintain its sparkling clean look. The added temperature marking guide was the finishing touch, ensuring an ideal brewing temperature for this best teapot for loose leaf tea.
But as with all things, this best teapot for loose tea was with a few quirks. The handle tended to heat up more than I liked. I needed to keep it off-center on the gas burner or use an oven mitt. The lid, while primarily glass with a metal insert, had a plastic top attached with a screw that occasionally became loose. 
A quick tightening with a screwdriver solved the problem but was inconvenient. However, the plastic top on this best loose leaf tea pot allowed me to remove the lid at any time without needing a mitt, even while boiling, a small trade-off for the extra bit of care.
Overall, the COSORI Glass Teapot was a functional and elegant addition to my kitchen, delivering high performance and a touch of style.
Bottom line: In short, whether you're hosting a tea party, enjoying a relaxing afternoon alone, or looking for a thoughtful gift, the COSORI Glass Teapot is the perfect option.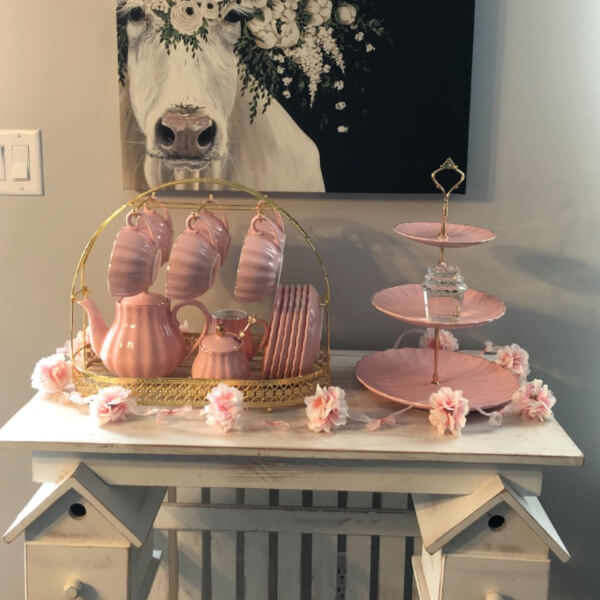 What we like
Elegant design

Top-notch quality

Suitable for everyday use

Value for money
What we don't like
This British Royal Series Porcelain Tea Set is a delight to the eyes. Its sheer beauty can steal the attention of any tea gathering, presenting an elegant yet robust set for tea lovers. 
The tea set's delightful aesthetic appeal is boosted by the quality of its craftsmanship, safely packaged to arrive at your door without any chips or breaks.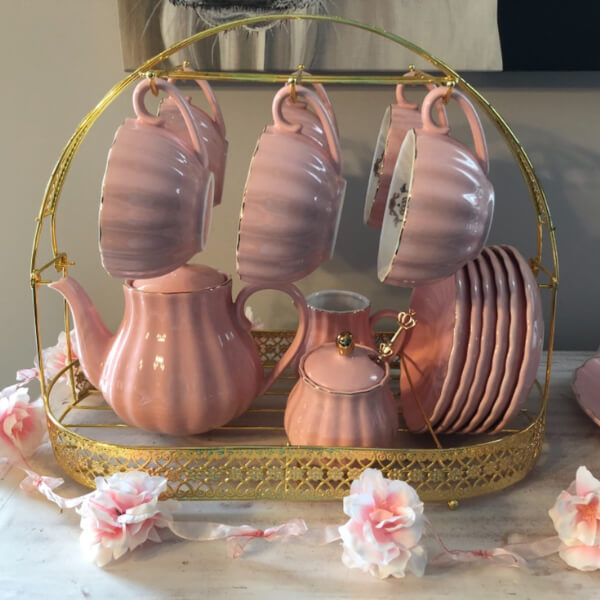 It was an ordinary Thursday afternoon when we received the lavender-colored set in the office. We had been eagerly waiting for it, and upon unboxing, we were greeted with an array of delicate yet well-crafted porcelain pieces that left us in awe. 
The vibrant lavender color and intricate gold-tone trim were an absolute sight to behold, resonating with class and sophistication.
Earlier, we had ordered the matching 3-tiered tray and cup rack that, true to form, were high-quality and arrived in pristine condition. The metal spoons with the set were neat, with a tasteful silver tone that added to the charm. However, our office tea connoisseur, Lucy, was inspired and introduced her set of gold-tone spoons. The new spoons matched the set's gold trim, adding elegance to the tea sessions.
Lucy, an ardent tea enthusiast, was so taken by the porcelain set that she began to host tea sessions at the office regularly. The tea set became a staple at our meetings, a symbol of class and quality that we grew to appreciate and love.
While the pink and white sets also piqued our curiosity, the lavender set remained our favorite. Lucy always used to say, "It's worth every penny, and I'd buy it again without a second thought."
Bottom line: With its regal design and exquisite craftsmanship, this tea set is ideal for those who prefer traditional English tea, such as Earl Grey or English Breakfast.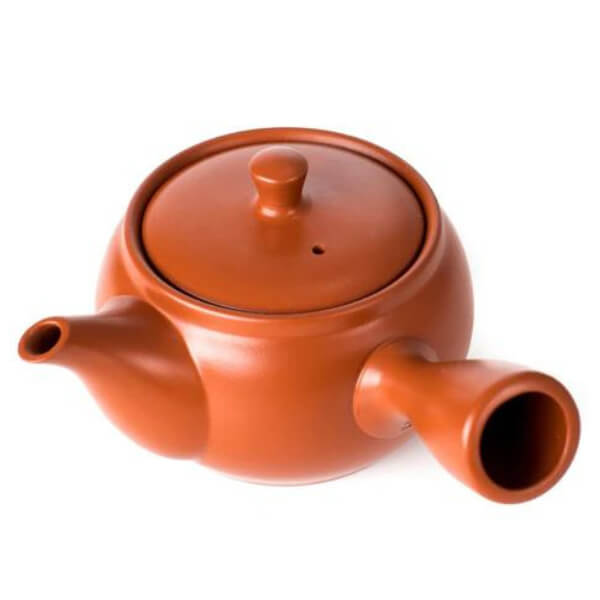 What we like:
Authentic design

Steeping efficiency

Flavor enrichment

Value for money
What we don't like:
It might be hard to use in some first times
A central element to the traditional Japanese tea ceremony, the Youtobi Japanese Kyusu Tokoname Clay Teapot, is more than a vessel for brewing tea; it's a testament to art, history, and culture.
These best teapots are inspired by the age-old "yokode kyusu" design — a style notable for its side handle, perpendicular to the body. This distinct feature adds to its authentic Japanese aesthetics and aids in more comfortable and graceful pouring. Securing the lid with your thumb, you can manage an uninterrupted, smooth stream of tea that exudes elegance.
What sets this Youtobi clay teapot apart is its integrated clay filter at the end of the spout. Unlike the more common design of placing an infuser under the lid, this teapot allows the loose tea leaves to freely dance around in the pot during the steeping process. This freedom of movement ensures an even extraction of flavors, making a tea experience rich in depth and aroma.
Intriguingly, during our usual tea ceremony practice one Tuesday evening, we noticed how the teapot's clay construction led to an enhanced tea experience over time. The pot has a unique quality of flavor absorption, causing a more complex and enriched taste in every subsequent cup of tea. While being a perk for tea purists who dedicate the pot to a single tea type, this factor might be a slight drawback for those who like to mix things up.
Yet, a minor inconvenience appeared for our left-handed colleagues as they found the side handleless accessible due to its positioning. But considering the overall experience, this was a minor ripple in an otherwise serene tea brewing experience.
With the Youtobi Japanese Kyusu Tokoname Clay Teapot, you're not just getting a tool for tea brewing; you're investing in a piece of Japanese tradition, right from the Tokoname-yaki style of pottery, renowned for its artistry and practicality, to the enchanting zen that accompanies every pour. It's a treat for tea connoisseurs and history lovers alike.
Bottom line: The Youtobi Japanese Kyusu Tokoname Clay Teapot is a perfect choice for tea enthusiasts who appreciate the art of traditional Japanese tea brewing.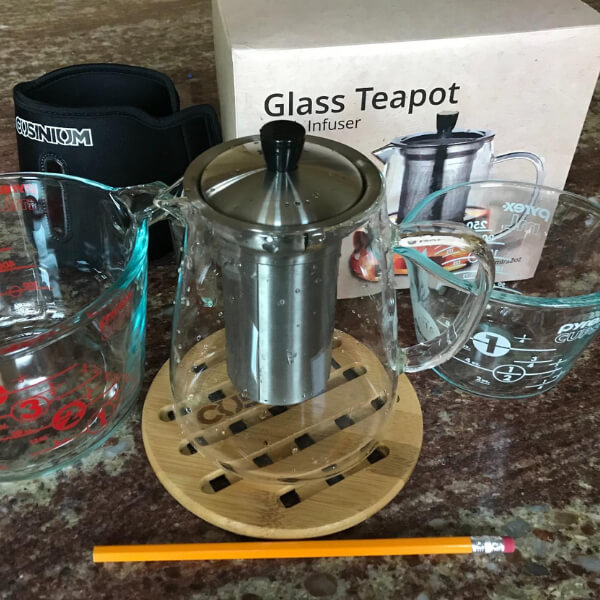 What we like:
Strains fine tea effectively

Keeps tea warm for about an hour

The handle doesn't get hot

The lid fits with or without a filter

Easy to clean
What we don't like:
Strainer position is not ideal for small brews
The CUSINIUM Glass Teapot Set has undeniably added an exciting aspect to my tea-making routine. Its design caters to loose-leaf tea and tea bag enthusiasts equally. On a regular morning, I decided to push the limits of the best teapots and emptied the contents of a few tea bags into the wire strainer. Although the tea was finely ground, the best tea brewing pot delivered a crystal clear brew, much to my surprise.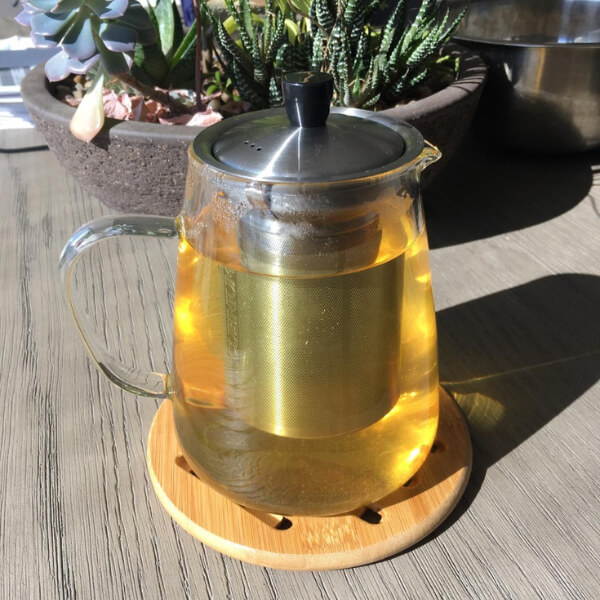 Appreciating the thoughtfulness in design, I noted the heat-resistant sleeve keeps the tea warm for about an hour after removing from the flame. Learning to position the handle slightly off the open flame made handling comfortable and burn-free. The lid fitting with or without the filter is a minor but impactful feature, and the pot's cute design has won praise during meals.
The fun of blending my tea flavors and experimenting came alive with this teapot. Easy to clean and equipped with a sturdy trivet, it's both user-friendly and durable. However, I suggest an improvement: the filter could be positioned lower in the kettle for brewing smaller quantities without diluting the flavor.
Bottom line: The CUSINIUM Glass Teapot Set is perfect for tea enthusiasts who appreciate elegance and functionality. 
Teapot Buying Guide For Newbies
I've discovered the key factors that contribute to the selection of the ultimate teapot:
Material
| | | | |
| --- | --- | --- | --- |
| | Porcelain/Ceramic Teapots | Glass Teapots | Stainless Steel Teapots |
| Materials | Porcelain or Ceramic | Glass (Borosilicate often used) | Stainless Steel |
| Aesthetic | Timeless, classic | Clear, provides visual brewing experience | Robust, modern |
| Durability | High, ceramic is sturdy | Medium, can be fragile | High, resistant to falls, heat, corrosion |
| Heat Retention | Good | Fair | Excellent |
| Ideal Teas | Particularly good for Black Tea | Any, especially blooming or flowering teas | Any |
| Ease of Cleaning | Moderate | Easy, often dishwasher safe | Easy |
| Price | Moderate to high | Moderate | Affordable to moderate |
| Additional Notes | Cherished by tea fans for the classic tea experience | Good for visual brewing experience, popular model is the CUSINIUM Glass Teapot | Robust and long-lasting, suitable for a diverse range of teas |
Your teapot's material significantly influences your tea's taste and experience. 
Fans of black tea belove traditional teapots made of porcelain or ceramic and have a timeless appeal. On the other hand, glass teapots, such as the CUSINIUM Glass Teapot, provide a visually stunning experience as they allow you to witness the graceful movements of your tea as it brews. "Stainless Steel" cute, robust, long-lasting teapots are special in my collection.
Size
Size is all about matching your brewing habits. As someone who often plays the host, I gravitate towards nice teapots with a capacity of 40 oz or more. If you're a solo tea sipper, a compact "Single-Serving Teapot" of around 17 oz should serve you well.
Design
A teapot is more than a vessel; it expresses your tea personality. You might be drawn to the traditional allure of the "Japanese Kyusu," or you might find yourself enamored with the sleek, modern aesthetics of the best teapots like the "COSORI Glass Teapot."
Ease of Cleaning
To truly savor your tea time, choose a teapot that's easy to clean. I recommend teapots with "Broad Openings" and "Removable Infusers" — a small design feature that's been a huge timesaver in my tea journey.
Type of Tea
Your preferred tea type seals the deal. "Bagged Tea" drinkers might overlook an infuser, while "Loose Leaf Tea" enthusiasts, like myself, would find a teapot with a built-in filter like a "Youtobi Japanese Kyusu Tokoname Clay Teapot" incredibly handy.
If "Green Tea" holds your heart, consider a teapot known for excellent heat retention.
Steeping Options
Numerous teapots have an integrated infuser, providing ample space for tea leaves to unfurl within the pot. Ensure your selected teapot includes this feature, or consider acquiring one separately. 
You might explore alternative options like a French tea press, which skillfully presses the leaves downward for a touch of sophistication and a rich infusion. These brewing systems are renowned for their ability to deliver a full-bodied and flavorsome brew.
Teapot types
Teapots come in various materials, each with unique characteristics.
Glass teapots are perfect for blooming teas, allowing you to admire the beauty of the unfolding leaves. 

Cast iron teapots, like the Japanese tetsubin, add flavor to the water and are often used for decorative purposes. 

Ceramic teapots, such as those made of Yixing clay, are ideal for specific tea types and develop a natural coating over time. 

Stainless steel teapots excel in heat retention and durability. Choose your teapot wisely based on material and enjoy the perfect brew every time.
Conclusion
I've covered a lot of ground on our teapot journey, from recognizing the importance of teapot material, size, and design, to understanding how different teapots suit different types of tea.
With all this knowledge at your fingertips, it's time to step back, take a deep breath, and relish the joy of hunting for your best teapots.
Please share your thoughts in the comments below. And if you found this guide helpful, don't keep it to yourself – let's spread the tea love far and wide.
Share this article with your fellow tea enthusiasts, and together, let's make every cup count! Thanks for spiriteadrinks.com
FAQs
Why does tea taste better from a teapot?
Tea often tastes better from a teapot because its large volume allows the leaves to unfurl and release their flavor fully. Moreover, materials like clay or ceramic, often used in teapots, can absorb the tea's aroma and oils, enhancing the taste over time.
How long can tea sit in a teapot?
Ideally, tea should only sit in a teapot for an hour. Extended steeping time could lead to over-extraction, making the tea taste bitter. The best practice is to remove or strain the tea leaves after the recommended steeping time to ensure the optimal taste.
What material is best for teapots?
The 'best' material depends on your personal preferences. Ceramic and porcelain teapots are fantastic for retaining heat, stainless steel pots are incredibly durable, and glass teapots provide a beautiful brewing show.
Who are the best Japanese teapot makers?
Prominent Japanese teapot makers include renowned artists like Gyokko, Tokoname, and Hokujo. Their craftsmanship reflects centuries-old traditional practices, producing high-quality, functional, and aesthetically pleasing teapots that tea connoisseurs around the globe highly value.
What is the best teapot to keep tea hot?
The best teapot to maintain the heat of your tea is a cast iron teapot. Known for their excellent heat retention, these teapots help keep tea at the optimal temperature for longer periods. A popular choice is the Japanese Tetsubin, which combines function and style.
What is the most valuable teapot?
The most valuable teapot in the world is the "Leaping Tiger" Yixing teapot by acclaimed artist Gu Jingzhou. Esteemed for its rarity and exquisite craftsmanship, it represents the pinnacle of teapot design and Chinese ceramic artistry.
What makes a good Chinese teapot?
The quality of a Chinese teapot lies in the balance of its material, design, and craftsmanship. Yixing clay teapots, for example, are renowned for their fine Zisha clay, which enhances the tea's flavor. They also exhibit exquisite designs and meticulous craftsmanship, embodying the heart of Chinese tea culture.
I'm Shanna, creator of Spiritea Drinks. I'm all about teaching people to grow their own food, tea, cook what they harvest, and eat with the seasons.