Do you ever make something and you're actually excited for your leftovers and to eat it again? That was this. I give you Cilantro Lentils & Quinoa with Raisins and Walnuts. This can be a side or a base to a meal. You can mix in feta or goat cheese. This would go quite well with roasted root veggies. Pair with grilled chicken. You literally can't mess it up. I roasted potatoes, beets, and spinach and added some feta for a meal or kept it cold and mixed it into a spinach salad with a lemony vinaigrette. It works well with parsley instead of cilantro for all of you who are cilantro adverse, but fresh herbs with lemon juice and lemon zest keep this light and bright.
Ingredients (serves 4-5).
1/2 c quinoa, uncooked

1/c c lentils, rinsed

1/3 c raisins

1/4 c chopped walnuts

1 T extra virgin olive oil

2 T lemon juice

1/2 c fresh cilantro, chopped

1 T lemon zest
Directions.
In a saucepan, combine quinoa and lentils with water according to package directions and cook. Let cook until warm.

Stir in raisins,  walnuts, EVOO and lemon juice.

Mix in cilantro and lemon zest.

Serve warm or cold and enjoy!
Nutrition for 1 of 5.
233 calories  •  7.2 g fat (30%)  •  30.2 g carbs (56%)  •  7.5 g protein (14%)  •  5.3 g fiber  •  8.2 g sugar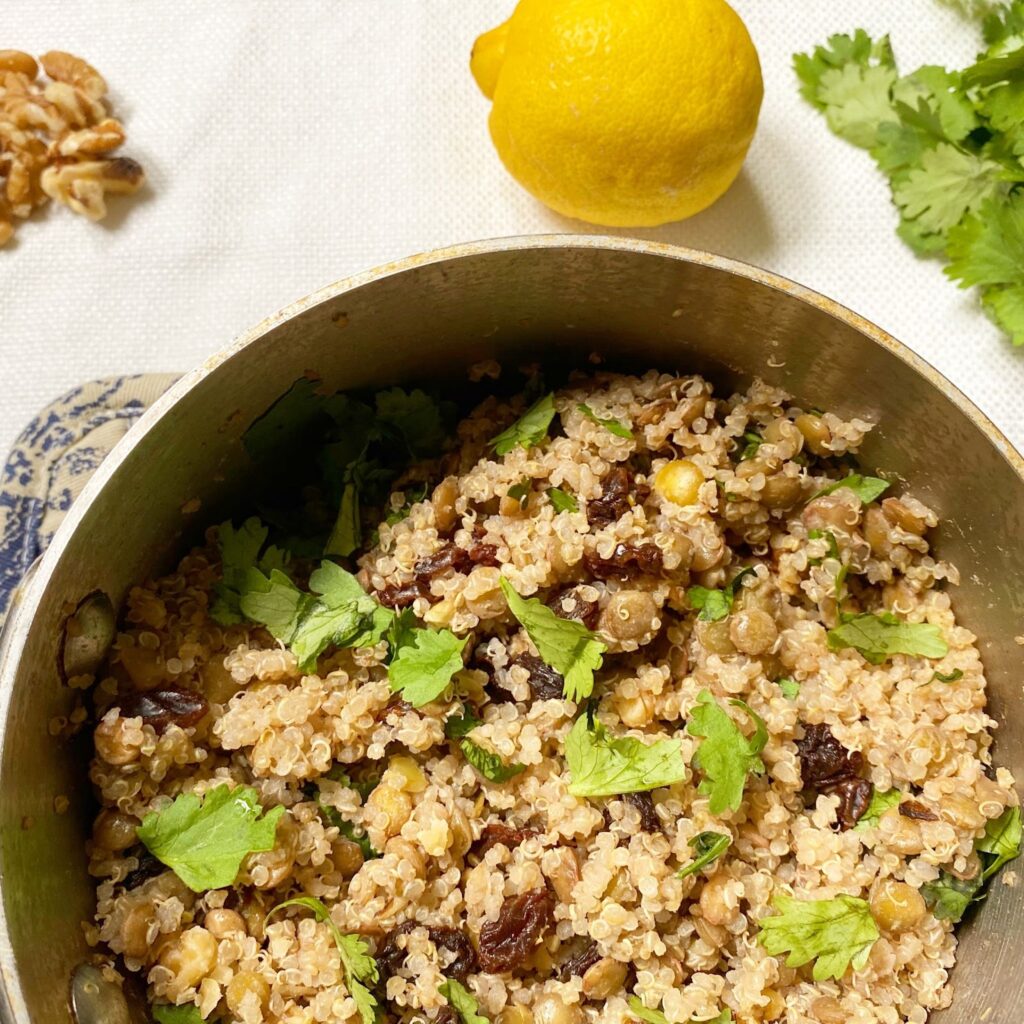 * These are estimates based off specific products I used and how I entered ingredients in a fitness tracker. This is completely subjective and used to give a rough nutritional estimate.
I'm Shanna, creator of Spiritea Drinks. I'm all about teaching people to grow their own food, tea, cook what they harvest, and eat with the seasons.