Have you ever wondered about the beautiful British tradition that transforms your everyday tea into a festive social event? Yes, we're talking about the quintessential Afternoon tea party.
A delightful tradition that spans centuries, an afternoon tea party isn't just about sipping Earl Grey and munching on scones – it's an indulgent, relaxing affair that has been savored by everyone, from the English aristocrats to ordinary folks like you and me.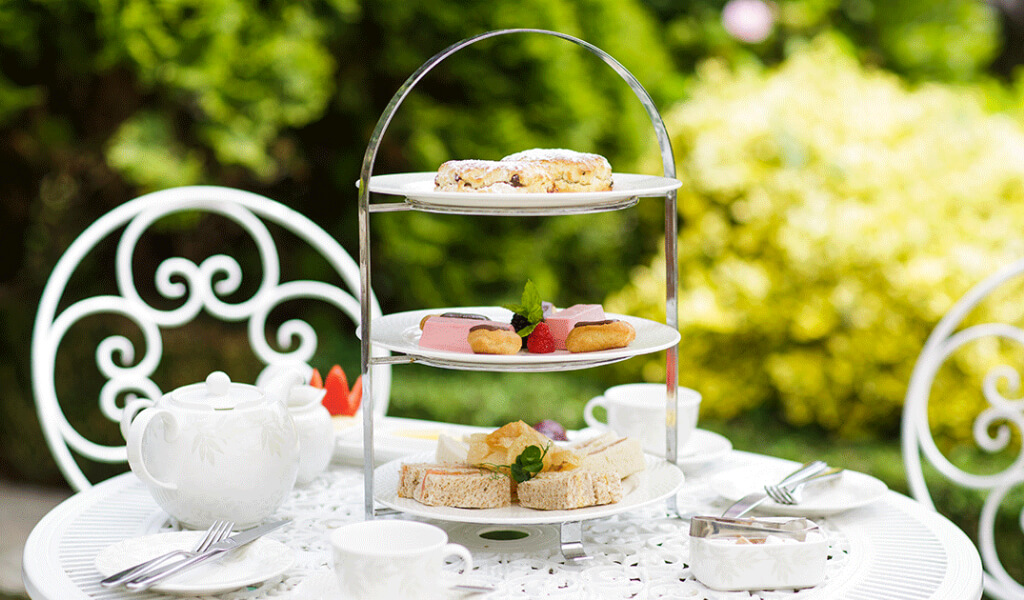 Did you know this delightful tradition started in the 1840s as a mini-meal to quell hunger between lunch and late dinner? That's right! The afternoon tea party, also often called the "low tea" because it was served on low tables like a coffee table, solved the "sinking feeling" one experienced during this long waiting period.
What is Served at High Tea?
Afternoon tea is known for its delicious scones, tea sandwiches, and cakes, and it is typically served in the mid-afternoon. On the other hand, high tea offers more substantial food like meat, fish, egg dishes, breads, and desserts, and it is served in the early evening.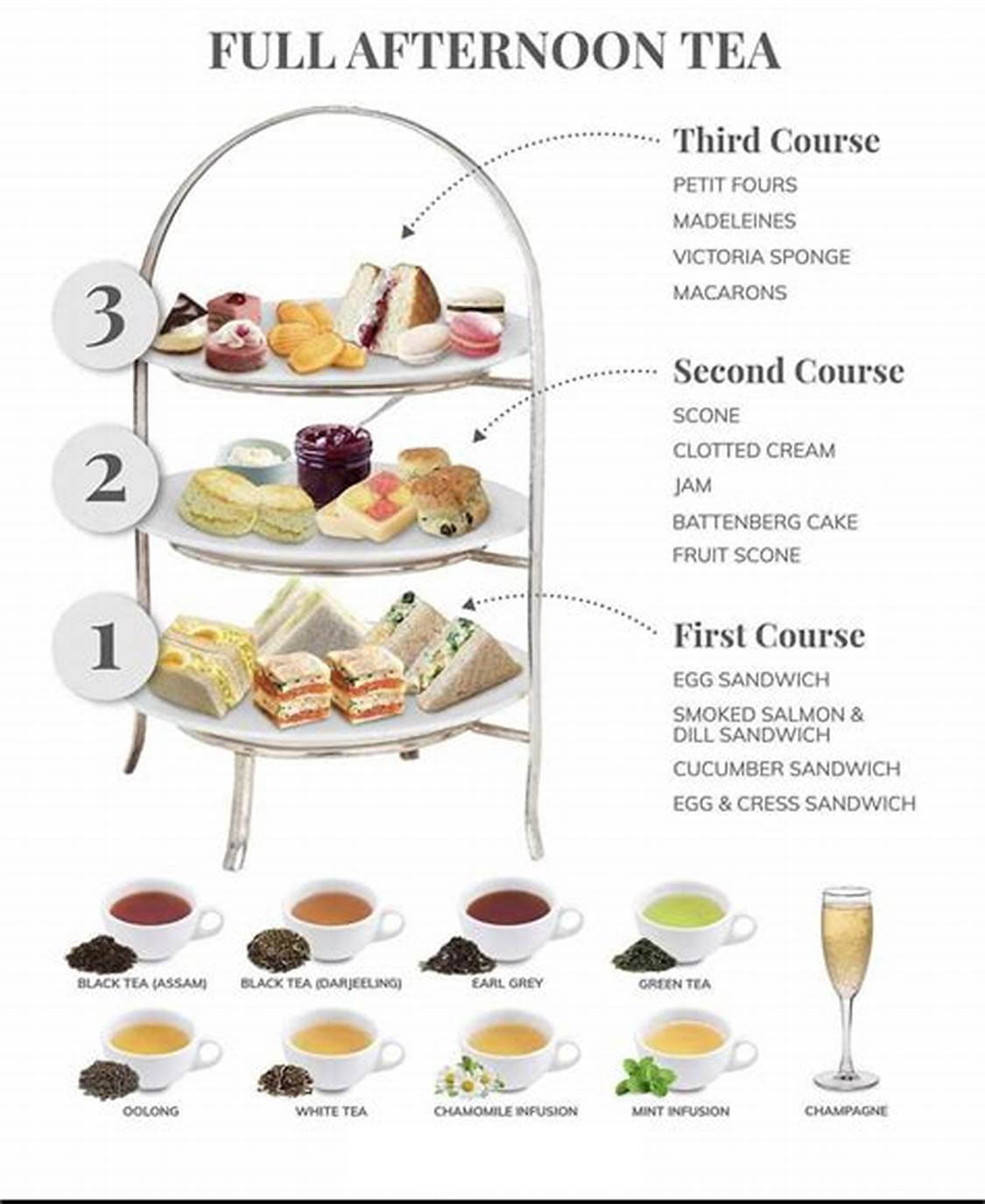 As you plan your Afternoon tea party, the menu for high tea will encompass a range of traditional English dishes and treats, carefully selected teas, and a few whimsical touches that truly elevate the experience. 
The Basic Kit
Now, let's start with the basics. An Afternoon tea party isn't just about the food and drink; it's a whole experience that starts with setting up the right stage. Remember my last afternoon tea party at my charming countryside home in Devon last summer? Here's a bit of what I did.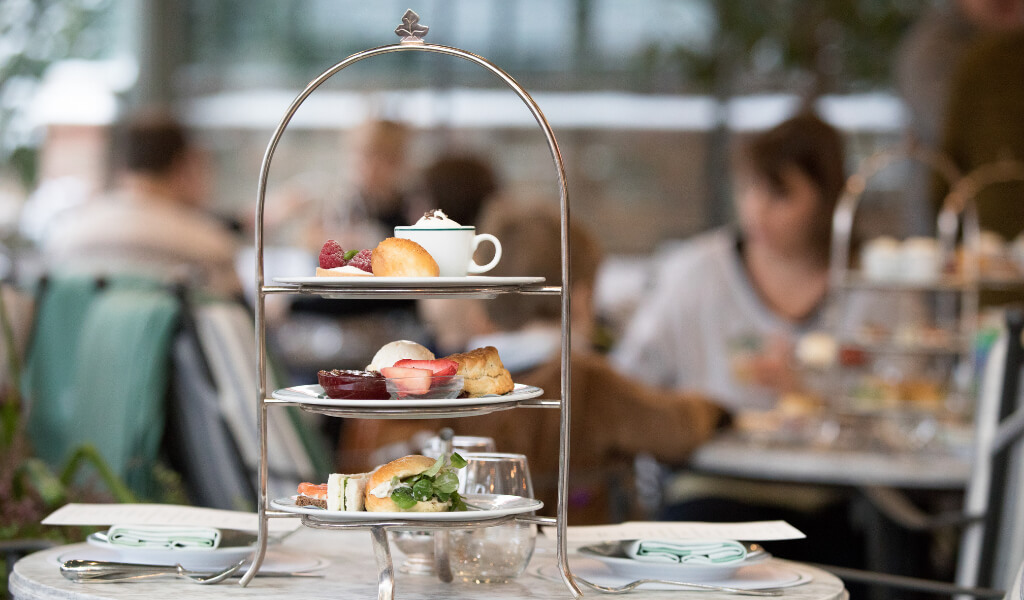 If you own a tiered cake stand, it's time to let it shine. Otherwise, bring out your best crockery, those delicate lace-like doilies, neatly folded napkins, and place cards for a touch of elegance. If you don't have a vintage collection, fret not. You can find an array of reasonably priced chintzy chinaware in charity shops that give your table an authentic "ye olde tearoom" look. It's okay if the patterns are mismatched – it gives your tea party a delightful hip twist. Essentials for your kit include a teapot, teacups, cutlery, and cake slicers for serving.
For those keen bakers, ensure your kitchen is armed with essential baking equipment. And, if you're looking to exhibit your bake like a pro, check out our review of the best cake stands.
Arrival Drinks
Greet your arriving guests with a hot cup of tea. Have sugar and milk readily available for their convenience. Offer a range of teas, including classics like Earl Grey and English Breakfast, as well as chai, peppermint, camomile, and various fruit and herbal options to cater to all tastes.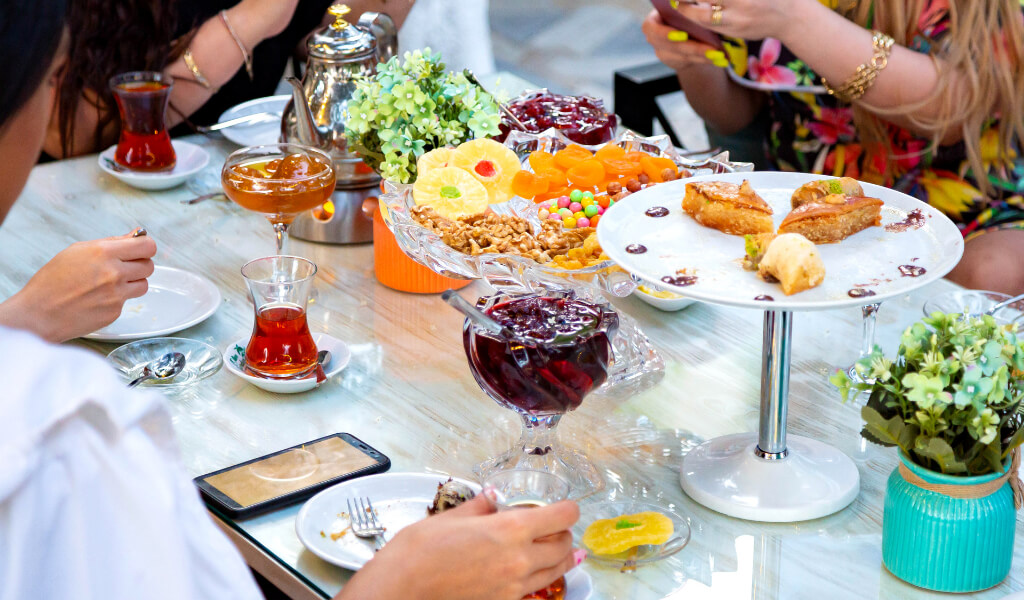 For warmer days, consider making some iced tea. A touch of Pimm's can make it a more refreshing tipple and a great conversation starter. If you want something more bubbly, why not serve a sloe gin royale or a juice-based mimosa? These are delightful options that add a sophisticated twist to your party.
Read More:
Setting the Scene
Next, let's set the scene. A touch of creativity can turn your tea party into a memorable event. When I hosted my first-ever tea party in my tiny London apartment, I remember extending my table and dressing it with a charming tablecloth. You can find inexpensive spotted, floral, or striped fabric by the meter in fabric shops – a simple yet effective way to transform your table. It adds an extra festive touch if you can get your hands on some bunting. If you're up for a challenge, why not bake some edible bunting biscuits?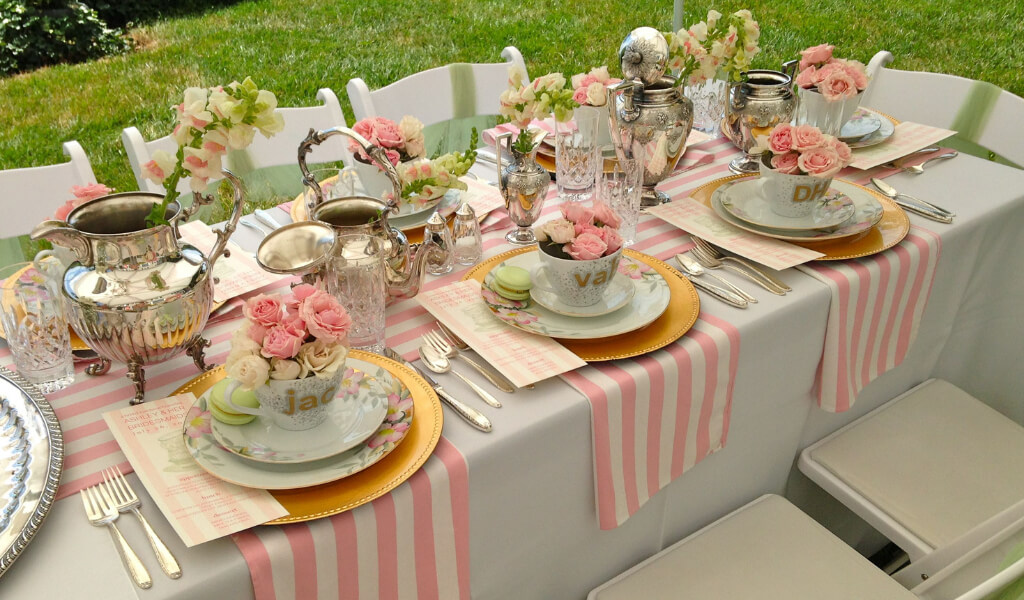 Personalizing the experience for your guests makes all the difference. Name-place cookies are a cute idea – icing them with your guests' names makes for a sweet surprise and serves as a great conversation starter. You could even pop these into paper bags as a little memento for your guests to take home or serve them up front as a sweet entrée.
A little insider tip from me: a soft, instrumental playlist in the background can uplift the atmosphere. Also, consider arranging some fresh flowers; they do wonders for the ambience and make for great conversation starters too!
What to Have for Tea
Now, let's talk about the star of the show: the food. Though there aren't any rigid rules regarding the food, a standard afternoon tea menu typically includes a tier of sandwiches, cakes, and one of scones or teacakes. But remember, your tea party can be as unique as you are!
You can enjoy a variety of treats like pastries, petits-fours, or biscuits, but don't overwhelm yourself with too many ambitious choices. If you're up for a challenge, make sure to plan and prepare in advance. Some popular bite-sized savories for tea parties are cucumber sandwiches, smoked salmon canapés, and mini quiches.
For a sweet ending, consider classics like Victoria's sponge cake, Battenberg cake, or a homemade trifle if you're feeling adventurous. Remember, the key is to have a balanced mix of sweet and savory and plenty of options for your guests to enjoy.
Scones
Next up, scones – the quintessential element of an English afternoon tea home. Nothing beats freshly baked scones, but did you know you can make them in advance too?
Scones are best eaten on the day they're made, and they take little time to make. However, consider freezing a batch of scones to spread your prep work. On the day of your party, defrost them in a low oven. Serve these warm beauties with lashings of cream and jam. I recommend decanting a pot of homemade preserve into a pretty bowl with a silver spoon – it invites guests to help themselves and adds a lovely touch to your table setting.
Whether you're team cream first or jam first, there's no denying that a warm scone is the heart of a delightful afternoon tea experience. Just remember, the key to a successful english tea party is to have fun and enjoy the process as much as the event itself.
Sandwiches
Ah, the humble sandwich! This simple yet versatile item is a staple at any afternoon tea party. While sandwiches require minimal effort, a little planning can go a long way in ensuring they're fresh and delicious for your guests.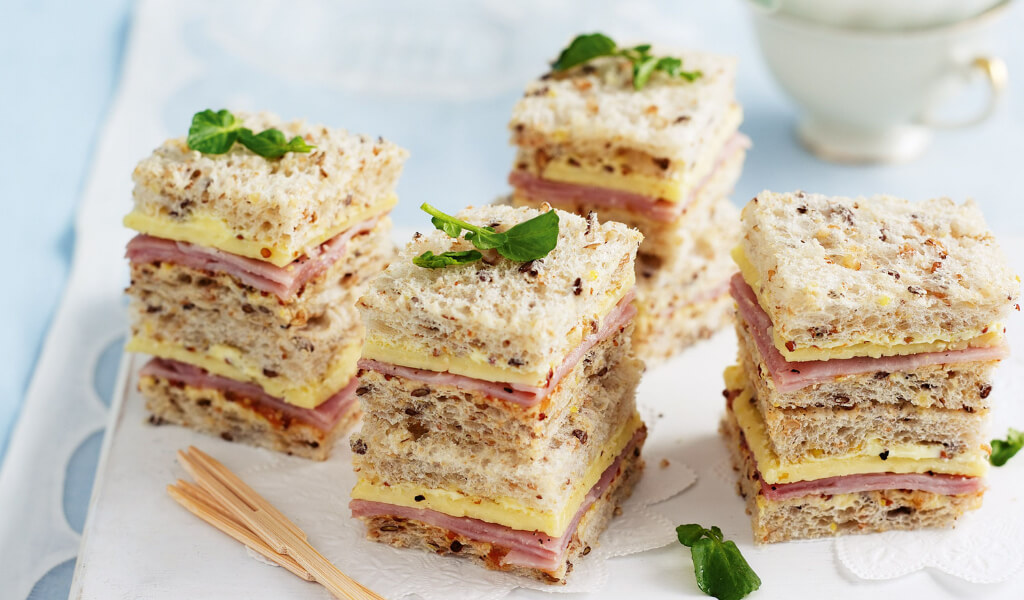 What I usually do, and it was especially useful when I hosted an afternoon tea party at my cozy Edinburgh flat last winter, is prep the sandwich fillings in advance. You can quickly assemble them before guests arrive to avoid the dreaded soggy sandwich. Think like cucumber and cream cheese, ham and mustard, or smoked salmon and dill – all classic favorites sure to please your guests.
Showstoppers
Every tea party needs a jaw-dropping centerpiece dessert that's as delightful to the eyes as it is to the taste buds. The key to a perfect showstopper is its stunning presentation, making guests pause in admiration before indulging. Once they do, they'll keep coming back for more.
For instance, consider a three-tiered red velvet cake with cascading cream cheese frosting or a decadent chocolate ganache torte adorned with gold leaf. I recall a summer afternoon tea in my garden in Oxford, where a raspberry and white chocolate cheesecake served as my showstopper. The gasps of delight and requests for seconds were music to my ears!
Teacakes & Buns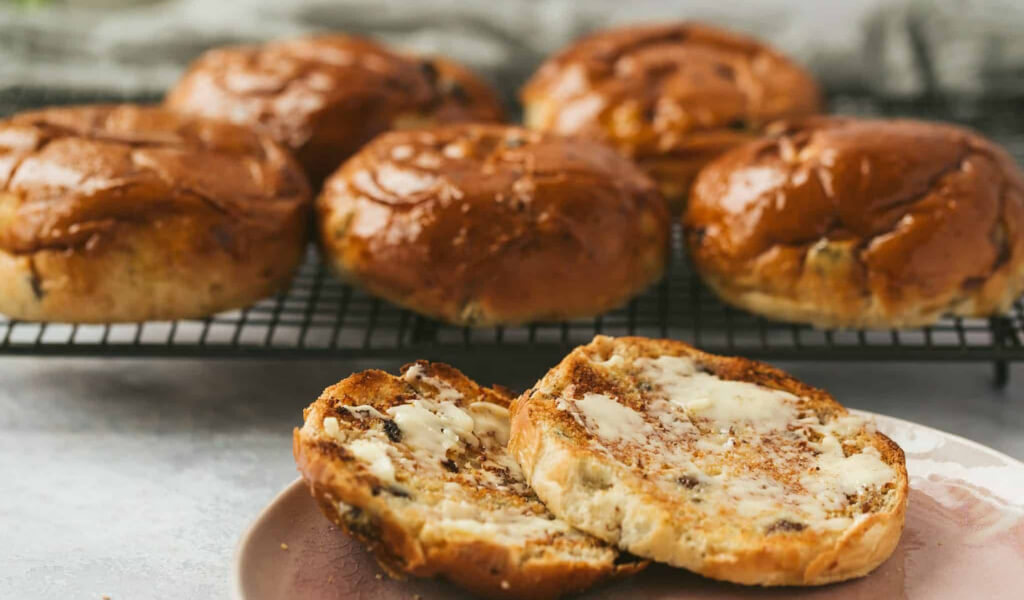 Teacakes and buns are truly the embodiment of the English teatime tradition. Originally considered a refinement of the 'hand bread', these delicious, fruit-filled treats are immensely popular in the UK. They are often enjoyed with a slather of butter, served warm or cold – both ways are equally delightful.
To make these delightful teatime treats, simply enhance a basic bread recipe with a blend of dried fruits such as currants, sultanas, and a touch of mixed spice. After kneading and allowing the dough to rise, shape it into portions and bake until golden brown.
A couple of years ago, I held an afternoon tea in my Manchester townhouse amid a snowy January. Serving warm teacakes with a generous spread of butter next to a warming cup of tea was a comforting delight amidst the frosty weather.
Biscuits
Biscuits are another essential element of a high tea. Whether shortbreads, cookies, or gingernuts, these bite-sized treats will surely bring back memories of your childhood biscuit tin.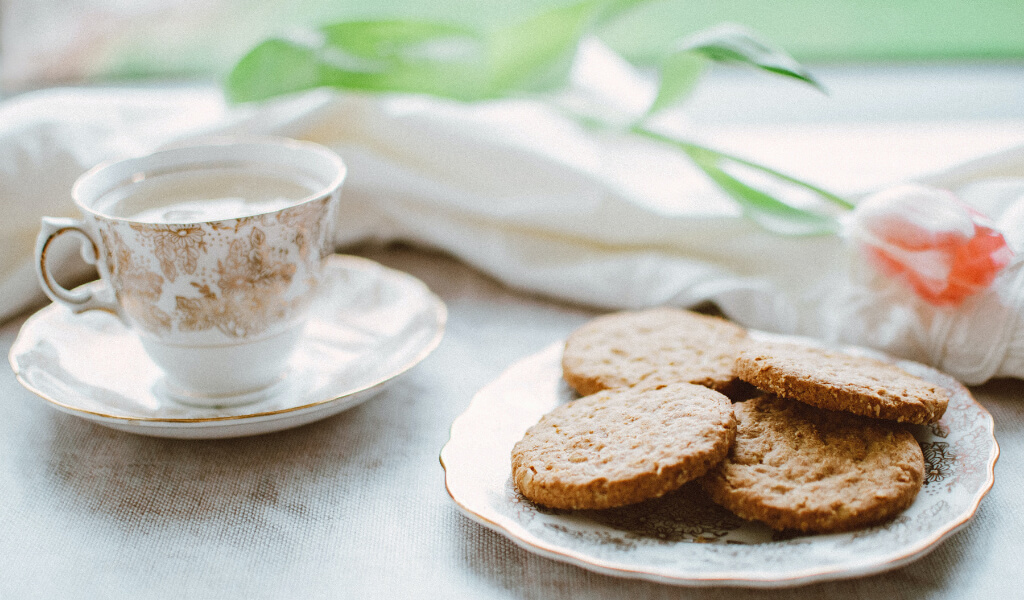 Most biscuit recipes take less than an hour, so you can easily make them on the morning of your event. However, if you prefer to spread your tasks over several days, you can prepare and freeze the dough earlier in the week. On the day of the event, all you need to do is bake and ice your biscuits.
One memorable afternoon tea I hosted in a quaint garden in Stratford-upon-Avon featured homemade lavender shortbread biscuits. The aromatic flavor paired wonderfully with the selection of teas, making it a crowd favorite.
Remember, a well-prepared host is a relaxed host. By following these tips and recipes, you'll be well on your way to hosting a fabulous afternoon tea party. 
Patisserie
Crafting high-quality Parisian pastries for your afternoon tea might seem daunting, but with careful preparation and a bit of patience, it's quite doable. To streamline the process, prepare the pastry or cookie bases the night prior to your tea gathering, freeing up your time to focus on the finishing touches on the day itself.
If you're a first-time patisserie baker, why not start with a simple yet delightful choux pastry like éclairs or profiteroles? Fill them with sweetened whipped cream or custard, and top them off with a glossy chocolate ganache. My first foray into patisserie was during a sunny afternoon tea party at my London apartment. The chocolate éclairs were a huge hit, and the satisfaction of pulling it off was unmatched.
Cakes
What's an afternoon tea without a selection of irresistible cakes? Keeping the portions individual is key for the afternoon tea aesthetic. Think of mini Victoria sponges, dainty lemon drizzle cakes, or even individual carrot cakes prettily decorated with cream cheese frosting.
For a boozy twist, consider making fabulous fondant fancies in cocktail-themed flavors like a strawberry daiquiri, piña colada, and espresso martini. These can add a fun and unexpected twist to your afternoon tea. During a summer tea party I hosted in my courtyard in Bath, I prepared piña colada fondant fancies. They were a resounding success, adding a tropical flair to the classic British tradition.
More Sweet Treats & Delicious Ideas
While sweet treats are a huge part of an afternoon tea party menu, delicious savory treats are equally as important. The balance between sweet and savory keeps the palate interested and ensures something for everyone.
You can offer delicious sandwich fillers such as egg and cress or warm mini quiches in various flavours like cheese & onion, ham & broccoli, or spinach & feta.
In addition, consider including some traditional British savories. For example, sausage rolls, cheese, and onion pastries can add a hearty touch. These warm, flaky pastries provided the perfect counterpoint to the sweet treats during a wintertime afternoon tea in my cozy York cottage.
Remember, variety is the spice of life, and the more options you provide, the more likely you are to cater to all tastes. So, roll up your sleeves and start planning your afternoon tea party. The joy you and your guests derive from it will make all the preparation worth it!
Music & Ambience
To further enhance the afternoon tea experience, consider the ambiance. Soft, calming background music can set a relaxing mood. Choose a playlist that suits the atmosphere you want to create – classical music, soft jazz, or even hits from the British Invasion era for a fun twist.
During a sunny afternoon tea in my rooftop garden in Brighton, I played a playlist of light classical music. It complemented the gentle rustling of the leaves and the clinking of teacups, creating an atmosphere that was both intimate and joyful.
Games & Activities
You can spice things up with some fun activities for your guests. Traditional British garden games like croquet or bowls can add a playful touch. Indoors, you might try board games, card games, or a tea trivia quiz to keep everyone entertained.
At a tea party in my country house in the Cotswolds, we had a lively game of charades post-tea that brought much laughter and helped everyone work off the delicious spread.
How to Throw an Afternoon Tea Party at Home
Throwing an afternoon tea party at home is a delightful way to spend quality time with friends and family, all while indulging in delicious treats and comforting brews. Here is a simple, step-by-step guide to help you host your afternoon tea at home or high tea party:
Step 1: Choose a Date and Time
Afternoon tea traditionally takes place between 3:30 PM and 5 PM. Choose a date and send out your invites well in advance so your guests can mark their calendars.
Step 2: Plan Your Menu
Draw inspiration from the classic English tea menu, featuring a selection of sandwiches, scones, cakes, and more. Remember to cater to different dietary preferences or restrictions your guests might have.
Step 3: Shop and Prep in Advance
Once your menu is set, make a shopping list and purchase all the necessary ingredients. Prepare as much as you can in advance to avoid last-minute stress.
Step 4: Set the Scene
Dust off your best crockery and set up a beautiful table with a centerpiece, whether a tiered cake stand or a floral arrangement. Use a mix of textures and colors to make your setup visually appealing.
Step 5: Brew the Tea
An array of teas is central to afternoon tea. Brew various teas, such as English Breakfast, Earl Grey, and some herbal options, right before your guests arrive.
Step 6: Serve in Courses
Start with the sandwiches, followed by scones, and finally, the sweet treats. This allows your guests to savor each course and adds a sense of occasion to the party.
Step 7: Add Fun Elements
Consider adding light background music to set the mood, or plan a few games to keep the party entertaining and interactive.
Step 8: Enjoy the Party
Finally, once everything is set, enjoy the fruits of your labor. Engage in stimulating conversation, have a good laugh, and relish the delicious food and tea with your loved ones.
I've hosted countless afternoon tea parties in my home. Each time, the joy and laughter shared over cups of tea and delicious food create memories long after the party ends.
Hosting the Afternoon Tea Party
Throwing a wonderful afternoon tea party is as much about the ambiance and your hosting skills as it is about the menu. Let me share some essential tips I've gathered from my experiences to help you ensure your party runs smoothly.
Preparation is Key:

Always prepare as much as you can ahead of time. Sandwich fillings can be made a day before, and pastries can often be baked in advance. This way, you're not rushing around on the day of the party.

Timely Invitations:

Send out your invitations two weeks prior. This gives your guests enough time to RSVP, allowing you to plan the menu accurately.

Warm Welcome:

Greet your guests personally as they arrive, make introductions if everyone needs to be acquainted, and guide them to the table. Offer them a refreshing arrival drink – perhaps a choice between a cold iced tea or a classic hot brew.

Tea Selection:

Ensure you have a variety of teas to cater to different preferences. English Breakfast, Earl Grey, and herbal options like peppermint or chamomile are usually a safe bet.

Refill Regularly:

Be attentive to your guests' needs. Keep an eye on the teapots and refresh them regularly.

Food Service:

When serving, explain each dish and whether it caters to any dietary restrictions. Start with sandwiches, move on to scones, and finish with sweet treats, following the traditional afternoon tea sequence.

Keep the Conversation Going:

As a host, it's your job to facilitate conversation, particularly if your guests need to become more familiar with each other. Consider a few light topics to get the discussion going if there's a lull.

Enjoy the Moment:

Hosting a party can be a whirlwind, but remember to sit back, enjoy a cup of tea, and savor the good company. After all, that's what an afternoon tea party is all about.

Gracious Goodbyes:

As the party winds down, see your guests off personally, thank them, and hand out any leftovers in pretty takeaway boxes as a parting gift.
By following these steps, you can ensure your afternoon tea party is a hit and, just as importantly, an event you can enjoy!
Conclusion
I've journeyed through the fascinating world of afternoon tea parties, offering insight into tradition, menu, and hosting. Now, it's your turn to host a delightful gathering steeped in charm and warmth. Remember to make it your own, and most importantly, enjoy!
If you found this guide useful, do share it on social media. Join our community by subscribing to our blog for more insightful tea-related content. Here's to unforgettable afternoon tea parties!
Thank you for reading Spiritea Drinks article.
FAQs
What are the basic etiquette rules for an afternoon tea party?
The basic etiquette rules for an afternoon tea party include dressing smart-casual, handling your teacup properly, and starting with the sandwiches before moving on to scones and sweets. It's also polite to wait until everyone has their tea before eating.
How many calories in afternoon tea?
Afternoon tea typically contains approximately 1000-1500 calories on average, but this can vary based on the specific food items and quantities consumed. The calorie content is determined by the menu, which often includes cake, cream, and butter.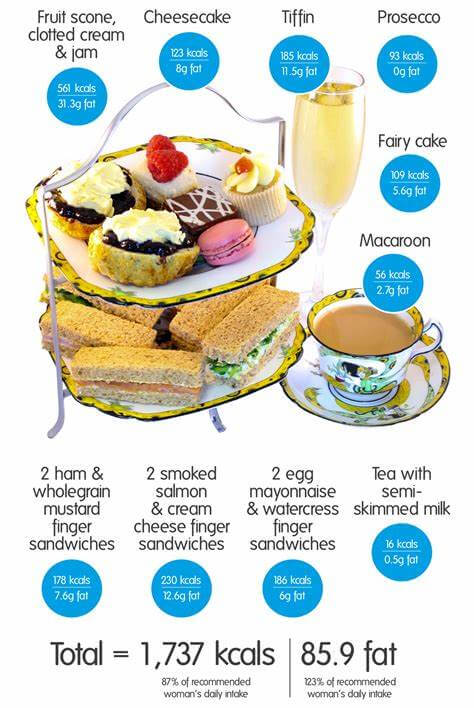 Can I host a British tea party if I'm not British?
Absolutely! Anyone can host a British tea party. The tradition of afternoon tea is loved and celebrated worldwide, and it's a wonderful way to spend quality time with loved ones.
How can I make my afternoon tea party special?
Add personal touches like homemade pastries, personalized place cards, or themed decor to make your afternoon tea party special. Engaging in activities or games can also make the event more memorable.
How much food should I serve at an afternoon tea party?
For an afternoon tea party, it's usual to serve each person 4-6 finger sandwiches, 1-2 scones, and a selection of 2-3 small sweet treats. Of course, you can adjust quantities based on your guests' appetites.
Can I serve coffee at an afternoon tea party?
While tea is the show's star, you can certainly offer coffee as an option, especially for guests who prefer it over tea.
Is there a specific order to eat the food at an afternoon tea party?
Yes, traditionally, you start with the finger sandwiches, followed by scones, and finally, you move on to the sweet treats. This helps balance the flavors and prevents you from filling up on sweets first.
What should I wear to an afternoon tea party?
While there's no strict dress code for an afternoon tea party, smart-casual attire is typically appropriate. Think of a nice blouse and skirt, a pretty sundress for women, and a button-down shirt and trousers for men.
What kind of sandwiches are served at an afternoon tea party?
Classic sandwich choices for an afternoon tea party include cucumber, smoked salmon, egg and cress, and chicken and mayonnaise. They're usually served as finger sandwiches, meaning they're small, neat, and crustless.
I'm Shanna, creator of Spiritea Drinks. I'm all about teaching people to grow their own food, tea, cook what they harvest, and eat with the seasons.