As a lover of all things tea, I've spent countless hours on the quest for the best Chamomile tea, and let me tell you, it's been a delightful journey.
I'm eager to share my discoveries with you after sampling the calming scents and gentle flowery tastes of various brands.
Every cup of chamomile tea offers tranquillity because to its relaxing qualities and lengthy history.
Therefore, unwind and join me as we delve into the fragrant realm of the best chamomile teas this year.
The Testing Criteria for Chamomile Tea
In my journey to find the best Chamomile tea, there are several key criteria I pay close attention to:
Method of Brewing: I consider whether the tea is loose leaf or bagged. For loose leaf teas, whole leaves are my go-to as they offer a higher-quality brew. If opting for tea bags, I ensure they are natural and unbleached to avoid any undesirable chemical influences on the tea's flavor​​.
Origin: The birthplace of the chamomile plays a crucial role in its overall taste and quality. Teas like Roman and German chamomile stands out, each with unique attributes.
Intensity: The flavor strength of the chamomile is a key determinant. Mass-produced teas often fall short on the intensity of chamomile flavor, leading me to consider the price-to-intensity ratio before purchasing​​.
Flavor: Chamomile tea offers both original and blended flavors. While additional flavors can enhance the tea-drinking experience, choosing ones that align with my taste preferences​​is essential. Read more: What does Chamomile fields tea taste like?
Organic or Non-Organic: Both varieties are equally beneficial, though organic options generally employ cleaner and more careful processing and packaging methods​​.
Quality: A high-quality tea often smells slightly sweet, very herby, and sometimes even has a hint of apples​​.
Best chamomile tea for sleep: Enjoy and evaluate at home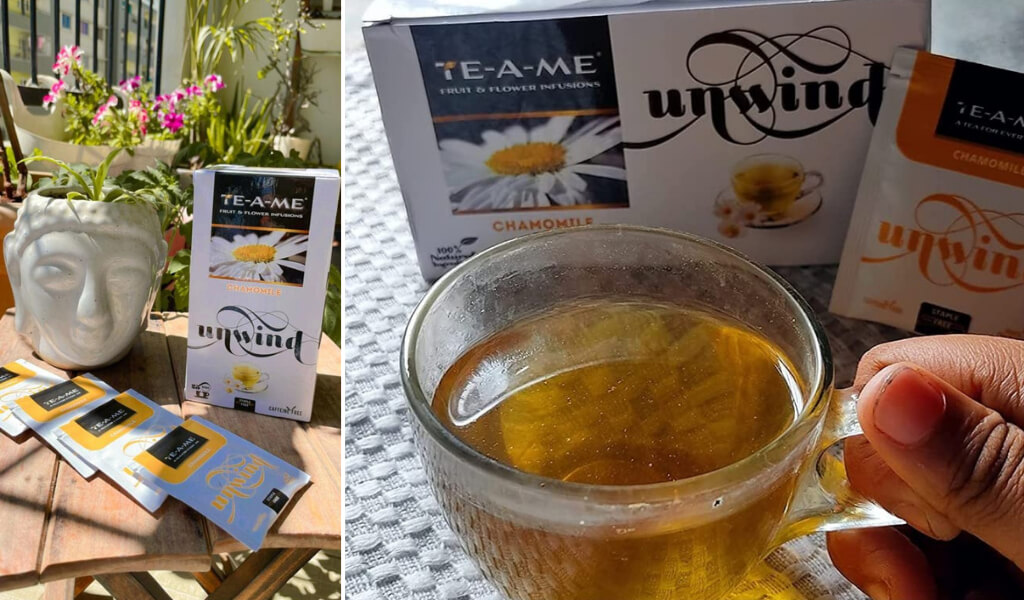 What I liked:
Refreshing, fruity aroma

No bitter taste

Convenient, staple-free tea bags

Pocket-friendly price
What I didn't like:
Needed two tea bags for the desired effect
As a tea connoisseur, I was initially skeptical about trying the TE-A-ME Unwind Pure Chamomile. However, due to some work-related sleep challenges, I decided to leap of faith based on a colleague's recommendation.
Upon opening the package, I was instantly greeted by an incredibly refreshing aroma. This tea's scent was pleasant and fruity, making the experience even more enjoyable. The beautifully packed 25 sachets were a testament to the brand's attention to detail, with each promising a refreshing start to the day.
The very first taste was enlightening. It had a distinctive flavor profile that was not only refreshing but also free of any bitterness, making it undoubtedly wonderful. It wasn't like any other Chamomile tea I've had previously, and the somewhat fruity flavor was a delightful surprise.
The ease of brewing was made possible by the staple-free tea bags, which provided an extra benefit. The tea was also inexpensive, which made it a great option for daily usage.
Despite the many advantages, I discovered the tea to be weak in comparison to other Chamomile teas I've tried. I needed to use two tea bags instead of one in order to relax to the degree I wanted. Nevertheless, the experience was so noteworthy that I wouldn't think twice about advising others to try this tea.
Read More: The question is, where does Chamomile grow?
Best brand chamomile tea in india: BLUE TEA – Chamomile Flower Tea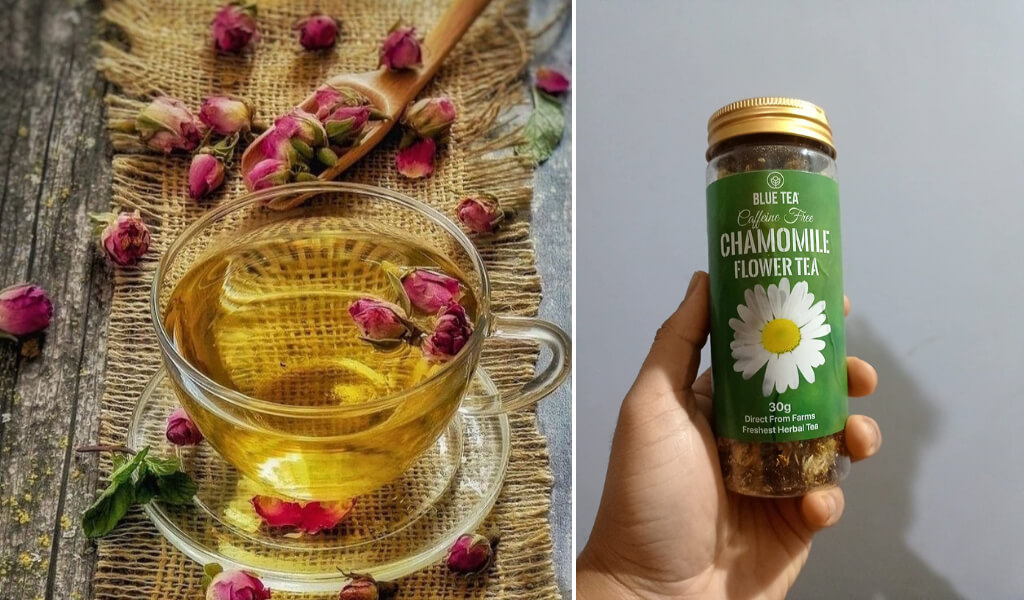 What I like:
Lightweight, easy-to-carry packaging

The refreshing aroma of chamomile flowers

Luxurious feel with included wooden spoon

Unexpected digestive

 benefits of Chamomile tea
What I Don't Like:
Plastic packaging could be more eco-friendly. Use of a glass bottle for freshness
During my family's trip to India three months ago, I enjoyed trying the BLUE TEA Chamomile Flower Tea, one of the best Chamomile tea brands. I knew I was in for a treat when I held the lightweight package.
As I twisted open the lid, the strong, inviting aroma of chamomile flowers wafted out, instantly transporting me to a calming field of blooming chamomiles. The thoughtfulness that went into this product was evident right from the packaging down to the included wooden spoon, making the whole experience feel luxuriously curated.
The first taste of the tea was soothing and mellow, with a lingering flavor that was pleasantly memorable. But it wasn't just the taste and aroma that impressed me. This tea also had an unexpected benefit – it improved my digestion greatly. Morning after morning, I noticed a consistent improvement, making me appreciate this tea even more.
However, there was one aspect that could be improved. The tea came in a plastic bottle, which didn't do justice to the product's freshness. A glass bottle might have been a better choice to maintain the tea's aromatic potency over time.
Despite this, my overall impression of the BLUE TEA – Chamomile Flower Tea was undeniably positive. I would happily recommend it's an indulgence I plan to enjoy again.
The Indian Chai – Organic Chamomile Tea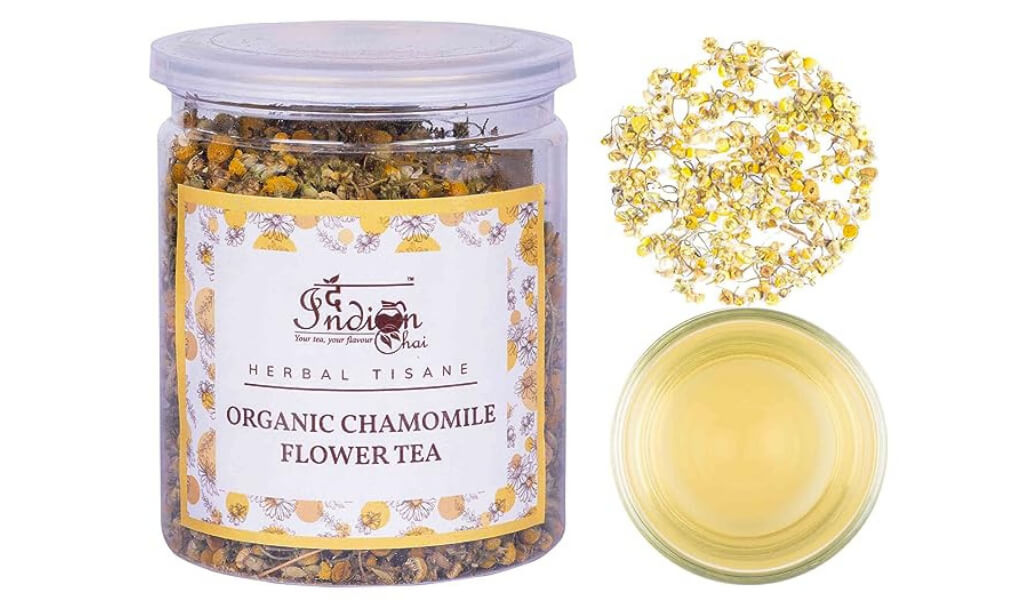 What I like:
Pleasant aroma and flavor

Carefully preserved, whole flower buds

Natural, soothing sleep aid
What I Don't Like:
Use of plastic packaging

Freshness fades over time
On my tea discovery journey, The Indian Chai – Organic Chamomile Tea has etched a special place. This 100g variant, enough to brew approximately 100 cups of comforting tea, arrived in an airtight jar. For best results, I found that storing the jar in a cool, dry place away from humidity was crucial in maintaining its freshness.
As soon as I opened the jar, I was greeted by a subtly scented bouquet of chamomile flowers, not overwhelmingly strong, but pleasant nonetheless. I used 3-5 small 2-5mm buds per brew, resulting in a subtly soothing cup of tea, perfect for winding down at the end of the day.
One thing that stood out to me was the care taken in packaging. The flowers were well-preserved with minimal waste or breakage, a noticeable improvement from other brands I've tried, which often delivered crumbled flowers.
This tea became particularly dear to me when I saw its effects on my 71-year-old mother. She's been using it for the past 1.5 years, and it's been a blessing for her sleep patterns. She used to rely on 1 mg sleeping tablets, but after incorporating this tea into her nightly routine, she reduced her dosage to 0.25 mg. And she wakes up without any morning grogginess, too!
Despite my love for this product, I must point out one disappointment – the tea came packaged in a plastic box. I had hoped to avoid microplastics that often come with teabags, so this was a letdown.
Overall, The Indian Chai – Organic Chamomile Tea proved to be a wonderful addition to my tea collection, and I'd definitely suggest it, especially for those seeking a natural sleep aid.
Teabox Chamomile Green Tea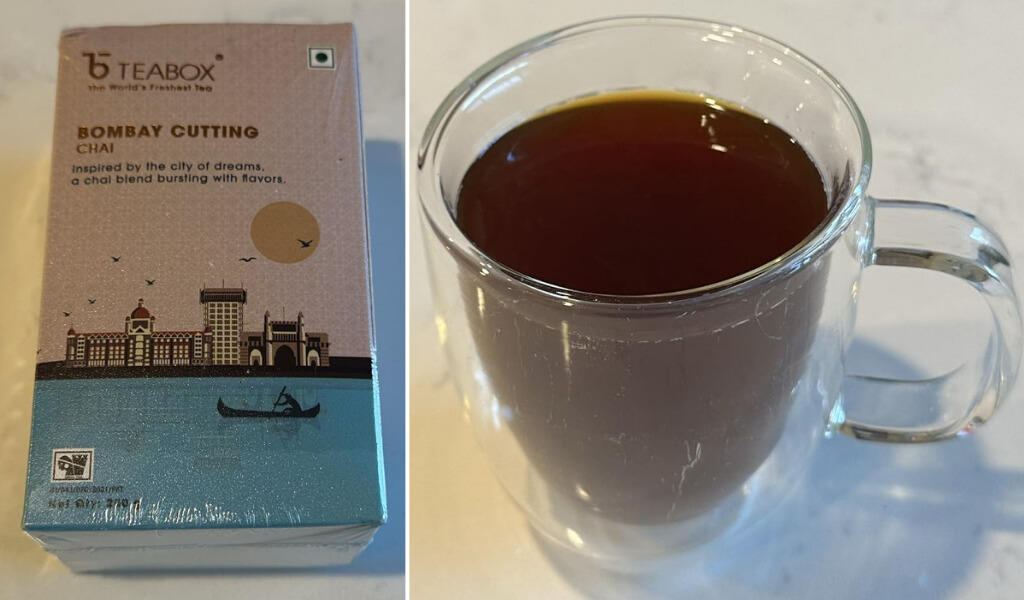 What I like:
Natural, additive-free taste

Fresh, less-processed tea leaves

Improves focus and reduces stress
What I Don't Like:
Overly bitter taste initially

Use of plastic bags for packaging
The Teabox Chamomile Green Tea, delivered in convenient teabags, quickly became a favorite in my household. Its natural taste was addictive and offered a unique take on the traditional green tea we all know and love.
One thing that caught my attention right away was the freshness of the tea leaves. The visual appeal of the vibrant, less processed leaves lent to the product's authenticity and promised a delightful tea experience. However, upon tasting, I found it to be quite bitter. The robust flavor was a tad overwhelming initially, but a spoonful of honey enhanced its taste.
Certified Food Grade nylon mesh for the teabags was a nice touch. The brand ensures it's safe and recyclable, a small but important step towards sustainability. However, using plastic bags for packaging seemed contradictory to this eco-friendly initiative, and I found it a tad off-putting.
One afternoon, I noticed something remarkable while sipping this tea during a stressful workday. The strong yet refreshing flavor helped ease my slight headache, and my concentration and focus improved within an hour. It was as though the tea had a calming effect on my mind, making it a perfect companion for those demanding workdays.
To minimize waste, I found a useful tip to open the package only 80-90%, allowing the teabag to slide out without tearing the entire upper portion. It's a small act, but every step towards reducing waste counts.
In conclusion, despite a few issues, Teabox Chamomile Green Tea offers a lot, from its flavor to its ability to relieve tension.
Teabox Chamomile Green Tea may be a powerful, revitalizing addition to anyone's tea collection thanks to its distinctive spin on conventional green tea. This blend may be ideal for you if you enjoy drinking tea or are just seeking for a healthy, stress-relieving beverage.
Celestial Seasonings Herbal Tea, Honey Vanilla Chamomile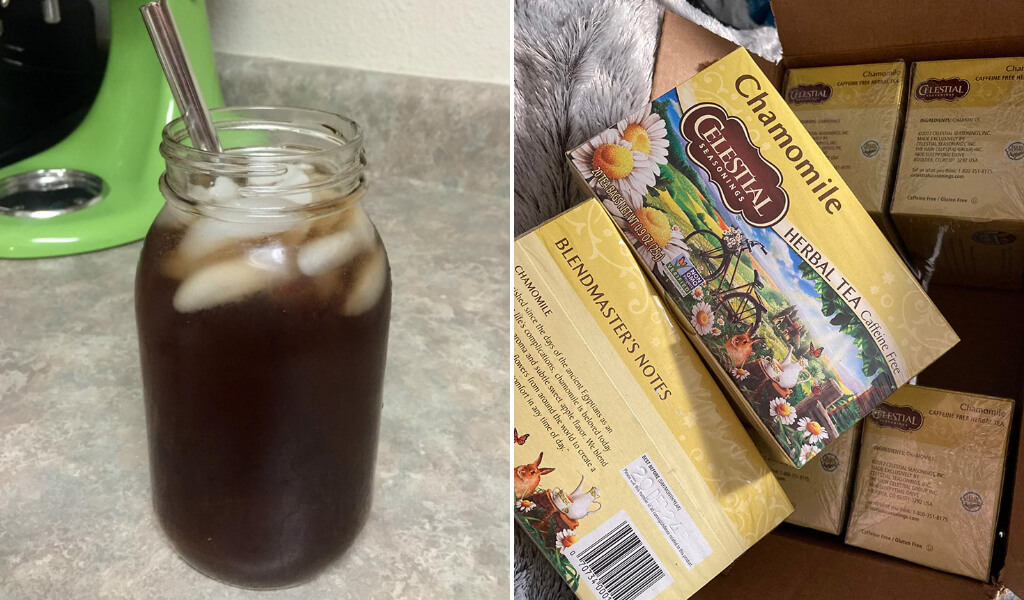 What I like:
Soothing, caffeine-free blend

Versatile in terms of additives

Convenient online purchase
What I Don't Like:
Availability in physical stores
One of my go-to teas has to be the Celestial Seasonings Herbal Tea, particularly the Honey Vanilla Chamomile variant. I have it stocked at home and in my office, allowing me to enjoy this soothing blend wherever I am.
This tea's distinctive selling feature is its absence of caffeine, an uncommon trait that makes it the best option for anyone trying to cut back on their caffeine use. It succeeds in capturing the flavor of many fruits, providing a mouthwatering experience that is both energizing and soothing.
The Honey Vanilla Chamomile Tea from Celestial Seasonings is more than just a drink for me; it's become a part of my daily routine. The convenience and efficiency of ordering it online and its unbeatable price have made this tea a regular in my shopping cart. Whether enjoyed plain, with soya milk, or any other type of milk, it always impresses with its rich taste and aroma.
One of my favorite ways to enjoy this tea is by adding two teabags to my 18 oz insulated stainless steel mug, pouring in simmering water, and letting it steep for precisely 7 minutes. The resulting brew is unusually tasty, and its warmth is simply delightful.
Despite all its positives, one minor setback is its availability. It can be challenging to find in food stores, sometimes leading to a bit of a hunt. Nevertheless, the search is always worth it for this delicious tea.
In conclusion, the Celestial Seasonings Herbal Tea, Honey Vanilla Chamomile, is strongly advised if you're searching for a wonderful, caffeine-free tea that may be savored in a variety of ways.
Best tasting Chamomile tea: Bigelow Benefits Sleep Chamomile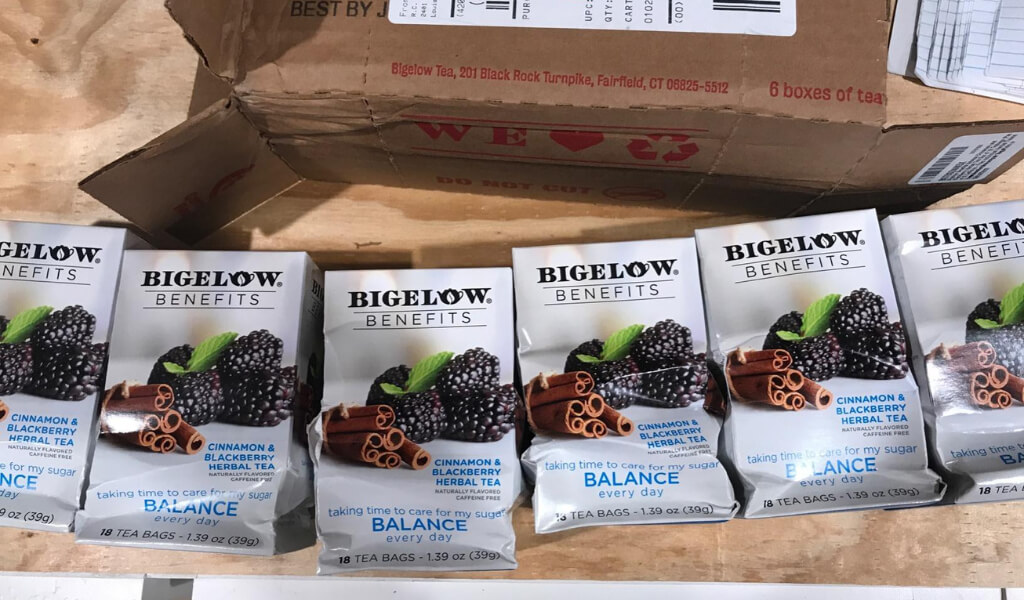 What I Like:
Calming lavender-chamomile flavor​​.

Diverse, high-quality ingredients​​.

Easy to brew​​.

Ensured freshness with a foil pouch​​.
What I Don't Like:
May be too floral for some.

Not suitable for those allergic to lavender.
About three months ago, I enjoyed sipping on Bigelow Benefits Sleep Chamomile while on a trip to India. I'll tell you, this tea is something else. It's a wonderful concoction that balances the calming chamomile and aromatic lavender, making it a delightful drink before bedtime.
The flavor profile of this tea is unique. The calming, full-bodied floral lavender flavor is the show's star, but the sweet chamomile finish keeps you returning for more​1​not to mention the scent – a soothing, floral bouquet of lavender and subtle chamomile flowers that gently lulls you into relaxation​​.
I also admire Bigelow for its meticulous attention to the ingredients used in this tea. It's chamomile and lavender and includes wild orange leaves, passionflower, red poppy flowers, and natural lavender and rose flavors. These ingredients work together to provide an unforgettable tea experience​​.
When it comes to brewing this herbal delight, it's a breeze. Start with fresh cold water, bring it to a rolling boil, pour over the tea bag, and let it steep for 4 minutes. The aroma and flavor that follows are worth the wait​​. And don't worry about the freshness of the tea, as each tea bag is individually wrapped in a foil pouch to maintain the flavor, freshness, and aroma​​.
Best Chamomile tea bags: TAZO CALM Chamomile Herbal Tea Bags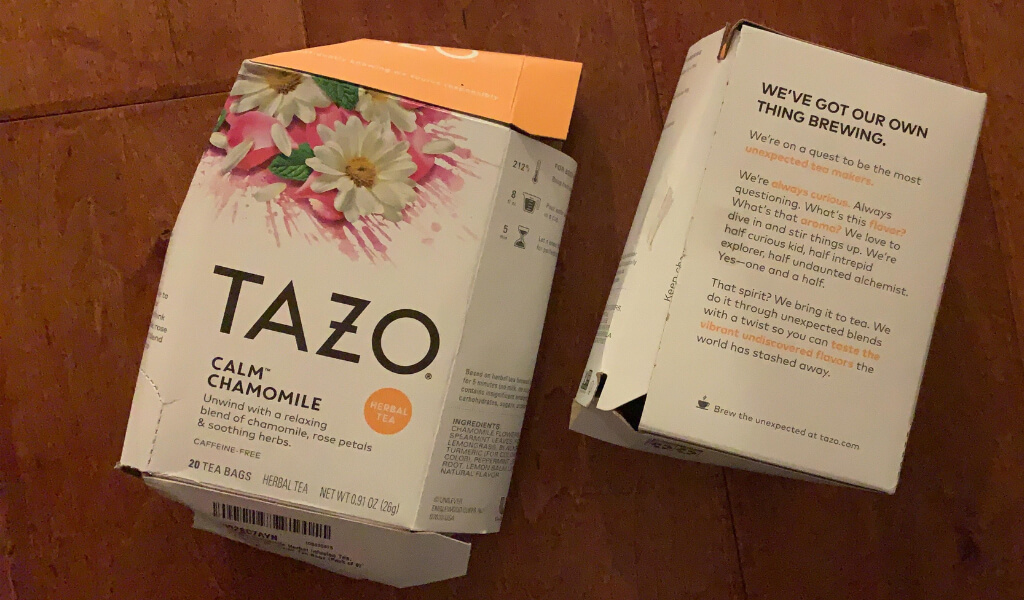 I like:
Mellow, soothing flavor.

Balanced blend of ingredients.

Individually wrapped tea bags.

Doesn't get bitter when over-steeped.
I don't like:
Only sometimes easy to find in stores.

Not part of subscribe and save options.
When I first opened a TAZO CALM Chamomile Herbal Tea box, I knew I had found my ultimate relaxation beverage. Each individually wrapped tea bag promises a soothing, calming, and tranquil experience, making it an ideal tea to sip before bedtime.
The blend of chamomile, rose petals, lemon balm, and peppermint is thoughtfully balanced, and the infusion creates a sense of floating away on a sun-drenched bed of clouds. This tea truly encapsulates a perfect cloud-top calm moment​1​.
When steeped, the chamomile flowers unfurl a mellow sweetness, complemented by hibiscus flowers' crisp, citrusy flavors. The cool, subtly crisp mint flavor of spearmint leaves and the sweet floral delight of rose petals all play their parts to perfection in this blend​1​.
One aspect I particularly admire about this tea is its forgiving nature. Even if I accidentally steep it for longer than the recommended five minutes​1​, the flavor remains balanced and fresh, never turning bitter. This is a feature that sets it apart from many other teas that I've tried.
When it comes to flavor, TAZO CALM Chamomile certainly doesn't disappoint. It's calming, indeed, with a mellow, soothing flavor that brings the taste buds joy. 6 ounces of water is perfect for one bag, and I often brew two at a time for an evening tea session. And if you're a fan of a sweeter brew, adding a bit of honey works wonders!
Best organic Chamomile tea: Yogi Tea – Comforting Chamomile Tea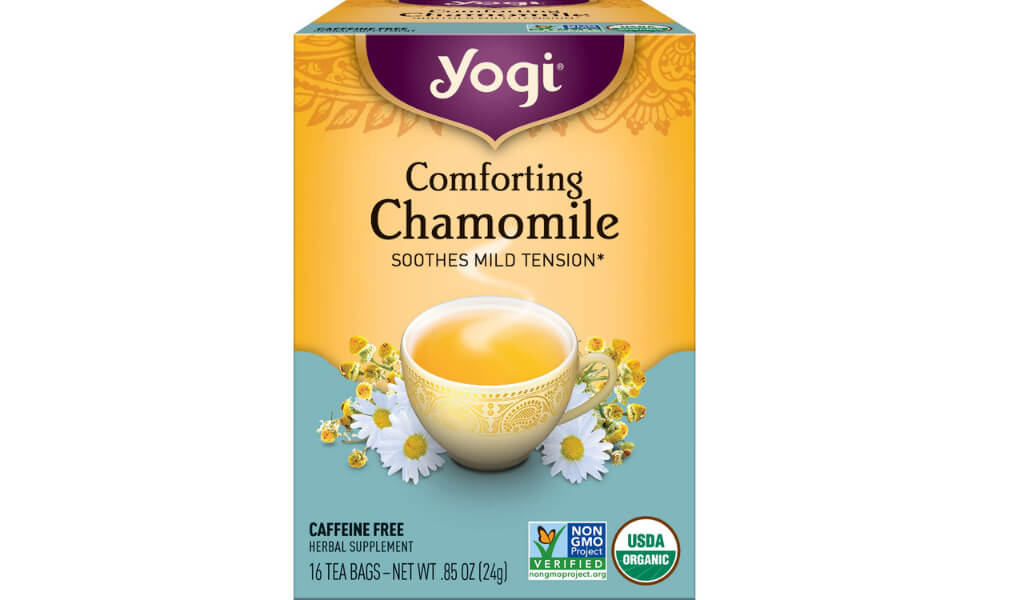 What I like:
Rich, soothing flavor

Calming, relaxing effect

Fresh, well-packaged tea bags

Quick, efficient delivery
What I don't like:
Wish there were more tea bags in a box
As someone who treasures the calming ritual of a nightly cup of tea, I've found my favorite in Yogi Tea. Each cup delivers a rich, soothing flavor that I can only describe as a warm, comforting embrace at the end of a long day.
The soothing taste characteristic of the tea makes it the ideal beverage for unwinding. The flavor and the overall experience have solidified Yogi Tea as a household favorite.
When I first tried Yogi Tea, one of the things I noticed right away was the superb combination of ingredients, which includes licorice root, spearmint, chamomile, and lemongrass. These tastes harmoniously blend together in each sip to provide a soothing and energizing tea. Since this tea is naturally caffeine-free, it doesn't interfere with my sleep; rather, it helps me unwind before going to bed.
I enjoy the ritual of brewing Yogi Tea, using two tea bags for a slightly richer and stronger flavor, especially when I want to indulge myself during the day. The tea bags arrive nicely packaged, and the freshness of the tea is evident from the first sip. A touch of honey adds a delightful sweetness that beautifully complements the tea's natural flavors.
Yogi Tea has quickly become my go-to tea brand for its superb taste, calming properties, and relaxing ritual provides. The quick and efficient delivery service only adds to the overall positive experience. Every tea lover should try this.
Best chamomile loose leaf tea: Dilmah T-Series Pure Chamomile Flowers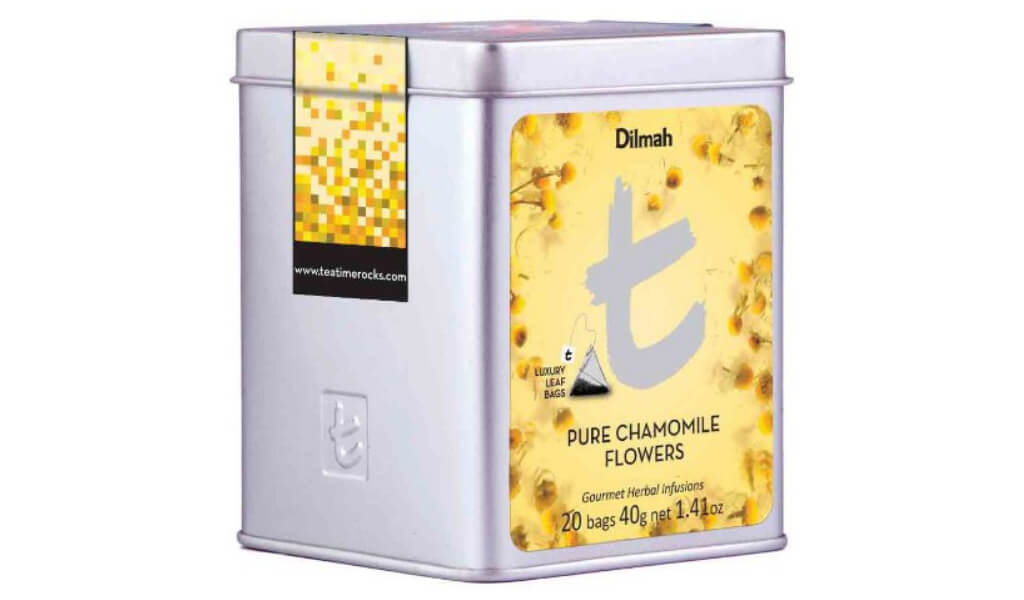 What I like:
Lovely floral and herbal taste

No bitterness, almost sweet

High-quality chamomile leaves
What I don't like:
Pricey, but worth it

Availability can be an issue
The scent of the high-quality leaves was a delightful invitation to the perfect cup of tea. It's a luxury leaf tea offering 20 tea bags, each packed with chamomile flowers that deliver a lovely floral and herbal taste.
This tea has a unique sweetness, almost bordering on the edge of being subtly sweet. It's free of any bitter notes, which is a testament to its quality. The chamomile is superb, and the herbal infusion is so smooth that it feels like a soft blanket wrapping around your taste buds.
I first tasted this tea during a vacation in Jordan at the Crown Plaza Hotel. The taste was so excellent that it etched a permanent spot in my memory, compelling me to put it on auto-delivery. Dilmah T-Series Pure Chamomile Flowers tea doesn't disappoint with its full-bodied flavor and high-quality leaves reminiscent of green apples, red apple skin, and a hint of berry​​.
Incorporating this tea into my daily routine has been one of my best decisions. I encourage all tea lovers to try Dilmah T-Series Pure Chamomile Flowers for an exquisite tea experience.
In conclusion
Finding the best Chamomile tea brand boils down to personal preference and your unique needs.
Whether it's Celestial Seasonings, Bigelow, Tazo, or Yogi, each brand has something special to offer. I encourage you to try them out and discover which becomes your go-to for that soothing, calming cup of chamomile tea.
Happy tea drinking!
FAQs
What part of chamomile plant is used for tea?
Chamomile tea is made from the flowers of the chamomile plant. These flowers contain the subtle flavor of chamomile, making them the ideal part of the plant to use in tea infusions. It is worth noting that the tea is typically made without the leaves and stem of the plant.​
Who should not drink Chamomile tea?
Certain individuals should exercise caution with Chamomile tea. These include pregnant people, those allergic to plants in the same family as chamomile (like daisies, marigolds, or ragweed), and individuals taking certain medications like blood thinners. 
How often should I drink Chamomile tea for its benefits?
Drinking Chamomile tea daily can help you reap its maximum health benefits. However, individual needs may vary. Some people may find drinking chamomile tea once or twice a day beneficial, while others may prefer drinking it more frequently.
Can I make my own Chamomile tea?
Yes, you can make your Chamomile tea using dried chamomile flowers. But how to make Chamomile tea taste better? Steep the flowers in hot water for about 5 to 10 minutes. You can add other herbs, honey, or lemon for additional flavor. Strain the tea before drinking for the best experience.
I'm Shanna, creator of Spiritea Drinks. I'm all about teaching people to grow their own food, tea, cook what they harvest, and eat with the seasons.