I stumbled upon this recipe for Buffalo Chicken Salad Meatballs as a Super Bowl appetizer, but then was too busy with my micro homework to make this in time. If it can't be an app, then a salad sounded light but also hearty and satisfying. I really like Skinny Taste and her healthy twists on classic and popular dishes. Naturally, she had a "Skinny" Greek Yogurt Blue Cheese Dressing to accompany. What pairs well with blue cheese dressing?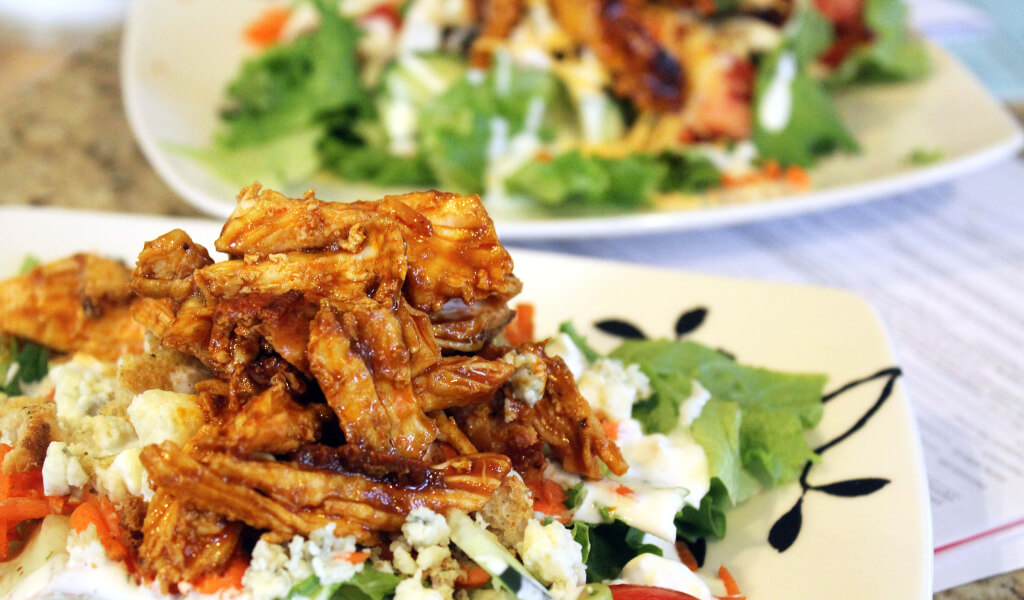 Celery, carrots, cucumbers and avocado — toss that into the salad. Inspired by my Bang Bang Cauliflower, Buffalo Cauliflower Bites sounded like a natural addition to the metals. It all comes together even better than imagined. I had my coworkers jealous of my lunch. Seriously, Chris wanted to steal it. Get yours jealous too with the Buffalo Chicken Salad.
Nutritional Benefits and Calories
Buffalo Chicken Salad nutrition
The chicken provides a solid dose of protein, essential for muscle building and repair, while the salad greens contribute vitamins and minerals like Vitamin A, Vitamin C, and Iron to your diet. Moreover, the vegetables add a nice crunch along with dietary fiber which is great for digestion.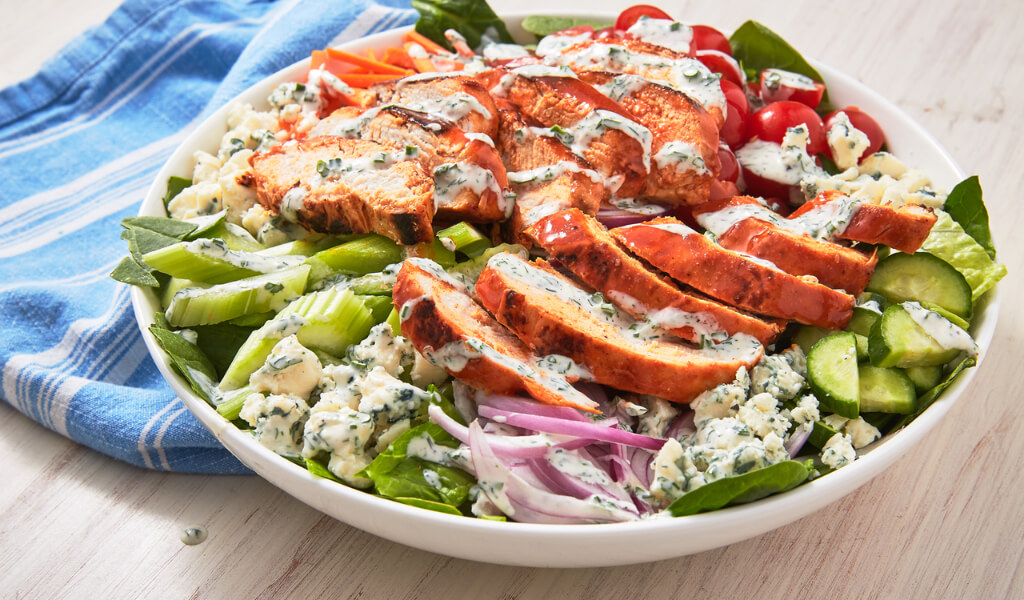 However, if you're watching your calorie intake or have specific dietary needs, you can easily tweak this salad to meet your goals. Opt for a leaner cut of chicken, or skip the blue cheese crumbles to cut down on calories and fat. You could also ramp up the veggie content with some extra tomatoes, cucumbers, or even some avocado for a healthy fat boost.
How many calories in a buffalo chicken salad?
The calorie content in a Buffalo Chicken Salad can vary widely, usually ranging between 300 to 600 calories depending on the ingredients and portion sizes. The major calorie contributors are the buffalo chicken, dressing, and cheese. By opting for a lighter dressing or less cheese, you can significantly reduce the calorie count.
Can you freeze Chicken Salad with Buffalo Chicken?
Yes, you can freeze Chicken Salad with Buffalo Chicken, but it's best done without the dressing and other fresh veggies. Freeze the buffalo chicken separately in an airtight container or a zip-top freezer bag to maintain its texture and flavor. When you're ready to enjoy the salad, simply thaw the chicken in the fridge overnight, and then assemble your salad with fresh greens and dressing.
Buffalo Chicken Salad Ingredients
Makes 4 salads with dressing w/ meatballs to spare.
For the Buffalo Chicken Meatballs (makes 16-18 meatballs):
1 lb lean ground chicken

1/8 c panko breadcrumbs

1 egg white

1/4 c onion, finely chopped

1/3 c celery, finely chopped

1/3 c carrots, finely chopped

1/2 t minced garlic

Dash of sea salt

1/4 c hot sauce
For the Greek Yogurt Blue Cheese Dressing (makes 1 c):
3/4 c fat free plain Greek Yogurt

1 T fresh lemon juice

1½ T white vinegar

1/4 t garlic powder

1/2 c blue cheese crumbles
For the Salad (serves 4):
1 c cauliflower, chopped into bite-size pieces

12-14 large leaves Tuscan kale, chopped (how to easily remove spines here) **

2-3 c baby spinach, chopped

1/3 c celery, chopped

1/3 c carrots, chopped

1 avocado, cubed

About 16 thick cucumber slices

Blue cheese crumbles to garnish (optional)

4 T Skinny Blue Cheese Dressing, divided

12 Buffalo chicken meatballs
** NOTE: I also made this with a mix of chopped iceberg/romaine lettuce  and spinach and it was definitely preferred. Since kale is pictured and how I originally made the salad, it's what's listed. The iceburg/romaine gave the salad a lighter crunch and flavor, but the Greek yogurt blue cheese dressing pairs well with either.
How to make Buffalo Chicken Salad
Preheat oven to 400°F. Line a baking sheet with foil and lightly grease.

For the meatballs, combine ground chicken through salt in a large bowl. Mix well using clean hands until all ingredients are evenly distributed. Roll into about 1½" balls. The meatballs may be really sticky, but that's ok! Place meatballs evenly spaced on greased baking sheet.

Toss cauliflower pieces in empty space on baking sheet as well. Bake meatballs and cauliflower for 10 min, flip both to browned side if facing down and bake another 5 min or until cooked through.

Once cooked, gently toss cauliflower and cooked meatballs with hot sauce until evenly coated. NOTE: I kept some plain meatballs aside to have with spaghetti squash or whatever you want to add them to.

For the dressing, combine all ingredients in a Magic bullet. Blend well. Set aside.

While the meatballs are baking, plate the salad; first add kale and spinach (or sub chopped romaine/iceburg combination for kale). Then, top with cucumber slices, avocado, carrots and celery. Add 3 buffalo meatballs per salad and 1/4 c buffalo cauliflower. Top with 1 T blue cheese dressing (per salad) and garnish with extra blue cheese crumbles (optional).

Dig in and enjoy!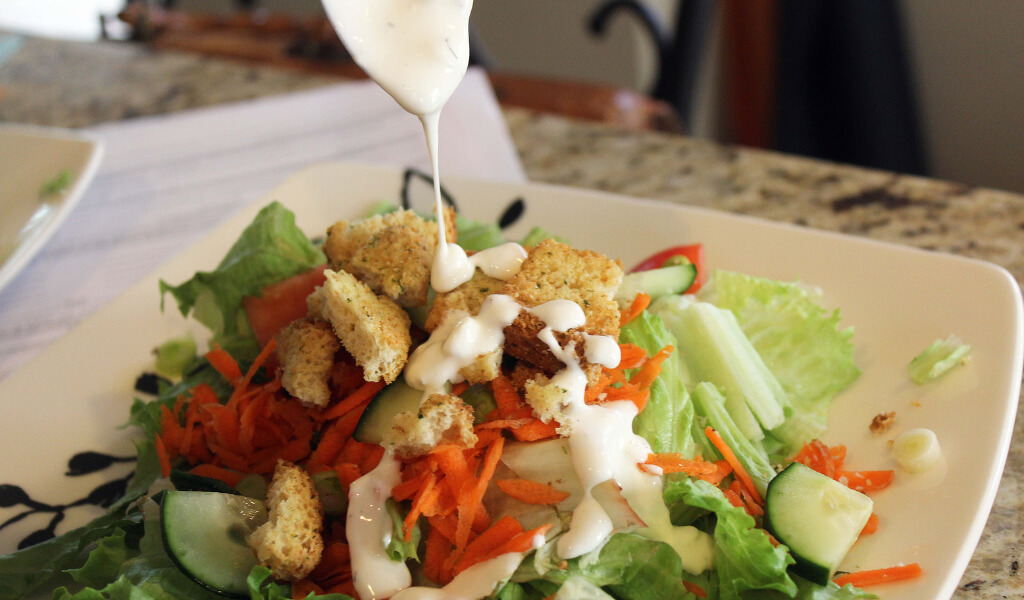 Read More:
Pairing Suggestions with Buffalo Chicken Salad recipes
When it comes to taming the fiery essence of Buffalo Chicken Salad, the right dressing is your best friend. A classic Ranch or Blue Cheese dressing not only adds a cool, creamy contrast but also melds wonderfully with the zesty buffalo sauce. If you're looking to try something new, a Caesar or Honey Mustard dressing can also be delightful choices.
Now, let's talk pairings. A crisp, cool beverage can be a great way to balance the spiciness. A light beer or a chilled glass of white wine like a Sauvignon Blanc pairs nicely. If you prefer non-alcoholic options, a lemonade or iced tea does the trick. As for side dishes, keep it light and refreshing with some celery sticks, carrot sticks, or a simple pasta salad.
Conclusion
Creating a Buffalo Chicken Salad at home is a journey of flavorful exploration that ends in a bowl of spicy, hearty goodness. Its simplicity is its charm, allowing even novice chefs to produce a dish that's both nutritious and incredibly tasty.
So, don't hesitate to share your culinary adventure in the comments section below. Your insights and experiences are the spice that keeps the community of food lovers thriving and experimenting. Happy cooking!
Thanks for Shanna Smith in Spiriteadrinks.
I'm Shanna, creator of Spiritea Drinks. I'm all about teaching people to grow their own food, tea, cook what they harvest, and eat with the seasons.