I wanted a tropical immune boost once I had smoothie envy from my nursing friends, Lyndsay and Jen, so I whipped up a morning smoothie back in the end of March. This smoothie has been getting me through this quarantine and perfectly transitions into summer. I wouldn't think to add raw carrots, but they're so refreshing & vibrant. You taste the mango, citrus, and ginger at the forefront of this drink, that you can't even taste the carrots! I think I'll be experimenting with more veggies in smoothies thanks to this Carrot Turmeric Smoothie.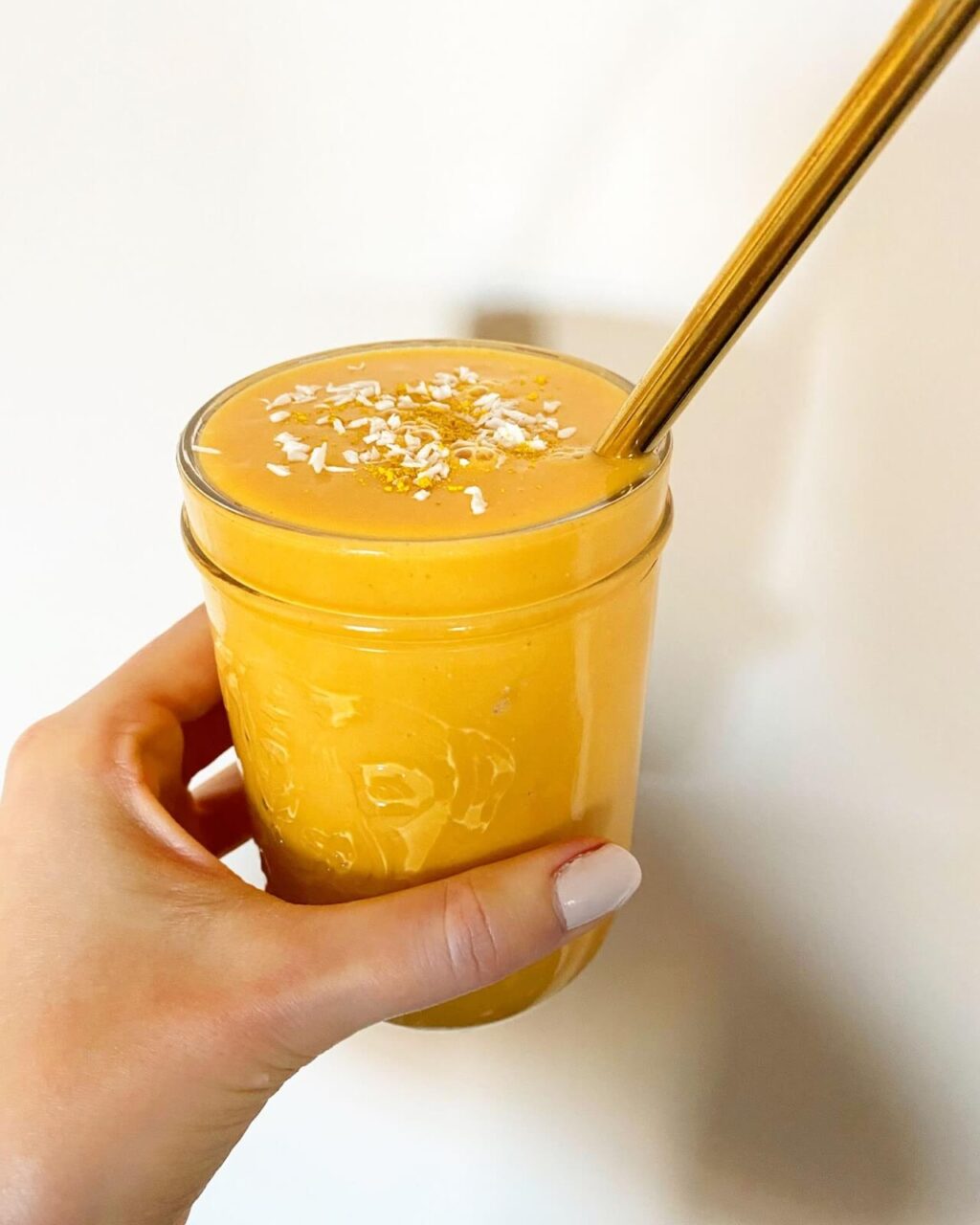 Ingredients (serves 1).
1/2 c frozen mango

5-6 baby carrots

1 clementine, peeled

1/2" piece of ginger root, peeled

1 packet @foursigmatic mushroom golden latte *

1 T shredded coconut

1 c unsweetened almond milk + coconut milk blend

4-5 ice cubes
* NOTE: If you don't have the mushroom golden latte (which understandably, most people don't have this hanging out in their pantry), try these spices instead:
1 t turmeric  +  1/4 t cinnamon  +  1/8 t cardamom  +  1/8 t nutmeg  +  pinch of cloves
Combine all ingredients in a blender and blend until smooth. Add milk and ice as needed.

Pour into a glass. (Carefully! — turmeric stains.)

Sprinkle with extra coconut and turmeric (optional).

Enjoy!
Nutrition for 1 smoothie (with golden latte packet).
227 calories

7.4. g fat (29%)

37.8 g carbs (66%)

3 g protein (5%)

6.2 g fiber

22 g sugar
Thanks for Shanna Smith from Spiritea Drinks
I'm Shanna, creator of Spiritea Drinks. I'm all about teaching people to grow their own food, tea, cook what they harvest, and eat with the seasons.