Are you a tea enthusiast looking to learn more about the different types of green tea? Look no further! This article will explore the fascinating world of green tea and its many varieties. 
Green tea offers various flavors and health benefits, from delicate and floral to rich and earthy. But with so many green tea types, how do you know which one is right for you? 
What are the differences between matcha and sencha or gyokuro and bancha? And how can you prepare green tea to maximize the health benefits of green tea? 
Join us as we dive into green tea and discover the answers to these questions and more.
Quotes of tea at Today

"if you're going to drink a cup of tea, why not take every care to maximize the pleasure?"
― Gail Honeyman, Eleanor Oliphant Is Completely Fine
Types of Japanese Green Tea
| | |
| --- | --- |
| Japanese Green Tea types | Description |
| Tencha | Used to make Matcha. Grown covered to block sunlight. Leaves are steamed and dried without rolling. |
| Sencha | Most popular green tea. Leaves undergo steaming and rolling. |
| Genmaicha | Blend of brown rice and Sencha. Lower caffeine content. |
| Bancha | Less fragrant and slightly bitter. Contains fluoride for dental benefits. |
| Gyokuro | Covered culture, distinct aroma, rich flavor. |
| Hojicha | Roasted green tea, low bitterness, easy to drink. |
| Matcha | Ground Tencha leaves, used in ceremonies. Consumes whole leaf. |
| Konacha | Made from tiny leaf bits and dust of other green teas. |
| Kabusecha | Covered for a week, darker green color, lower astringency. |
| Kukicha | Made from stems and stalks, mild fragrance. |
| Kokeicha | Formed tea made from ground sencha green tea powder and rice. |
| Tamaryokucha | Premium tea with a tangy flavor and almondy aftertaste. |
| Tamaryokucha | Made from young buds and tips, between Gyokuro and Sencha in quality. |
| Aracha | Raw and unrefined, using the whole tea plant, deep green hue and strong flavor. |
| Shincha | First tea harvest of the season, invigorating scent, low bitterness, and full-bodied flavor. |
| Funmatsucha | Affordable with a bitter flavor, potentially high in antioxidants. |
| Ichibancha, Nibancha, Sanbancha | Year's first harvest of new leaf shoots, known as Shincha, seasonal favorite. |
Tencha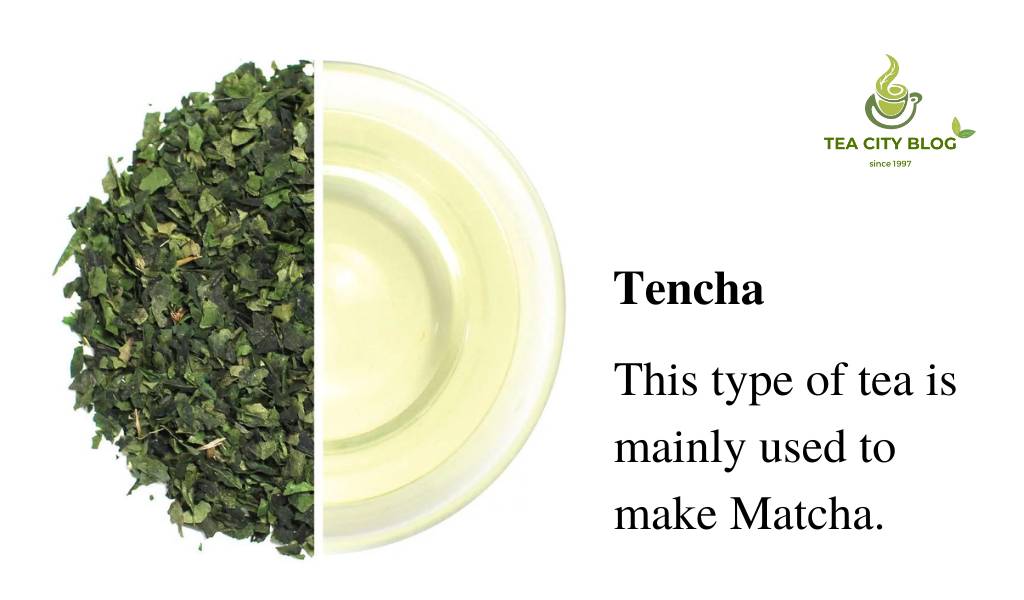 These types of green tea is mainly used to make Matcha. Covered culture is used to grow the raw leaves (Ichibancha) used for Tencha. This means the tea bushes are covered with reed screens or cloth to block out most of the sunlight, similar to Gyokuro.
The Tencha tea is made by steaming and drying the leaves without rolling them. The stalks and veins are stripped away, leaving small, delicate flecks behind. 
To grow these leaves, the tea bushes are covered for over 20 days before harvesting, which is longer than for Gyokuro tea. When Tencha is stone ground just before shipping, it is called Matcha and is ready to be shipped.
Sencha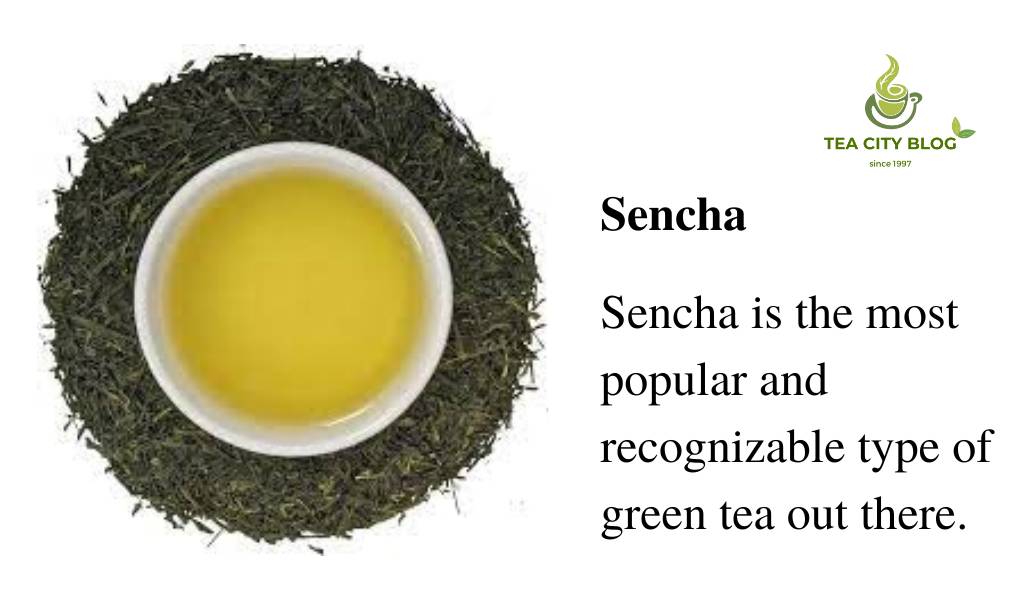 There are different types of green tea. And Sencha is the most popular and recognizable green tea out there. It's prepared using the most commonly used processing techniques, where the leaves undergo steaming and rolling to create raw tea.
Genmaicha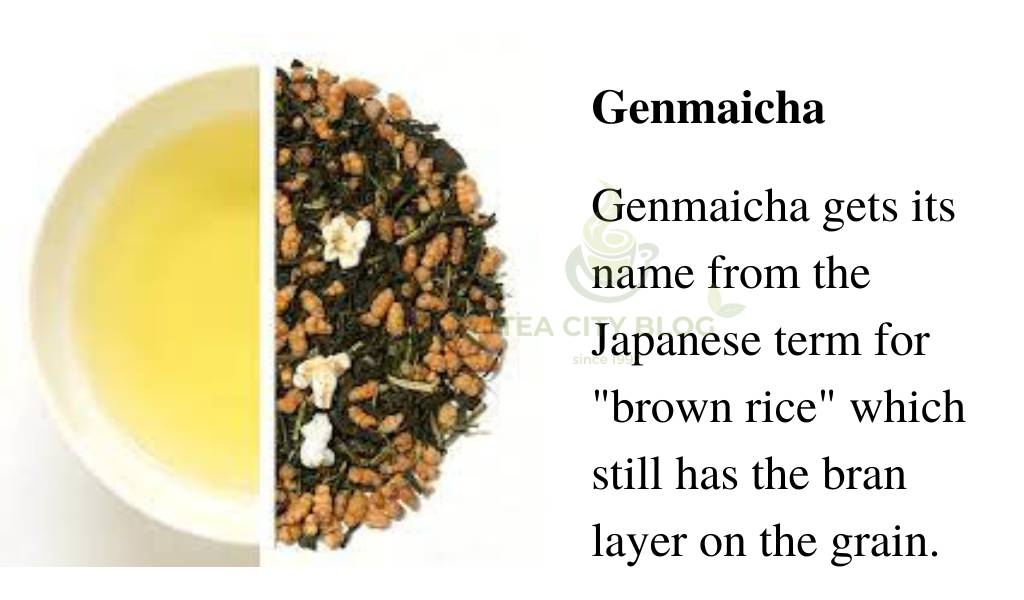 Genmaicha gets its name from the Japanese term for "brown rice," which still has the bran layer on the grain. First, the brown rice is soaked and steamed, then roasted and popped. Finally, it's combined with Sencha or another tea in roughly a 50:50 ratio. 
This creates a unique flavour that combines roasted brown rice's savory taste with Sencha's refreshing flavor. Because brown rice is mixed in, the amount of Sencha is decreased, which lowers the caffeine in green tea content. This makes Genmaicha an excellent tea option for children and elderly individuals.
Read More: The worst time to drink Green Tea: When and Why
Bancha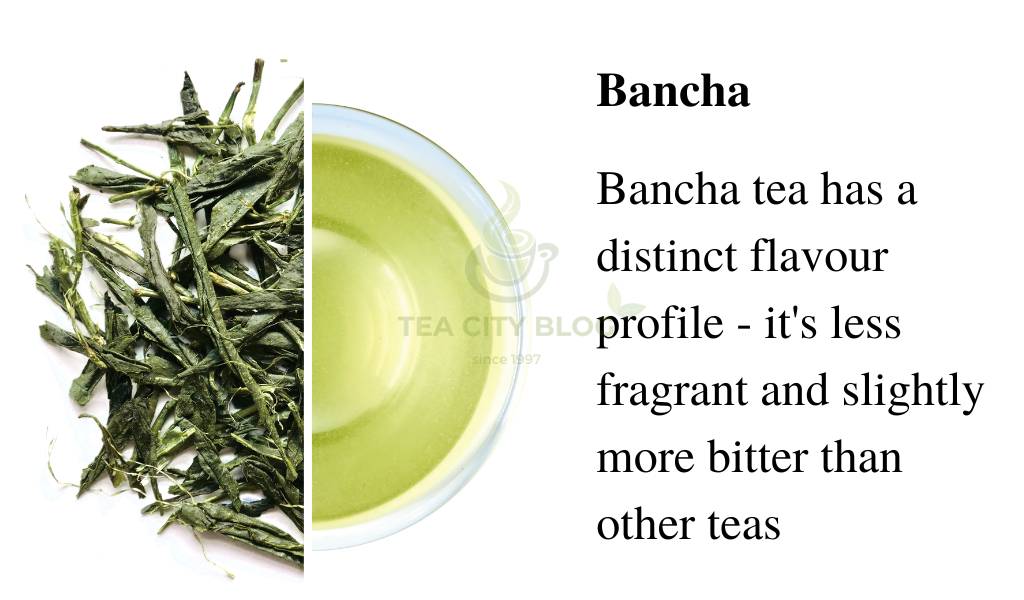 Bancha tea has a distinct flavor profile – it's less fragrant and slightly more bitter than other teas. 
However, this makes it the perfect choice to enjoy after a hearty meal. Got bad breath or tooth decay? This water's got your back! Its bitter taste comes from a ton of fluoride, which can help fight those pesky dental issues.
Additionally, Bancha tea leaves have a rough texture and contain some parts of the upper stem.
Gyokuro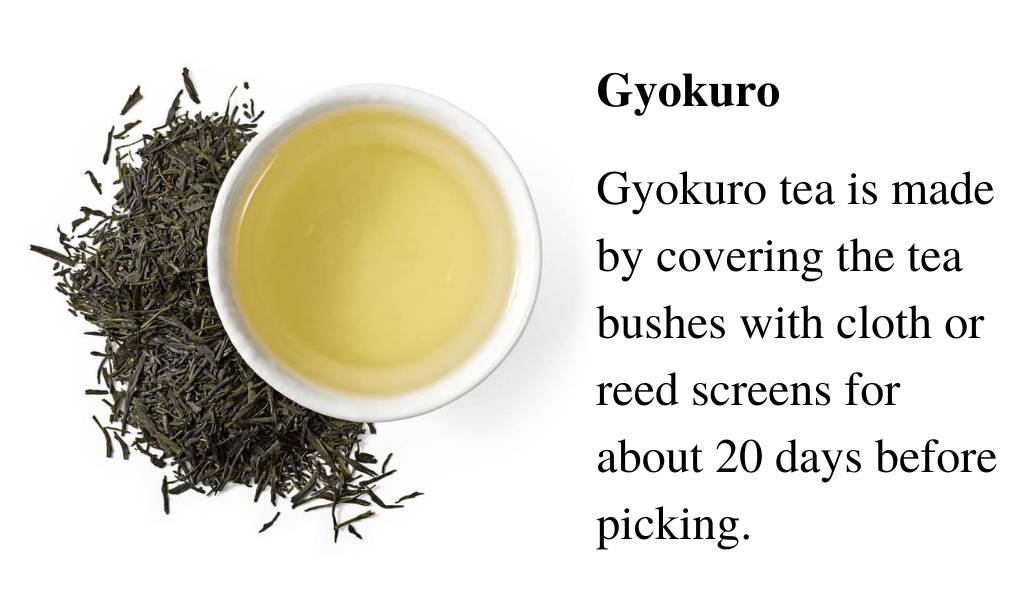 Gyokuro tea is made by covering the tea bushes with cloth or reed screens for about 20 days before picking. 
This method, known as "covered culture," limits the sunlight that reaches the new tea leaves. When tea leaves are processed, reducing the amino acid theanine decreases the production of astringent catechin compounds. As a result, the tea acquires a distinctive aroma reminiscent of nori seaweed and a rich and unique flavor.
Kabusecha is another type of green tea grown using similar brewing techniques of covered culture. However, Kabusecha is covered for a shorter period than Gyokuro, usually around one week before picking.
Read More:
Hojicha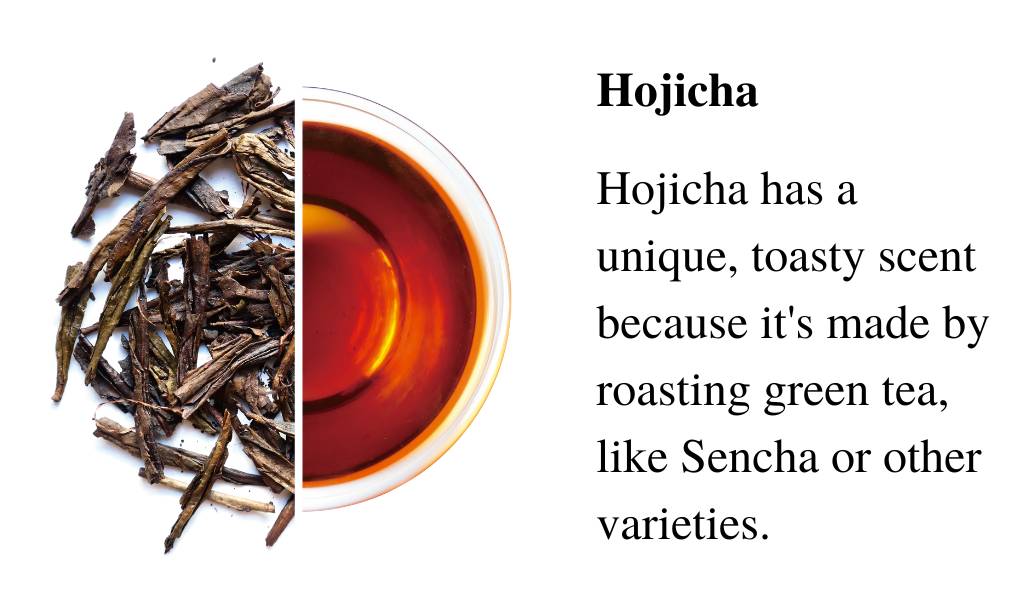 Hojicha has a unique, toasty scent because it's made by roasting green tea, like Sencha or other varieties. The tea leaves are heated in a roasting pan at around 200 degrees Celsius and then rapidly cooled. 
This roasting process sublimates caffeine, which means it changes from a solid to a gas and reduces the bitterness of Hojicha. Hojicha is the perfect tea for kids and seniors because it's easy to drink. It boasts a pleasant savory scent and a refreshing, delicate flavor that will satisfy you.
Matcha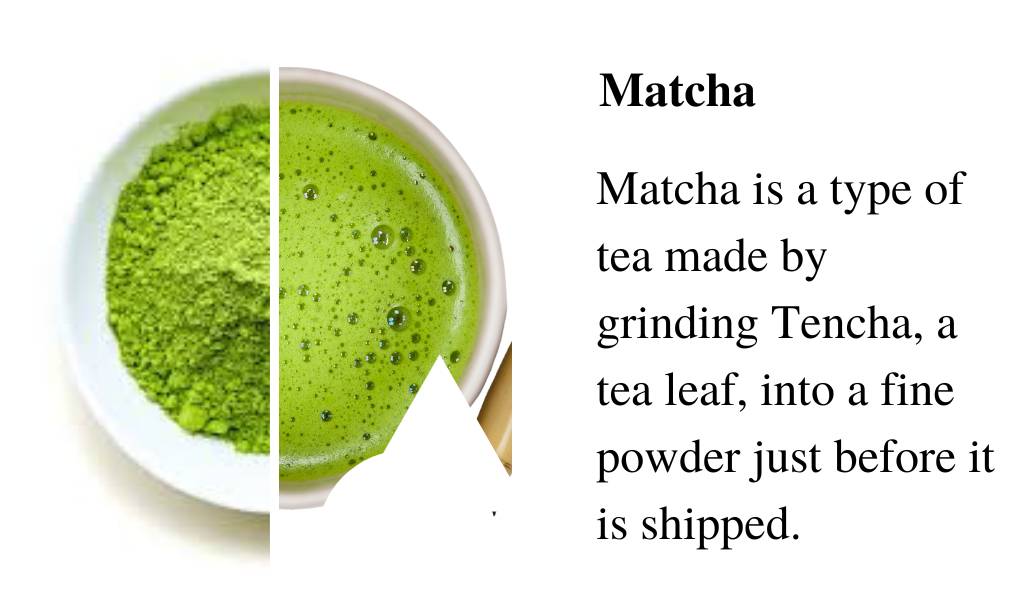 Matcha is a tea made by grinding Tencha, a tea leaf, into a fine powder before it is shipped. In Japan, Dark Matcha, or Koicha, is used in traditional tea ceremonies. In the past, Koicha was made from the leaves of tea bushes that were over 100 years old. 
Fancy some Koicha? They've now developed tea bushes that are a perfect match for it! Plus, they've got some cool techniques to keep the soil in top shape and the plants covered. And if you're a fan of Japanese tea ceremonies, you'll be happy to know that Matcha's not just for drinking anymore.
One unique aspect of Matcha is that when you drink it, you consume the whole tea leaf, unlike other types of tea like Sencha.
Konacha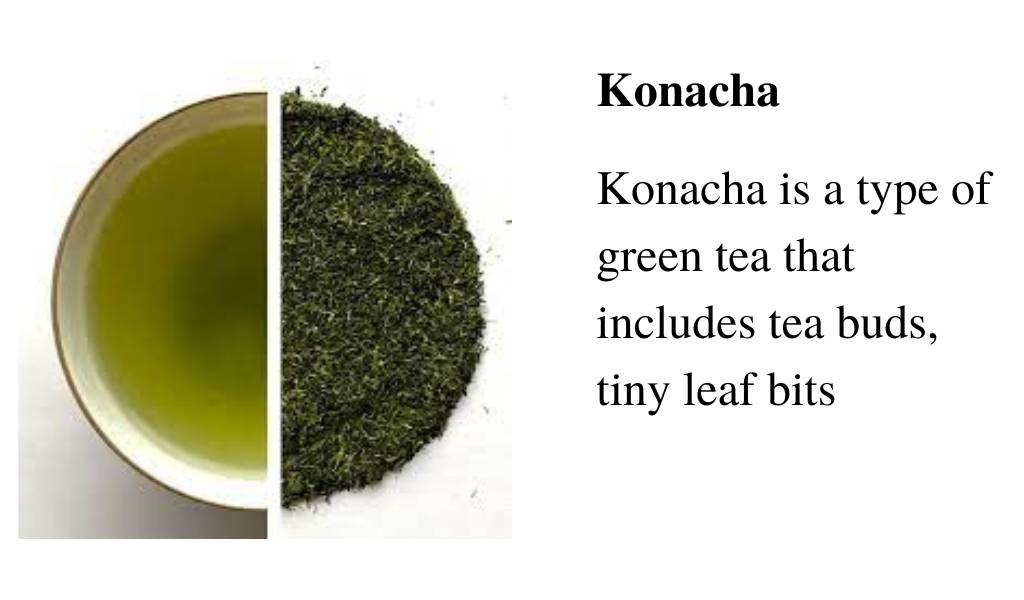 Konacha is a type of green tea that includes tea buds, tiny leaf bits, and dust that remain after processing other green tea varieties. It's an affordable option, but its health benefits are insignificant.
Kabusecha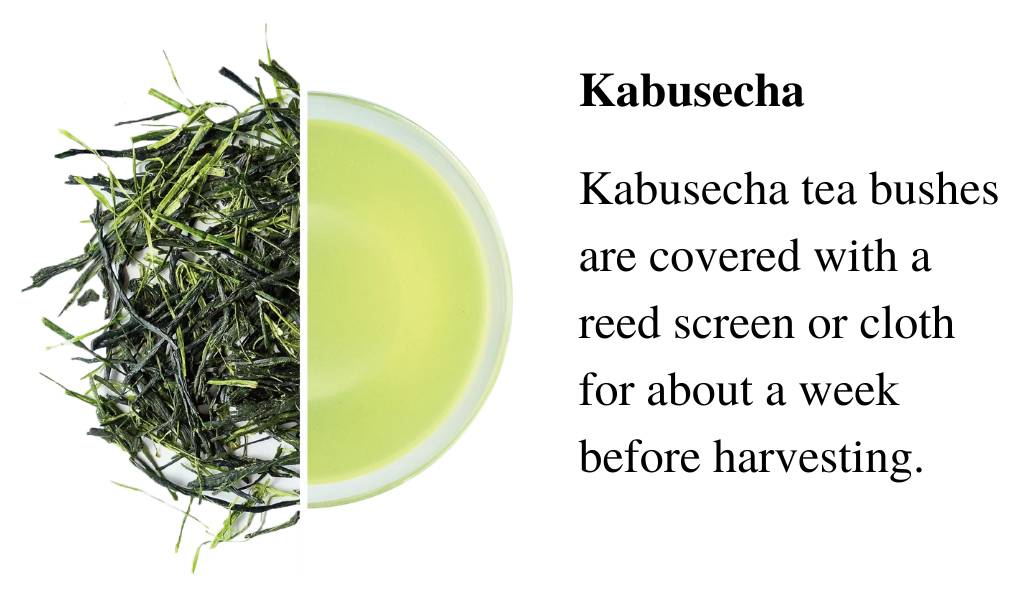 Kabusecha tea bushes are covered with a reed screen or cloth for about a week before harvesting. This blocks out most of the sunlight and allows new leaf shoots to grow in the shade.
As a result, Kabusecha tea has a darker green color, a full-bodied flavor, and lower astringency compared to Sencha tea. 
Gyokuro tea, another type of green tea, goes through a similar process but with a twist. The best time of day to drink green tea is of about 20 days before being picked.
Kukicha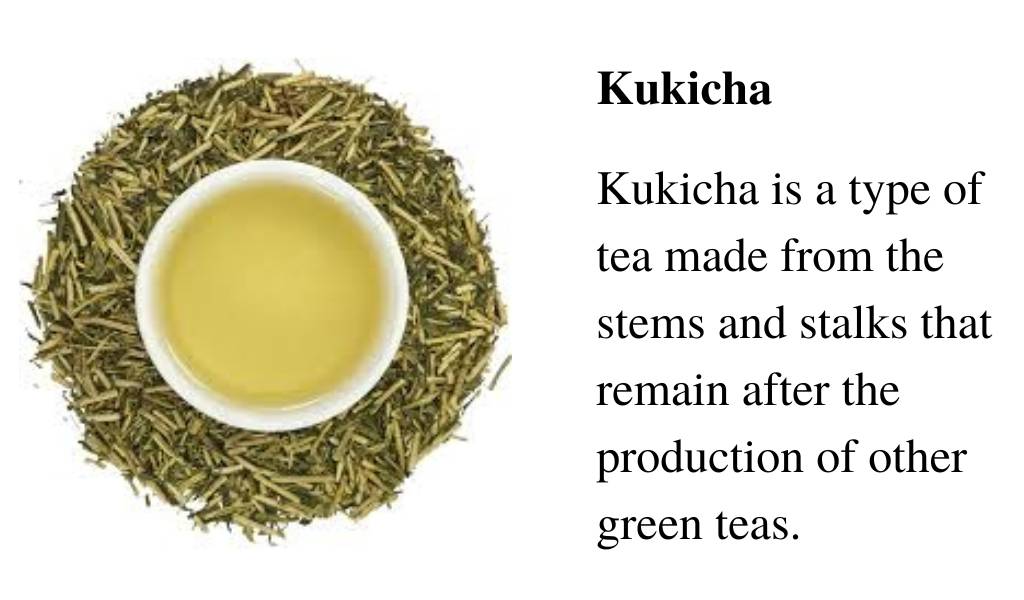 Kukicha is a type of tea made from the stems and stalks that remain after the production of other green teas. It has a fresh and mild fragrance that can leave you feeling revitalized. Some people refer to Kukicha as "twig tea" due to its appearance, which is usually yellow or brown.
Kokeicha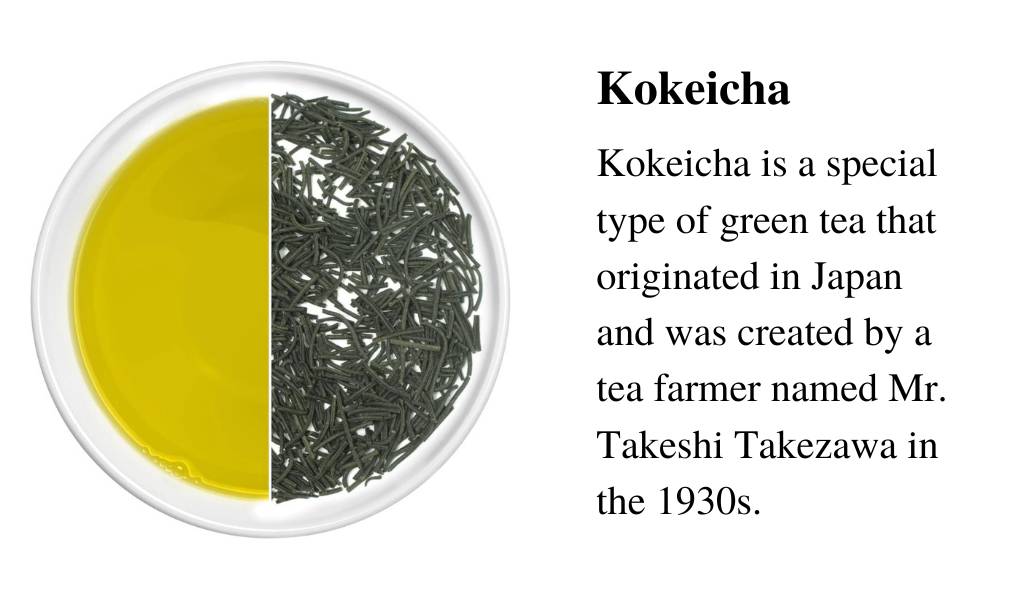 Kokeicha is a particular type of green tea that originated in Japan and was created by a tea farmer named Mr. Takeshi Takezawa in the 1930s. This tea is made from ground sencha green tea powder, rice, and water and takes on a needle-like shape.
In Japanese, "Kokei" means "fixed solid form," and "cha" means tea, so when translated, Kokeicha means "formed tea." This type of green tea has an anthracite leaf that produces a delicate, vegetal flavor and a cup with a citrusy color.
One of the unique features of Kokeicha is that it can be brewed multiple times before it starts to lose its flavor, unlike most loose-leaf teas. You can enjoy this beverage, either hot or cold, for a truly refreshing experience.
Tamaryokucha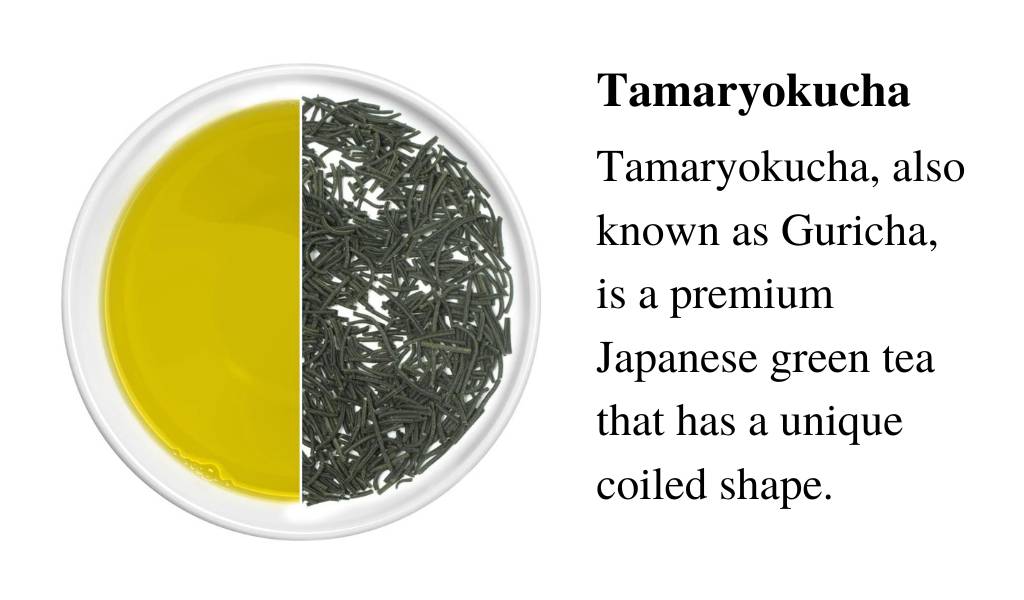 Tamaryokucha, or Guricha, is a premium Japanese green tea with a unique spiral shape. This tea boasts a tangy flavor reminiscent of berries and a delightful almondy aftertaste. Its aroma is deep and complex, with hints of citrus, grass, and berries.
Mecha
Mecha, a kind of green tea, gets its name from the young buds of the tea leaves used to produce it.
This particular type of tea is harvested in the spring and crafted into rolled-leaf teas that fall in quality between Gyokuro and Sencha. Mecha is made from a blend of leaf buds and tips from the season's first crops.
Aracha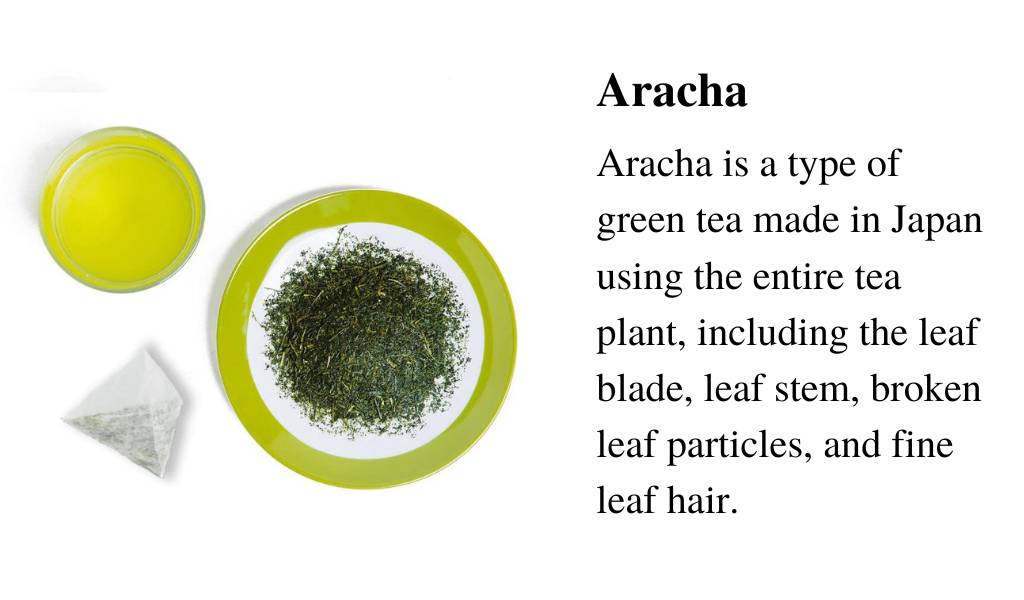 Have you heard of Aracha? It's a type of Japanese green tea that's raw and unrefined – they use the whole tea plant, from the leaves to the stem, broken bits, and even the little leaf hairs. It's like nature's way of saying, "Drink up"! 
This sets it apart from most other teas and gives it a deep green hue and a strong flavor, although the final taste can vary depending on how it's cultivated and produced.
Shincha
Shincha, also known as the "new tea," is the very first tea harvest of the season. Tea picking kicks off in warmer areas and gradually makes its way up north. Shincha and Ichibancha are two names for the same tea – no difference in taste, just a name game.
The context usually dictates the usage of these names. For instance, Ichibancha is typically used to contrast Nibancha and Sanbancha, which come from later pickings. Shincha means "first picking of the year" (Hatsumono) and is also called "in-season" tea.
Tea bushes store essential nutrients required to grow spring shoots and new leaves during the winter. These fresh leaves become Shincha, lush and packed with nutrients.
In Japan, February 4th is "Hachijuhachi-ya" day. Sipping tea picked on this day brings good health and good spirits all year round. Mark your calendars and sip your way to a happy, healthy year!
Shincha's most distinct characteristic is its refreshing and invigorating scent of new leaves.
Additionally, it has a low catechin and caffeine content, making it less bitter and astringent than Nibancha or Sanbancha. 
Shincha tends to have a higher content of amino acids (theanine), which gives it a full-bodied flavor and sweetness.
Funmatsucha tea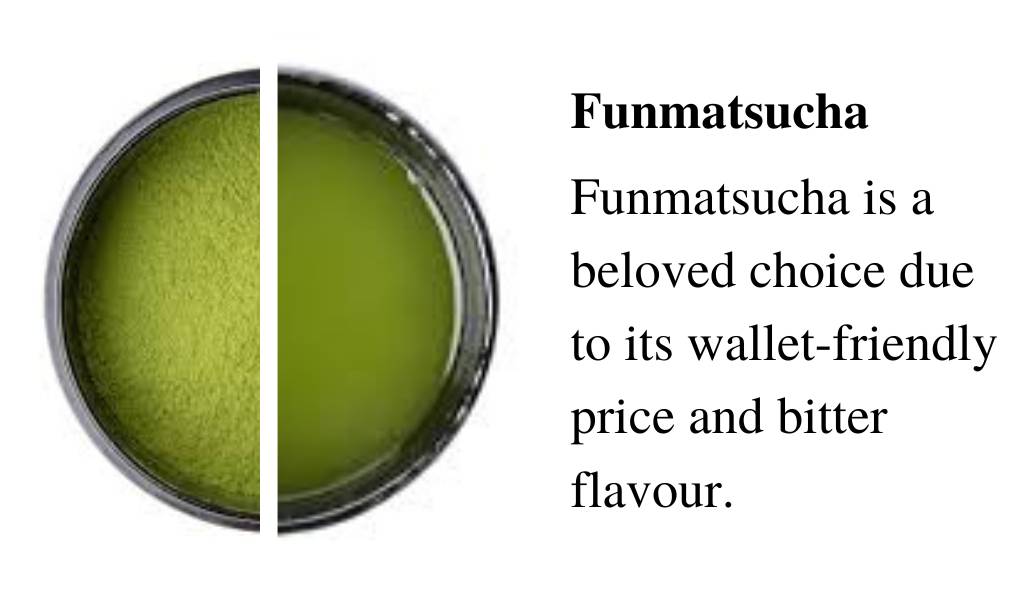 Funmatsucha is a beloved choice due to its wallet-friendly price and bitter flavour. This type of green tea likely contains more antioxidants compared to other varieties.
If you're feeling under the weather with a headache or common cold, Funmatsucha is an excellent go-to for relief.
Ichibancha, Nibancha, Sanbancha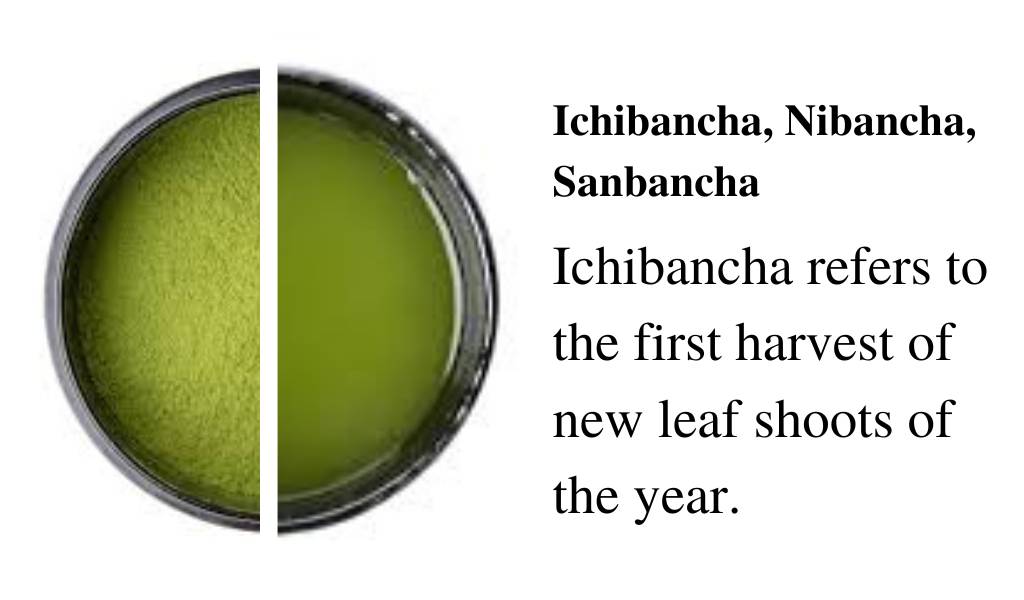 Ichibancha refers to the year's first harvest of new leaf shoots. Subsequent harvests are known as Nibancha and Sanbancha, based on the order in which they are picked. Ichibancha, known as Shincha or "first pick of the year" tea, is a seasonal favorite. It's the go-to choice compared to Nibancha and Sanbancha and is popularly used in various ways.
Additionally, some tea-growing areas have a variation called Shutobancha, which is harvested in early fall and replaces Sanbancha.
Read More: Whether you prefer the boldness of black tea or the freshness of green tea, there's no denying that each has unique qualities. Join us as we compare and contrast Green Vs Black Tea and help you choose the perfect cuppa for your mood.
Common Types Of Green Tea Chinese
| | |
| --- | --- |
| Green Tea Type | Description |
| | Pan-roasted green tea from Longjing Village, Hangzhou. Highly regarded for its exceptional quality. |
| | Grown in Dongting mountain region, Jiangsu. Named for its tight spiral shape resembling a snail. |
| Chun Mee | Popular in China, known as "Precious Eyebrows." Slightly tart and brisk taste, originally from Jiangxi. |
| | Originates from Anhui province, Yellow Mountain Fur Peak tea. Famous and included in China Famous Tea list. |
| Taiping Houkui | Grows at the foot of Huangshan, Anhui. Cultivated since Ming Dynasty, won "King of Tea" award in 2004. |
| Xinyang Maojian | From Xinyang, Henan, known as one of China's top ten famous teas. Initially called Benshan Maojian. |
| | Hailing from Anhui Province, has pan-fried leaves, delivering a sweet finish and verdant infusion. |
| | Comes from Jiangxi province, also known as "Lu Shan Yun Wu." Recognized as a "China Famous Tea." |
| Gunpowder Tea | Also known as pearl tea, each leaf is rolled into tiny circular pellets resembling gunpowder grains. |
Dragon Well Tea (Longjing tea)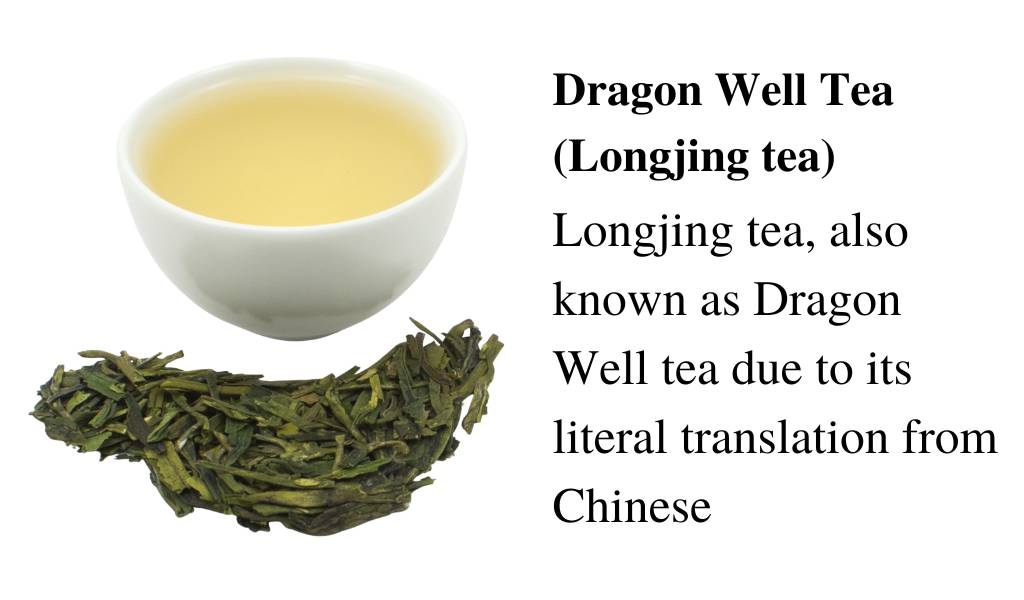 Longjing tea, also known as Dragon Well tea due to its literal translation from Chinese (龍井茶), is a pan-roasted green tea from the Longjing Village in Hangzhou, Zhejiang Province, China. 
Yet, what is green tea made of? The tea is mainly hand-produced and highly regarded for its exceptional quality, earning it the prestigious title of China Famous Tea.
Biluochun (Pi Lo Chun)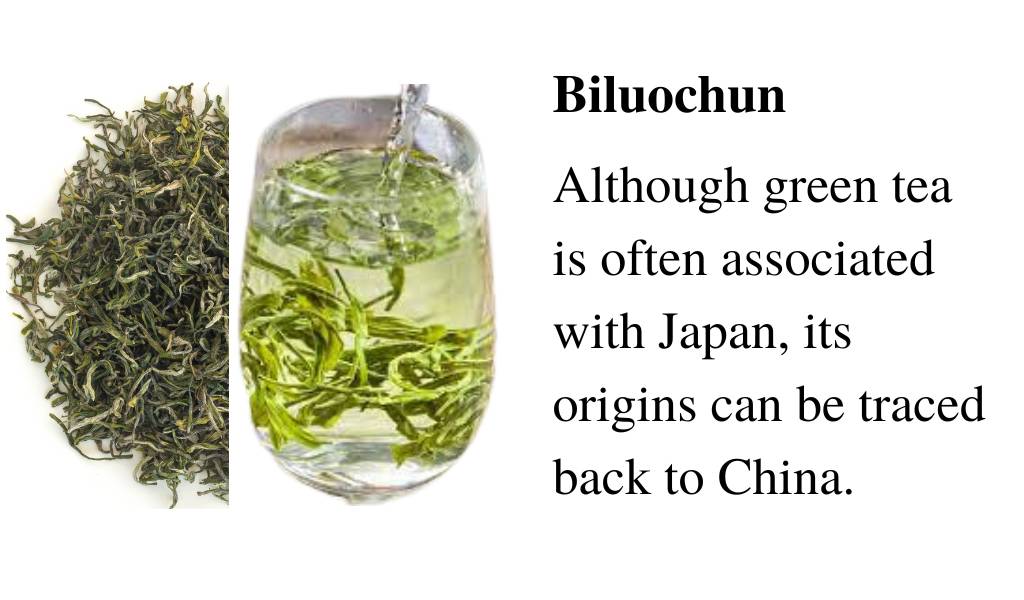 Although green tea is often associated with Japan, its origins can be traced back to China. 
One example is the Biluochun, grown in the Dongting mountain region near Lake Tai in Jiangsu. The name "biluochun" means "green snail spring" because of the tea's tight spiral shape that resembles a snail's shell.
Chun Mee ( Known for Precious Eyebrows in China)
Have you heard of Chun Mee? It's a green tea that's super popular in China, and it's called "Precious Eyebrows" – how cute is that? Its slightly tart and brisk taste distinguishes it from other Chinese green teas. While you can find it almost everywhere, it was originally produced in Jiangxi. Have you tried it before?
If you're a fan of Chun mee tea, check out Kusmi Tea's different blends that include it. For example, their organic jasmine green tea has a lovely floral aroma for sunny days. Or, try their almond green tea blend, which is tasty and plentiful for tea time. 
Their organic ginger and lemon green tea blend is a must-try if you want something refreshing. 
And for those who love tangy teas, their organic Troika green tea is a winner. Finally, organic imperial green tea is a gourmet choice if you want something comforting after a long day.
Huangshan Maofeng – Yellow Mountain Green Tea.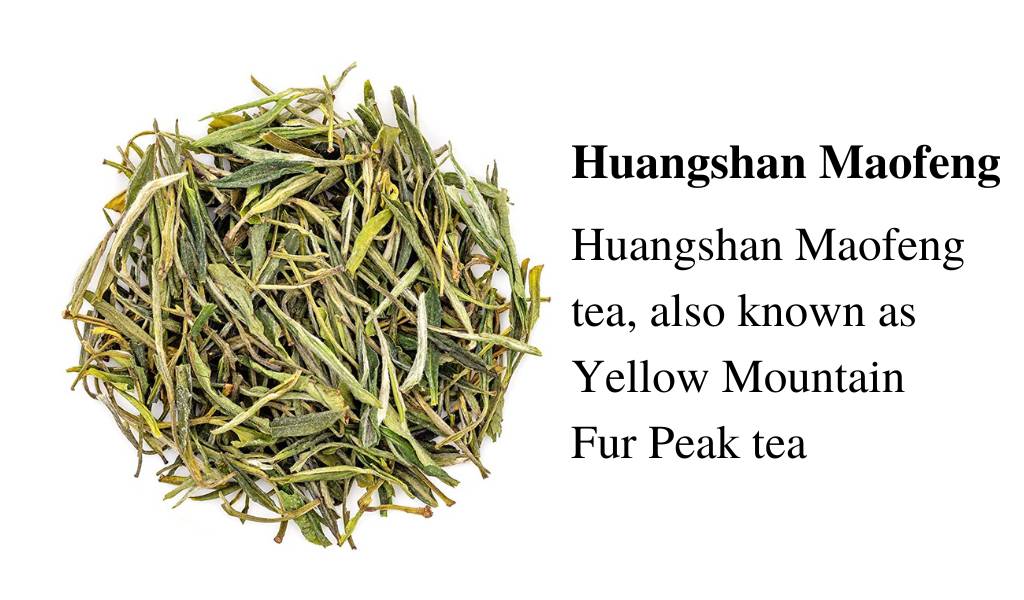 Huangshan Maofeng tea, also known as Yellow Mountain Fur Peak tea, is a type of green tea that originates from the southeastern region of Anhui province in China. 
It has become one of the most famous teas in China and is often included in the China Famous Tea list.
Taiping Houkui (Monkey Anhui Tea)
Taiping Houkui tea, also known as 'peaceful monkey leader' tea, is a Chinese tea that grows at the foot of Huangshan in the former Taiping Prefecture, Anhui. 
This tea has been cultivated since the Ming Dynasty and was even harvested for emperors during the Qing Dynasty. Hou Keng's commercial tea is now a renowned Chinese beverage, winning the "King of Tea" award at the 2004 China Tea Exhibition.
Xinyang Maojian (Yu Maofeng)
Xinyang Maojian tea, also known as Yu Maofeng, is a green tea from Xinyang, Henan, China. It's considered one of China's top ten famous teas and is a renowned specialty of Henan Province. 
Han tea farmers created this tea, initially called Benshan Maojian tea. Eventually, it became known as Xinyang Maojian, thanks to the top five tea houses in Xinyang Tea District that produced high-quality tea. 
This tea is a must-try for anyone who loves green tea!
Lu'An Melon Seed ( Lu'an Leaf)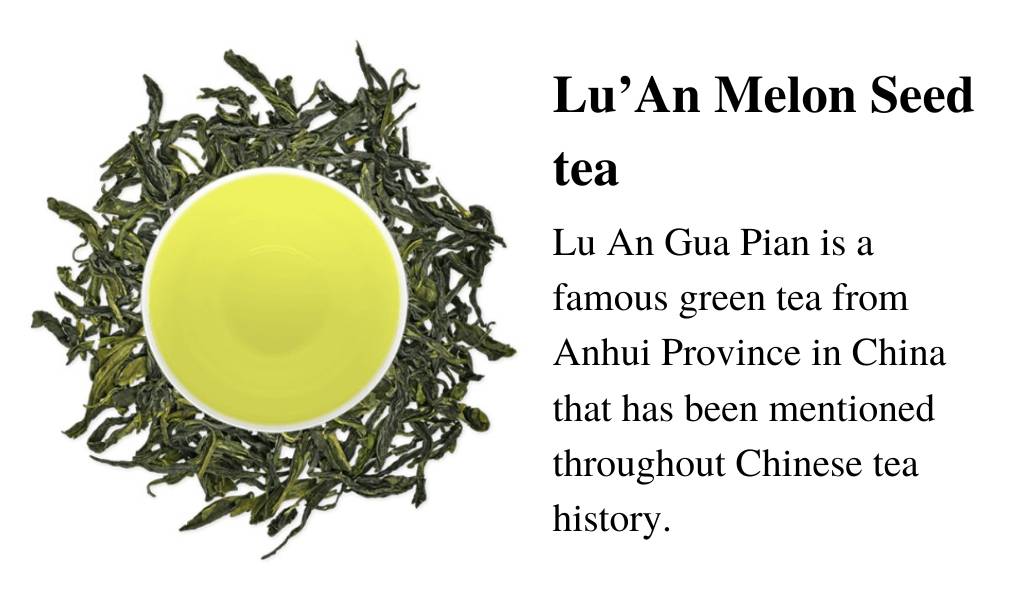 Discover the legendary Lu An Gua Pian, the renowned green tea hailing from China's Anhui Province, steeped in the History of green tea. Savor the distinctive pan-fried leaves that deliver a delightful, sweet finish and a refreshing, verdant infusion.
Our Lu, An Gua Pian, comes from tea harvested in April 2022, and it's grown at around 600m in Jinzhai County's Qi Tou Shan in Lu'an City Prefecture.
Lu Mt. Cloud Mist Tea (Hear Forest tea)
Lu Mountain Cloud Mist Tea is a type of Chinese green tea that comes from Jiangxi province. It's also known as "Lu Shan Yun Wu." This tea has a rich history and has been recognized as a "China Famous Tea," although it's now only included in some of the top ten lists.
Gunpowder Tea (pearl tea)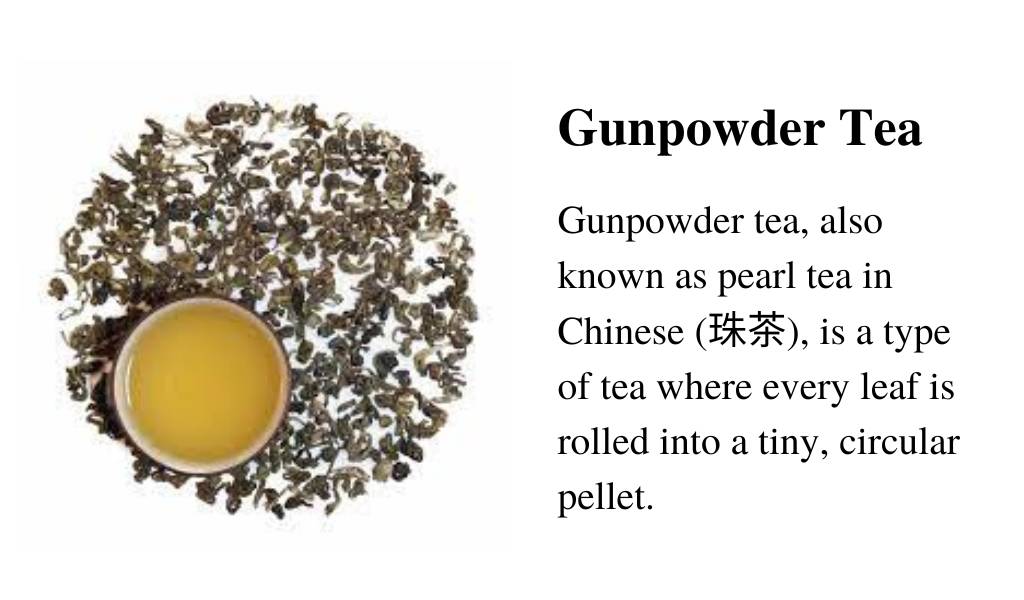 Gunpowder tea, also known as pearl tea in Chinese (珠茶), is a type of tea where every leaf is rolled into a tiny, circular pellet. Its name in English is derived from its resemblance to gunpowder grains. 
This shaping technique is mainly used for dried green tea (the most prevalent kind found outside China) and oolong tea.
Types of green tea flavours: Exploring the Taste Spectrum
| | |
| --- | --- |
| | Description |
| | Classic green tea with a perfect balance of peppermint's refreshing taste and green tea's lively flavor. Infused with jasmine green tea for a unique aroma and flavor. |
| Tulsi Green Tea | Combines holy basil (Tulsi) with green tea for a blend of taste and wellness. Linked to enhancing immune system, increasing energy levels, and reducing stress. |
| | A soothing blend of chamomile flowers and green tea. Known for mildly sedative properties, making it a great sleep inducer. |
| | Contains jasmine flowers, offering a sweet scent and powerful antioxidants that combat free radicals. May aid in arthritis treatment and regulate blood pressure. |
| | Made from handpicked organic leaves at the base of the Himalayan mountains. Acts as a detoxifier, fights fatigue, improves digestion, and regulates blood pressure. |
Moroccan Mint Green Tea (Maghrebi Mint Tea)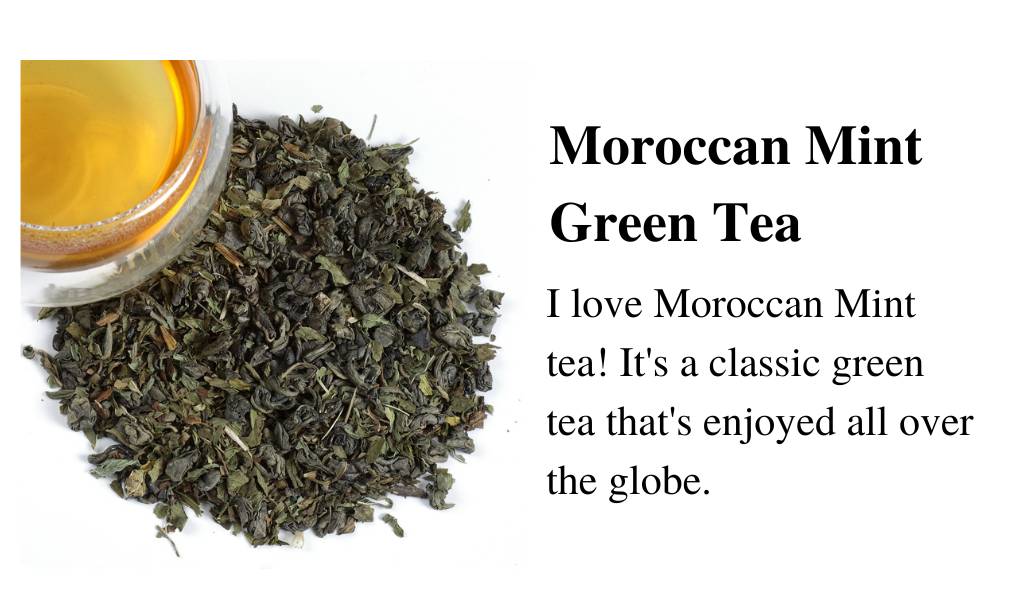 I love Moroccan Mint tea! It's a classic green tea that's enjoyed all over the globe. I adore the perfect balance between peppermint's refreshing taste and green tea's lively flavor. I want to add sweetness to mine, but that's entirely up to personal preference.
Our Moroccan Mint tea is unlike any other; we infuse jasmine green tea to create a mesmerizing aroma and flavor that will take your taste buds on a thrilling adventure. It's not your average Moroccan Mint tea, and it's a game-changer! Give it a try, and you'll see what we mean.
Tulsi Green Tea (Holy Basil)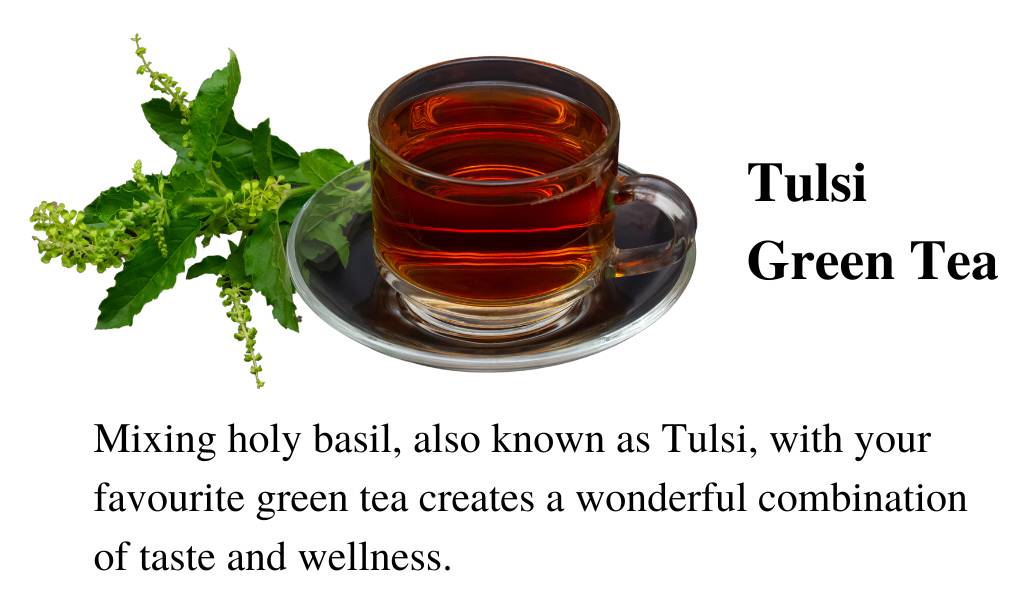 Mixing holy basil, or Tulsi, with your favorite green tea creates a beautiful combination of taste and wellness. Drinking Tulsi, green tea has been connected to enhancing your immune system, increasing your energy levels, and reducing stress.
Chamomile Green Tea (Matricaria recutita)
Green tea lovers often consider the combination of chamomile flowers brewed in hot water with their green tea as their favorite. 
This blend is known for its soothing effect and mildly sedative properties, which make it a great sleep inducer. So if you're having trouble sleeping, try sipping on some of this delicious tea before bed!
Jasmine Green Tea (Mo Li Hua – Xiang Pian)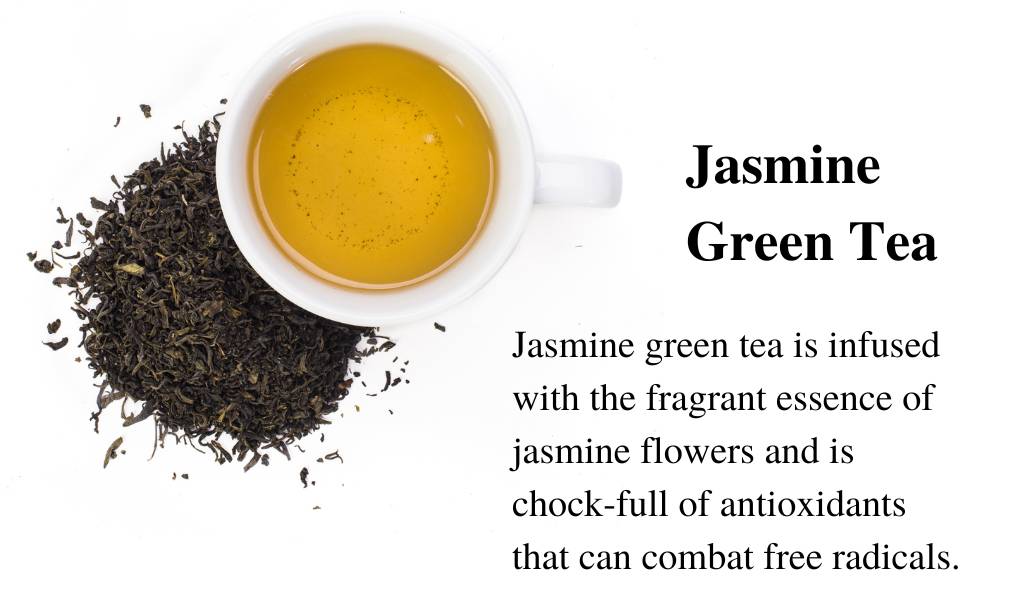 Sip on some Jasmine green tea and soak up the sweet scent of jasmine flowers! This delightful brew contains powerful antioxidants that can take on those pesky free radicals.
According to studies, this type of green tea may aid in the treatment of arthritis, as well as alleviate stress and regulate blood pressure.
Himalayan Green Tea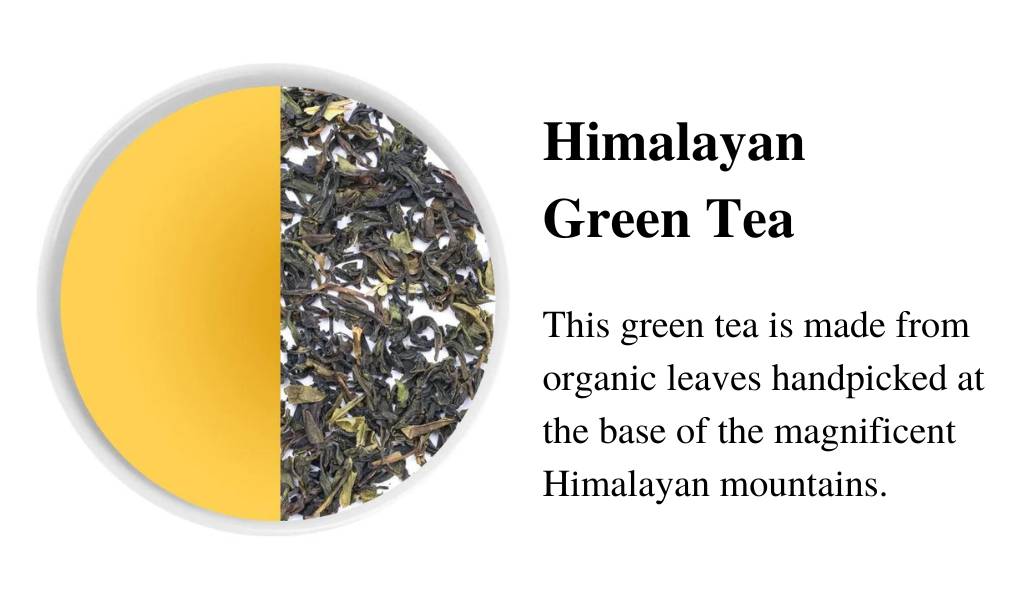 This green tea is made from organic leaves handpicked at the base of the magnificent Himalayan mountains.
It's a fantastic detoxifier that helps fight fatigue, improves digestion, and regulates blood pressure. So if you're looking for a natural way to revitalize your body and feel refreshed, this tea is worth a try!
Honey Lemon Green Tea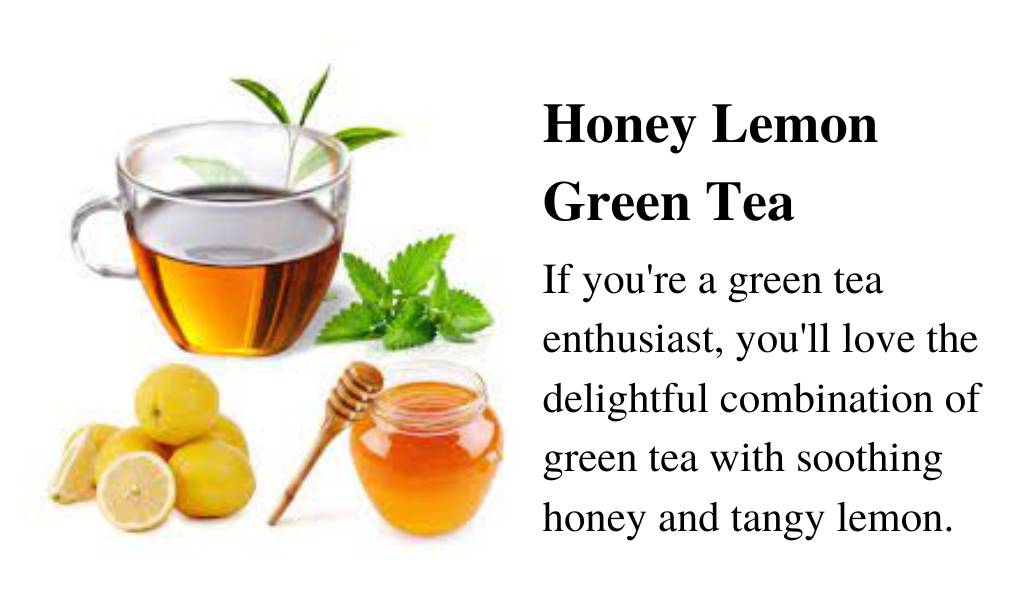 If you're a green tea enthusiast, you'll love the delightful combination of green tea with soothing honey and tangy lemon. This is a treat for your taste buds and a great way to combat various health issues. So why not make it your go-to drink?
FAQs
What are the production techniques used for green tea?
There are two primary regions where green tea is produced, each with its distinct method. Japan uses the technique of roasting tea leaves with water and steam. Meanwhile, the Chinese method uses giant metal vats that resemble works.
How can you differentiate green tea from other types of green tea flavours?
There are many types of green tea flavours in India – green tea, black tea, white tea, and oolong tea, to name a few. But, how to make green tea with dried, prepared, and brewed affects their taste and health benefits. Today, we'll focus on green tea.
I'm Shanna, creator of Spiritea Drinks. I'm all about teaching people to grow their own food, tea, cook what they harvest, and eat with the seasons.