Introduction: Teabloom Stovetop & Microwave Safe Teapot (40 OZ)
In my New York apartment, where my team and I rigorously tested various teapots, the Teabloom Stovetop & Microwave Safe Teapot (40 OZ) stood out distinctly. On a bright May morning, as I entered my kitchen, this particular teapot immediately caught my attention. It's part of our team's mission to find the best teapots available.
My fascination with tea leads me to try out different teapots that promise to enhance the tea brewing experience. Today, I'm thrilled to share my thoughts on one such product – the Teabloom Stovetop & Microwave Safe Teapot (40 OZ).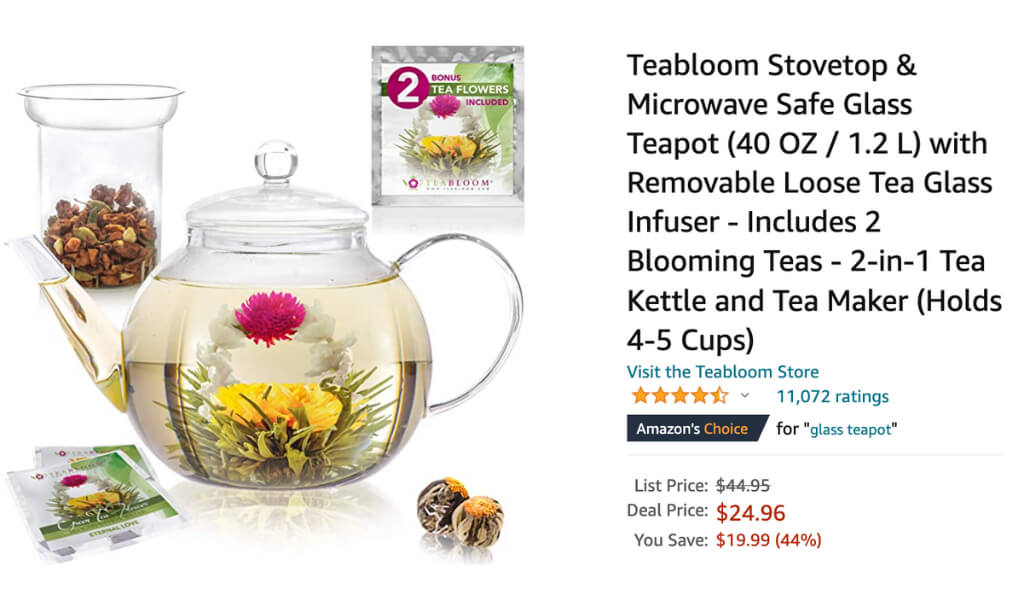 Product Description: Teabloom Stovetop & Microwave Safe Teapot (40 OZ)
Stepping into my kitchen in my New York apartment one sunny morning in May, the Teabloom teapot caught my attention immediately. Its design – clean lines and perfect proportions – and its high-quality, heat-resistant borosilicate glass build rendered it elegant and inviting. This stovetop and microwave-safe teapot makes it a versatile companion for tea lovers. It can withstand heat, and more importantly, it preserves the purity of the tea taste without infusing any external flavors.
The thoughtful construction of the Teabloom Teapot incorporates an extra-wide handle, which ensures a firm grip during handling. It also features a non-drip spout that prevents unnecessary spills, ensuring a seamless tea-pouring experience. The crystal clear glass teapot is strong yet lightweight and has a generous 40-ounce capacity. This means it can brew up to five cups of tea, perfect for a little tea gathering or, if you're like me, a whole afternoon of indulging in the beautiful world of tea.
Positive User Experiences: Teabloom Stovetop & Microwave Safe Teapot (40 OZ)
Teabloom's teapot isn't just about functionality; it's an aesthetic addition to your kitchen. It's evident from several user reviews that the visual element of this teapot is much appreciated.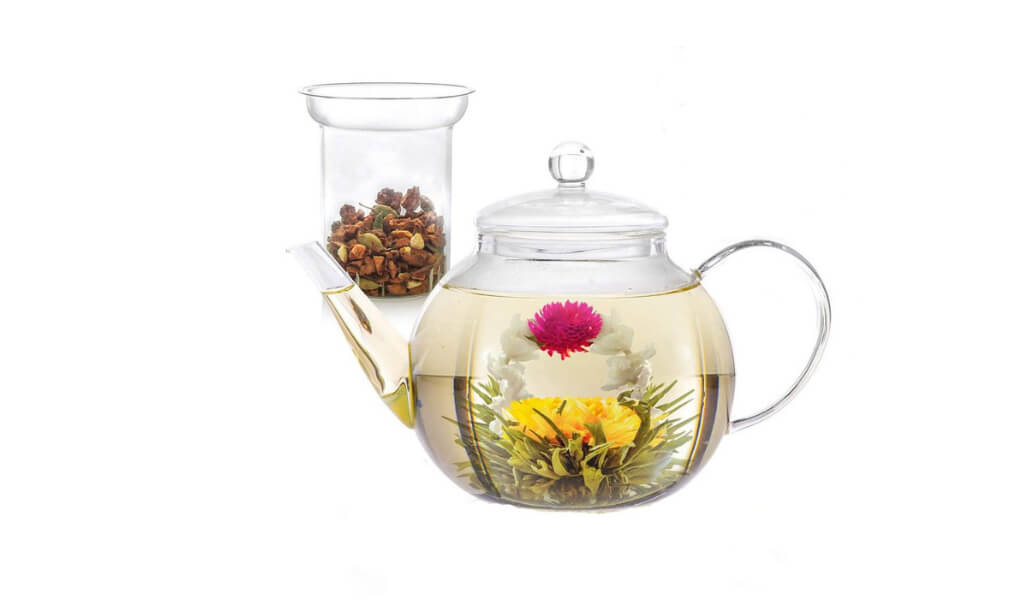 As one user points out, "seeing this on my stove every morning" adds a sense of tranquility and satisfaction to their tea-making ritual.
One particular feature that users repeatedly appreciate is the teapot's versatility. Whether brewing traditional loose-leaf tea or watching blooming tea flowers unfurl their beauty, this teapot caters to it all.
And let's remember the teapot's compatibility with various heating options – stovetop, microwave, and dishwasher safe – adding a layer of convenience to its users.
Issues Experienced: Teabloom Stovetop & Microwave Safe Teapot (40 OZ)
While the Teabloom Teapot enjoys widespread praise and personal affection, it does have some room for improvement. Many users have raised a common issue with the infuser, noting that tiny tea particles can slip through the slits, causing a slight disruption to the overall enjoyable tea-drinking experience.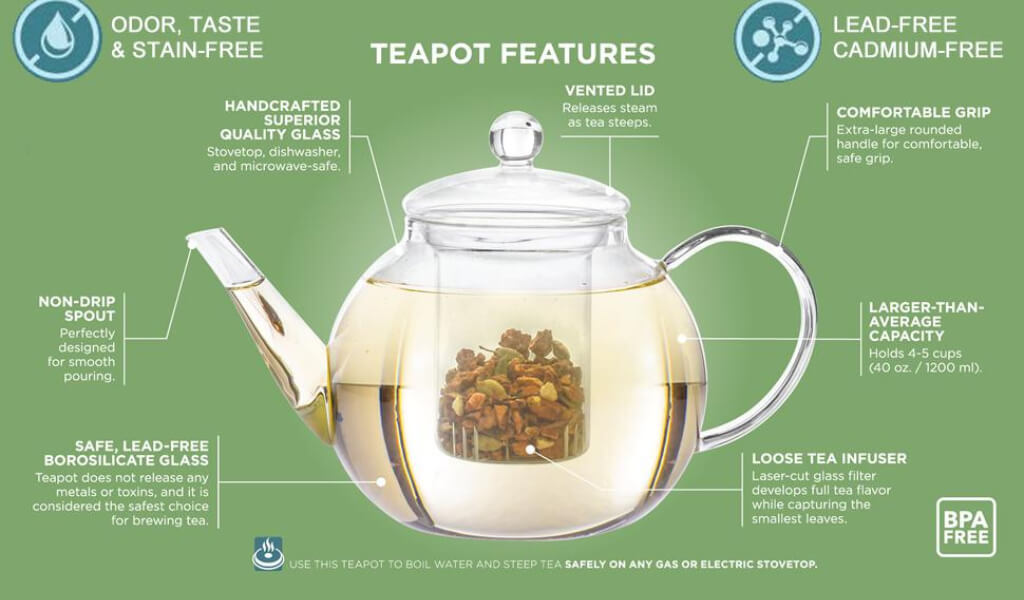 Cleaning is another aspect where users have expressed concerns. Although elegantly long and narrow, the spout can pose a challenge when it comes to cleaning. A brush or a tool to assist in this task would have been a welcome addition.
My Personal Experience: Teabloom Stovetop & Microwave Safe Teapot (40 OZ)
I had an amazing time using the Teabloom Teapot. Its transparent design let me watch my Earl Grey tea leaves infuse in the water, making my regular afternoon special with a homemade tea ceremony.
One of my most memorable experiences with the Teabloom Teapot was during a Saturday brunch gathering at my place in late June. We decided to try blooming tea flowers. As the flowers unfurled and bloomed, they turned tea-making into a spectacle, a delightful performance that added to the overall brunch experience.
Read More: 5 Main Difference Between Teapot and Kettle You Should Know
What I Like and Dislike About the Teabloom Stovetop & Microwave Safe Teapot (40 OZ)
Having used the Teabloom Teapot regularly for some time now, there are several elements I've come to appreciate about it and a few areas where improvements could enhance the experience further.
Likes:
Versatile Use:

The Teabloom Teapot has been a trusty companion for all my tea adventures. Its versatility, stovetop, microwave, and dishwasher safe, add a layer of convenience that I appreciate as a frequent tea drinker.

Elegant Design:

This teapot's clean lines, perfect proportions, and clear borosilicate glass are visually appealing. It's a tool to brew tea and an aesthetic addition to my kitchen.

Enhanced Tea Experience:

The clear glass offers a unique view of the brewing process, allowing me to watch as the tea leaves unfurl and the water changes color. This feature is especially mesmerizing when using blooming tea flowers.

Quality Construction:

Despite its delicate appearance, the teapot is surprisingly durable. It has stood up well to regular use and shows no signs of staining or water deposits even after several uses and washes.

Generous Size: With a capacity to brew up to 40 ounces, or five cups, of tea, it's perfect for hosting small tea parties or for those days when one cup won't suffice.
Dislikes:
Loose Lid:

The lid doesn't fit as snugly as I'd like. It tends to rattle around, especially when pouring, which can be slightly disruptive.

Infuser Design:

While the glass infuser is fine for larger tea leaves and blooming teas, it does allow smaller particles to escape, which can end up in the cup. An improved infuser design to prevent this would enhance the overall tea experience.

Cleaning Difficulties:

Although the teapot is dishwasher safe, cleaning the long, narrow spout can be challenging. A specially designed cleaning brush included in the package would have been a welcome addition.
Despite some flaws, the Teabloom 40 oz Teapot has greatly enhanced my tea experience, making it a worthwhile investment for any tea lover.
Thanks for SpiriteaDrinks
Read More:
I'm Shanna, creator of Spiritea Drinks. I'm all about teaching people to grow their own food, tea, cook what they harvest, and eat with the seasons.