After trying Giada's version of fresh spring rolls with the spicy chili Greek yogurt sauce this summer, here's a much, much easier version: Veggie Spring Rolls with Sriracha Soy Sauce. Simple ingredients assembled in a fresh way. No complicated sauce or cooking soba noodles — just vegetables you have on hand paired with sriracha and soy sauce. When I want a veggie fix without a salad, these fresh spring rolls become option number two. Perfect for your next holiday party, get-together or perhaps even football showing (you need to balance out or substitute the chips and wings somehow, right?). The Veggie Spring Rolls somehow manage to be both extravagant and simple, but most importantly, always colorfully delicious.
Ingredients (makes 4 rolls, serves 2)
For the Veggie Rolls:
1 c baby romaine, loosely packed

1 c baby spinach, loosely packed

1/2 c shredded carrots

1/2 ripe avocado, pitted and sliced (how to find ripe avocados here)

1/4 red bell pepper, washed and thinly sliced

1/4 yellow bell pepper, washed and thinly sliced

Handful of green beans, cooked

4 round rice papers (8 inch)

8 large leaves of fresh basil (or 1/4 c packed)

1/4 c fresh cilantro (optional)
NOTE: see Additional "Fillings" below for more options or substitutes. This doesn't have to be perfect. Just whatever you have on hand that sounds tasty! Short on time? Do the chopping beforehand and store the prepped veggies in the fridge.
For the Sauce:
Sriracha chili sauce

6 T soy sauce, low sodium
How to make Simplified Veggie Rolls
Fill an 8+ inch pie pan with water. Soak one rice paper in water until softened — about 15-20 sec. Lay damp rice paper on a damp kitchen towel and a flat surface for your "assembling station."

Place spinach and baby romaine leaves directly on rice paper so they fully cover the middle area of the rice paper. Add fresh cilantro (optional — seems to be a love/hate relationship for some!) and fresh basil on top of spinach and romaine leaves.

Top greens with 1-2 avocado slices of same length of greens (see pictures below — how to find ripe avocados here).

Add about 2-3 of each respective pepper slices per roll, a handful of carrots, and about 3-4 green beans.

Roll the rice paper up, following instructions on package. Be careful and gentle! The paper may be quite sticky at this point.

Repeat "assembly" steps 1-5 with the remaining ingredients.

For the sauce sauce, place the size of a dime of sriracha in the bottom of a small dish. Place 3 T of soy sauce in the same dish. Repeat for the second dipping bowl.

Finished veggie rolls can be stored in the fridge for 24 hours. Any longer and they're quite dehydrated.

Serve with soy sauce and enjoy!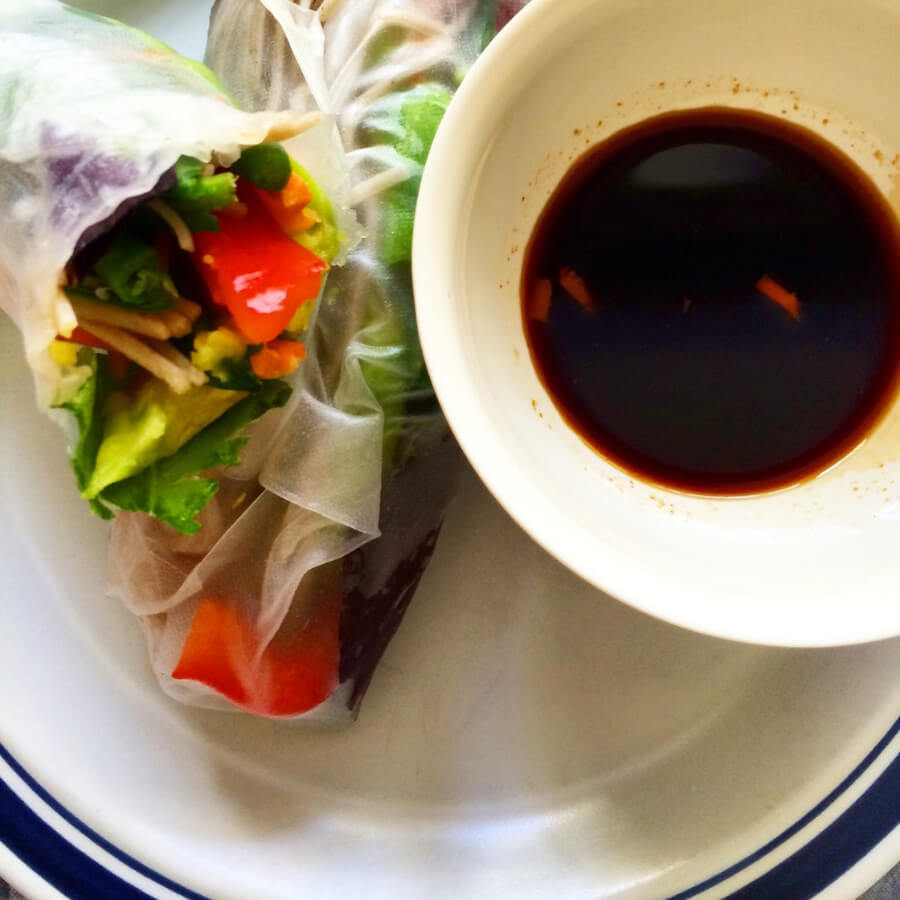 Additional "Fillings":
Quinoa or brown rice

Peanuts

Sweet Potato

Fresh herbs like mint, basil, parsley, cilantro

Fresh Ginger

Greens like arugula, iceberg lettuce, or kale

Purple cabbage

Shrimp, chicken or beef

Tofu
Baby romaine, baby spinach, fresh basil & cilantro, yellow & red pepper, shredded carrots & avocado.
Tuscan kale, baby spinach, fresh basil & cilantro, red & orange pepper, cucumber, avocado & quinoa.
Read More:
Note of Simplified Veggie Rolls Repice
Customization is Key
The charm of these Veggie Spring Rolls lies in their versatility. The Additional "Fillings" section is your gateway to creativity. Whether it's quinoa, sweet potatoes, or a variety of fresh herbs, the choices are endless. Have some leftover chicken or shrimp?
A Make-Ahead Marvel
Prepare the veggies ahead of time, store them in the fridge, and come assembly time, you're ready to roll. It's not just a time-saver, but also a stress-buster, especially when you have guests over.
Fun Family Activity
The assembly can turn into a fun family activity. Invite the kids to join in, and you'll have not just rolls, but memories being made. It's a playful way to introduce them to a rainbow of vegetables.
A Dip to Die For
The Sriracha Soy Sauce is simplicity at its best. It's the perfect companion to the crunchy freshness of the rolls, adding a zesty kick that keeps you coming back for more.
Thanks For Spiriteadrinks.
I'm Shanna, creator of Spiritea Drinks. I'm all about teaching people to grow their own food, tea, cook what they harvest, and eat with the seasons.