Now that my finals and my chapter at Cornell have come to a close, I have the chance to post some power meals in the making from this past week. Inspired by the Moosewood cookbook my mom gave me, I want to make some that would be both fresh and ready for summer. On my kale kick from the Kale Caesar Salad, I decided to indulge in a roasted vegetable flatbread, a perfect transition to warmer weather. Here's the Kale, Asparagus & Cherry Tomato Flatbread.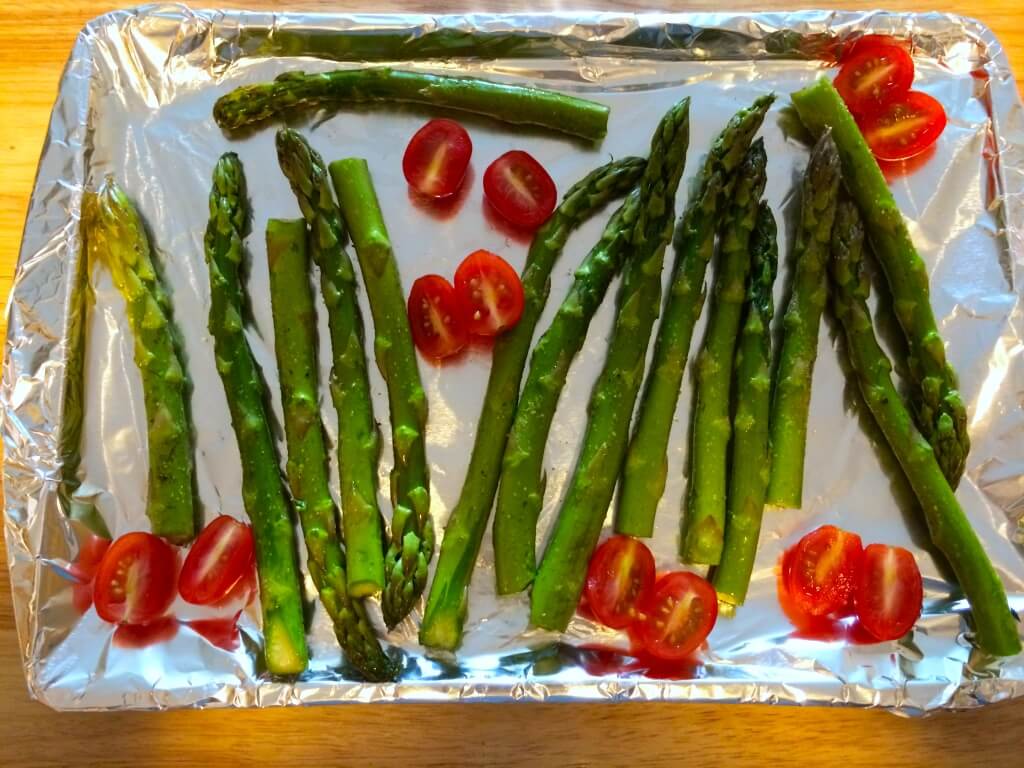 Ingredients
5-7 cherry tomatoes, washed and halved
10-12 asparagus stalks, washed
2-3 c of kale, loosely pack, washed and "despined" (how to easily here)
1/4 c reduced fat mozzarella
1/4 c shaved parmesan
1 whole-wheat naan
1 t dried basil
2 T fresh basil, washed and chopped
1/2 t garlic powder
1/2 t minced garlic
2 T light olive oil
Salt and pepper to taste
Directions
Preheat the oven to 375 °F. Toss cut and cleaned asparagus and cherry tomatoes in 1 T olive oil, salt and pepper, and garlic powder. Place cherry tomatoes and asparagus on cookie sheet and roast for 20 min.
Toss and flip vegetables and put back in for 10-15 min until tender.
As the vegetables roast in the oven, heat 1 T olive oil, minced garlic and dried basil in a large saucepan on medium heat.
When the oil starts to sizzle, add in kale and sauté. Once wilted and barely browned, remove kale from heat.
Remove asparagus from oven and cut stalks into thirds. Place on wholewheat naan. Top with roasted cherry tomatoes and kale. Place mozzarella and parmesan on top.
Place flatbread under broiler until cheese begins to brown.
Once done, top with fresh basil and enjoy!
Read More:
The Health Benefits of Summertime Flatbread
Summertime flatbreads like this Kale, Asparagus & Cherry Tomato creation aren't just delicious; they also come with a host of health benefits. As we embrace the warmer weather, it's the perfect time to opt for lighter and more nutritious meals. Here's why this flatbread is a fantastic choice for your summer menu:
Nutrient-Packed Kale: Kale, often dubbed a superfood, is rich in vitamins A, C, and K, along with essential minerals like calcium and potassium. It's also a great source of fiber and antioxidants, which can help boost your immune system and promote overall health.
Asparagus for Digestion: Asparagus not only adds a delightful crunch to your flatbread but also provides dietary fiber that aids in digestion. It's low in calories and offers vitamins such as A, C, and K, along with folate and iron.
Tomatoes Bursting with Flavor and Lycopene: Cherry tomatoes bring a burst of flavor to your flatbread and are packed with lycopene, an antioxidant known for its potential cancer-fighting properties. They're also a good source of vitamins C and A.
Whole-Wheat Naan for Sustained Energy: The whole-wheat naan serves as the hearty base for your flatbread. Whole grains provide complex carbohydrates that release energy slowly, helping you stay full and energized throughout your summer adventures.
Healthy Fats from Olive Oil: Olive oil is a key ingredient here, providing healthy monounsaturated fats that can have a positive impact on heart health. It also adds a delightful richness to the flatbread.
Cheese for Calcium: While the flatbread is relatively light on cheese, the mozzarella and parmesan contribute a dose of calcium and protein, making this meal satisfying and nutritious.
Fresh Basil for Flavor and Nutrients: The addition of fresh basil not only enhances the flavor but also provides vitamins and minerals. Basil is known for its anti-inflammatory properties and can add a delightful aroma to your dish.
By incorporating these ingredients into your summertime flatbread, you're not only treating your taste buds but also nourishing your body with a variety of essential nutrients. It's a wholesome and satisfying choice for a post-finals celebration or a casual summer evening meal.
Thanks for Spiritea
I'm Shanna, creator of Spiritea Drinks. I'm all about teaching people to grow their own food, tea, cook what they harvest, and eat with the seasons.