Need some feel-good food post-St. Patrick's Day boozing? This'll do the trick, but don't let the green fool you; nothing tastes "green" about this.
Amid midterms and a bout of illness, I intended to share this on March 17th for St. Patrick's Day, but life got in the way, and the weekend passed in a flash! I adore the smoothie from Tone It Up's 5-Day Detox, and it's now a regular part of my weekly routine.
I'd never have thought that adding a piece of the peeled ginger root would blend as well as it does AND add such spicy flavour. If I don't have coconut water, I add almond milk, which is a little creamier.
Trust me: this Cleansing Ginger Smoothie is one you want to sip repeatedly.
Ingredients (serves 1)
1/2" piece ginger root, peeled

Generous handful of baby spinach (or torn kale without stems)

1/2 frozen banana

1/3 c frozen mango

2 T vanilla protein powder like LivWell (optional) *

1 c coconut water (or swap for unsweetened almond milk)

Ice
* Please Note: I have received products from LivWell, but I only post recipes with things I have made and loved. Sharing is caring, right? Use the code EDSR10 for 10% off.
How to make Cleansing Ginger Smoothie
Toss everything in a blender and blend well. Add ice or more liquid as needed. Blender well until spinach and ginger are well incorporated.
Pour into your favourite glass. Top with coconut flakes and ground ginger.
Grab a straw and enjoy!
Adapted from Tone It Up's 5-Day Detox Plan.
Nutrition for 1 smoothie using coconut water and protein powder.
200 calories  •  1.6 g fat (7%)  •  36.3 g carbs (69%)  •  12.4 g protein (24%)  •  3 g fiber  •  24 g sugar
* These are estimates based off specific products I used and how I entered ingredients in a fitness tracker. This is completely subjective and used to give a rough nutritional estimate.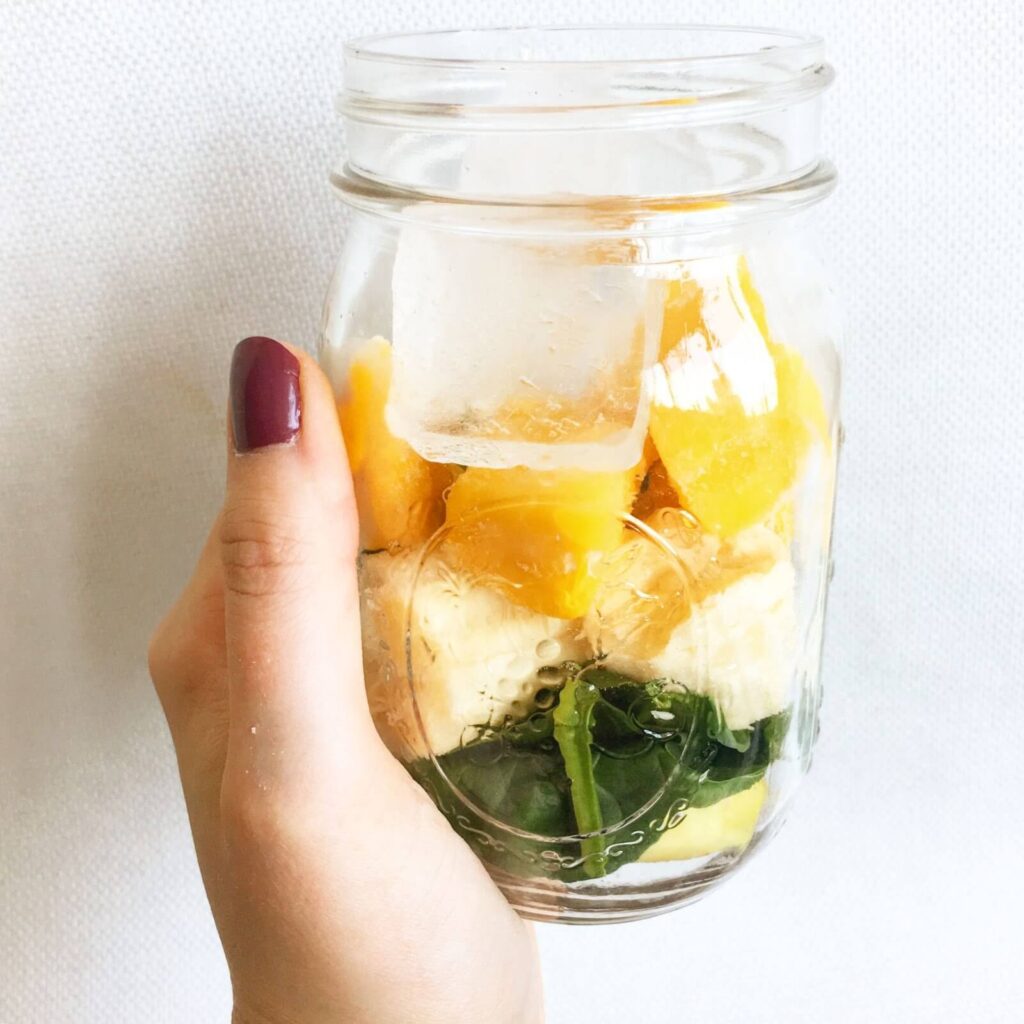 I'm Shanna, from spiriteadrinks.com
Read More:
I'm Shanna, creator of Spiritea Drinks. I'm all about teaching people to grow their own food, tea, cook what they harvest, and eat with the seasons.