Happy New Year! After a hectic semester and a hiatus from blogging, I'd love to bring you this cleansing Ginger, Tofu, & Shiitake Soup. This reminds me of a milder version of pho and hot and sour soup. It's light, refreshing, and just what I needed after the holidays, filled with Christmas cookies and lots of spirits.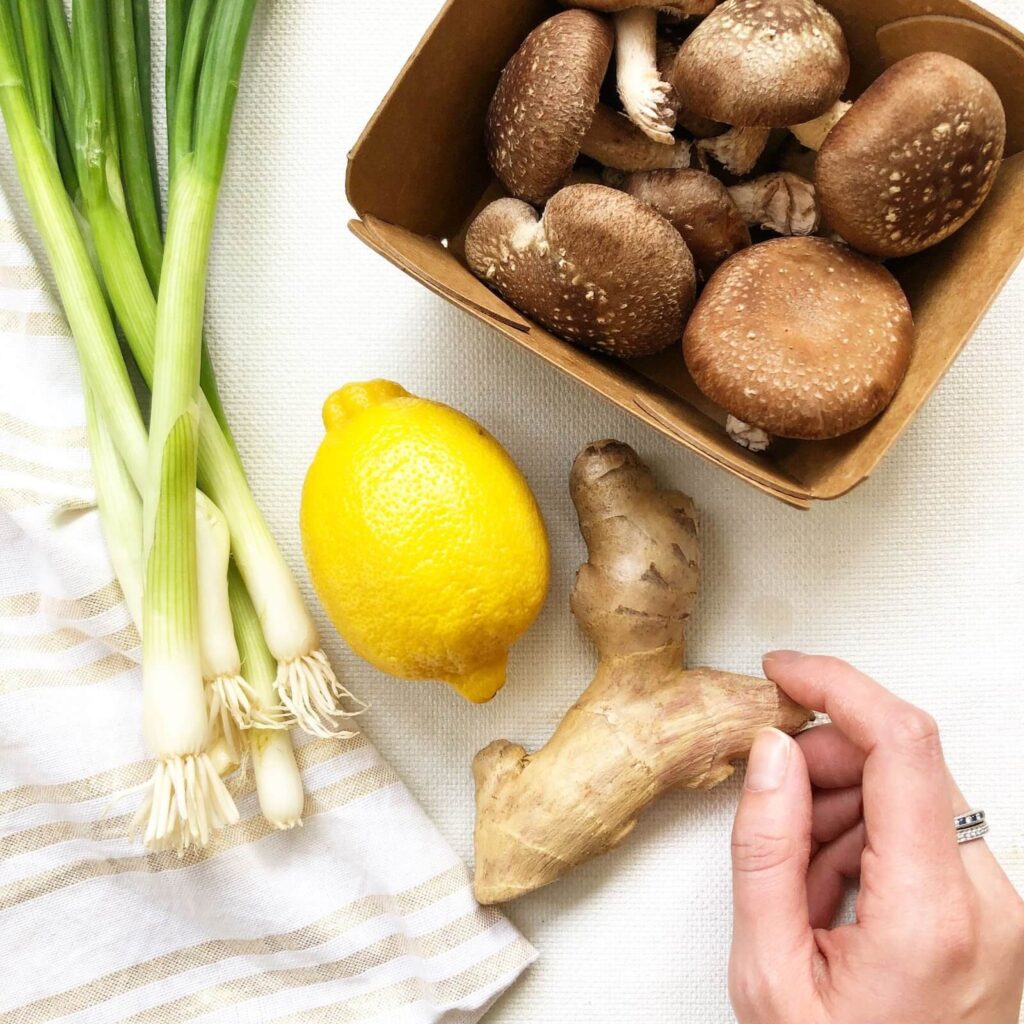 Ingredients
For the Broth
8 c water

2″ piece ginger, peeled and thickly sliced

5 scallions, chopped into 2-3″ pieces

2 carrots, peeled and thickly sliced

Shiitake mushroom stems (reserve the caps for the soup — see below)

1 lemon, peeled (see below)

1/2 t minced garlic

1/4 t turmeric

4-5 whole black peppercorns (optional for some heat)

2 t miso

1 t reduced sodium soy sauce (optional)

1 T coconut aminos (optional)
For the Soup
1 c shredded carrots

3-4 heads of boy choy, sliced

4 oz. shiitake mushroom caps, scrubbed, stems removed, and thinly sliced

3 scallions, white parts sliced on the diagonal

4 oz. brown rice noodles, uncooked

14 oz. firm tofu, cubed into 1/4″ pieces

Cilantro, chopped
How to make Cleansing Ginger Soup
For the Broth
Combine water, ginger, scallions, carrots, and shiitake stems in a large soup pot.

Using a vegetable peeler, carefully apply light pressure to peel the lemon so you're only removing the peel, and there's no white pith (that's what makes it bitter!). Continue removing the peel until the entire lemon is peeled. Add peels to the broth.

Stir in garlic, turmeric, peppercorns (optional) and miso.

Bring broth to a boil, reduce to a simmer and cover for 1 hr.

Skim the vegetables and discard them.

Add soy sauce and/or coconut aminos to taste (optional).
For the Soup
Once the broth is ready, stir in reserved shiitake mushrooms and sliced boy choy. Cover soup and continue to simmer for about 5 min.

Mix in tofu and uncooked noodles and again, cover and simmer for an additional 3 min. Remove soup from heat when noodles are just al dente.

Divide noodles to serve with about 2 c of broth, tofu, and veggies.

Top with chopped cilantro and extra sliced scallions. 

Serve hot and enjoy!
Nutrition for 1 of 5 servings.
205 calories  •  4.6. g fat (20%)  •  30.6 g carbs (59%)  •  11.1 g protein (21%)  •  3.7 g fibre •  3.8 g sugar  •  272.4 mg sodium
I'm Shanna, from spiriteadrinks.com
Read More:
I'm Shanna, creator of Spiritea Drinks. I'm all about teaching people to grow their own food, tea, cook what they harvest, and eat with the seasons.