This is my new favorite tea. But really. It's easy to make and bursting with spice. I've been making a variation of this tea since the New Year, and I think I finally perfected the recipe in the last few weeks. I've been sipping on cups of tea as is, with some almond milk for a latte-like treat or, in addition, my plain, black coffee, a little coconut creamer in the mornings for a dash of flavour and depth (add 1-3 teaspoons!). Ready in 15 minutes, you'll be so excited to sip on some homemade Spicy Ginger Tea.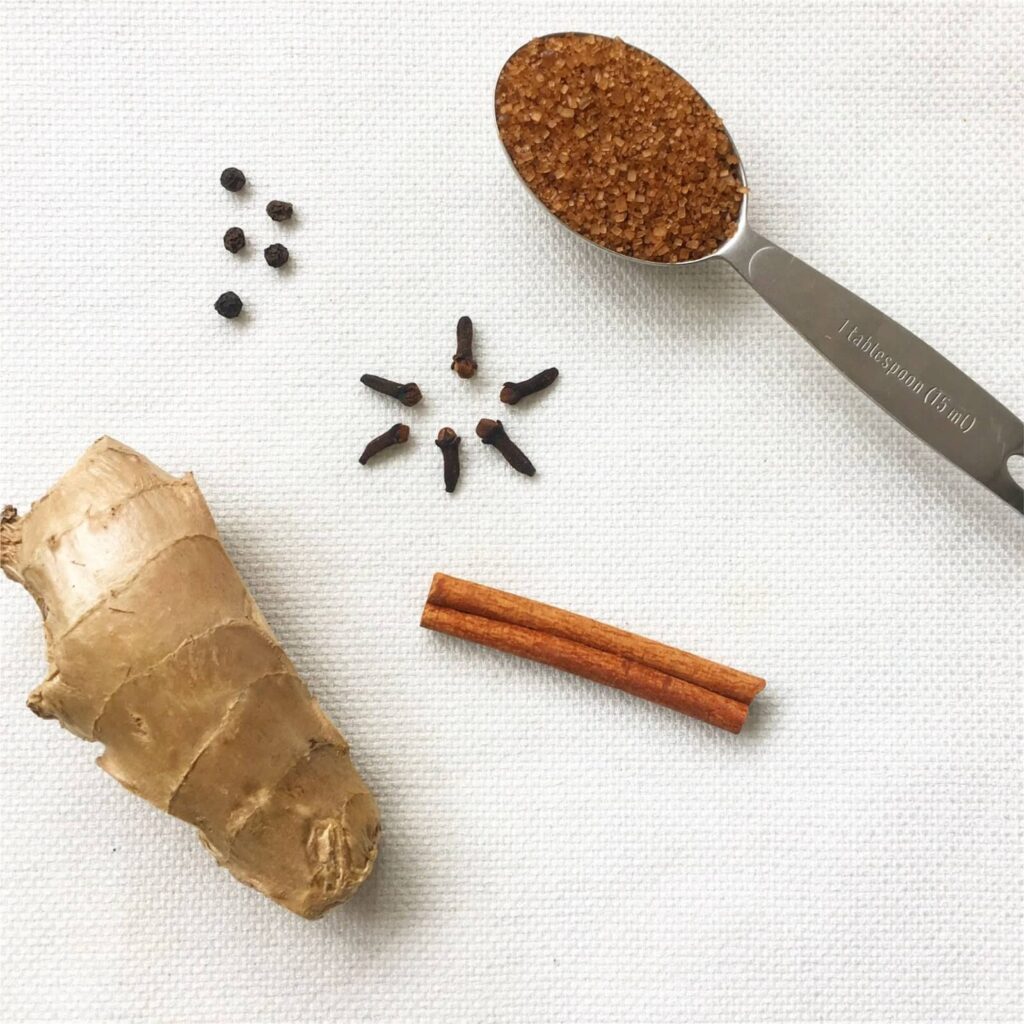 Ingredients (makes 8 c; serves 6-8).
8 c water

1 cinnamon stick

3″ ginger root, skin on and sliced

4-6 whole peppercorns

6 whole cloves

Dash cayenne pepper (optional)

Pinch ground turmeric

1 T turbinado sugar (optional, but it cuts the spice in just the right way)
Directions homemade Spicy Ginger Tea
Combine all ingredients in a large saucepan or pot. If you want a spicier take, add 6 peppercorns and/or and cayenne.
Bring to a boil.

Once boiling, reduce to a simmer and continue simmering 10-15 min. Remove from heat and let cool.

Carefully strain the liquid (optional, but recommended), saving the ginger and cinnamon stick for future use — see notes.
To serve:
Tea: 1 to 1½ c, hot as is; you can add hot water to cut the "spiciness" of the tea
Latte: combine 1/4 to 1/3 c almond milk or milk of choice and 2/3 c to 3/4 c of tea in a mason jar or sealable jar. Shake vigorously until a foam forms. Once milk is frothed and foamy, transfer to mug and microwave to heat.
Store tea in the fridge for up to 7 days in a sealed container.
Sip and enjoy!
Notes: Keep ginger root and cinnamon sticks in the freezer for future use. When making a new batch, simply use frozen ginger root and cinnamon stick along with 4 cups of water, 3 cloves, 2-3 peppercorns, 1-2 teaspoons of sugar, a pinch of turmeric, and a dash of cayenne. Follow the previous instructions to match the original batch's strength.
Nutrition for ENTIRE BATCH, i.e. 8 c of tea made with 1 T brown sugar.
70 calories  •  0 g fat (0%)  •  16.8 g carbs (100%)  •  0 g protein (0%)  •  0 g fiber  •  12 g sugar
* These are estimates based off specific products I used and how I entered ingredients in a fitness tracker. This is completely subjective and used to give a rough nutritional estimate.
I'm Shanna, from spiriteadrinks.com
Read More:
I'm Shanna, creator of Spiritea Drinks. I'm all about teaching people to grow their own food, tea, cook what they harvest, and eat with the seasons.