I'm sure you've had the infamous holiday drinks from Starbucks — they're all decadently sweet, rich and bursting with a syrupy flavor. Maybe it's just me, but I think it's a tad too sweet and a bit too rich, even though I love how they capture the delicious holiday flavors.
Of course, I found a recipe on Pinterest for a copycat Gingerbread Latte, but the recipes called for a simple syrup that required not one, but TWO cups of sugar! Not only that, but then you added 1/4 to 1/2 c of that simple syrup just to your one cup of coffee. Here's a lightened-up version of the Gingerbread Latte. I made this two ways:
1). combined skim milk with unsweetened vanilla almond milk; and
2). just skim milk, but you can use whatever milk you enjoy the most.
Like the Almond Milk Pumpkin Spice Latte, the spices don't readily blend; that's why I added only 1/4 t of the gingerbread spice mix, but you can always add more as you'd like for a more robust spice profile.
Adding ground cloves to cinnamon and ginger gives this drink an authentic taste. To make the perfect latte, froth the milk mixture before serving. This Copycat Gingerbread Latte has a bolder coffee flavor for a less sweet holiday treat. Treat yourself this Sunday with a sip of this perfect Copycat Gingerbread Latte.
Ingredients (serves 1)
1 shot of espresso, about 1 oz. (or about 3 T strongly brewed coffee)

1 c unsweetened vanilla almond milk or milk of choice *

1 t molasses

1/2 t vanilla extract

1/4 t of gingerbread spice mix:

1/2 t cinnamon

1/4 t ginger

1/4 t ground cloves

1 t agave nectar or sweetener of choice to taste (optional)
Cinnamon sugar for topping (optional)
* NOTE: I've tried just almond milk, skim milk or a mixture of both for a healthier take. For a richer or sweeter flavour, use sweetened almond milk, a combination of fat-free half & half with skim milk, or milk of your choice.
Directions
Brew one shot of espresso. You can also use about 3 T of strongly brewed coffee. Stir in agave nectar or sweetener of your choice.
Combine spices to make the gingerbread spice mixture and mix together.
Blend milk, molasses, vanilla, and 1/4 t gingerbread spice mix in a blender or Magic Bullet. Mix the ginger milk mixture well until slightly frothy (see last picture below). Then, heat the milk mixture on the stovetop or in the microwave.
Pour the hot milk over the brewed espresso shot.
Top with cinnamon sugar (optional), drizzle with molasses, or whipped cream of choice (both optional — not shown).
Serve immediately and enjoy!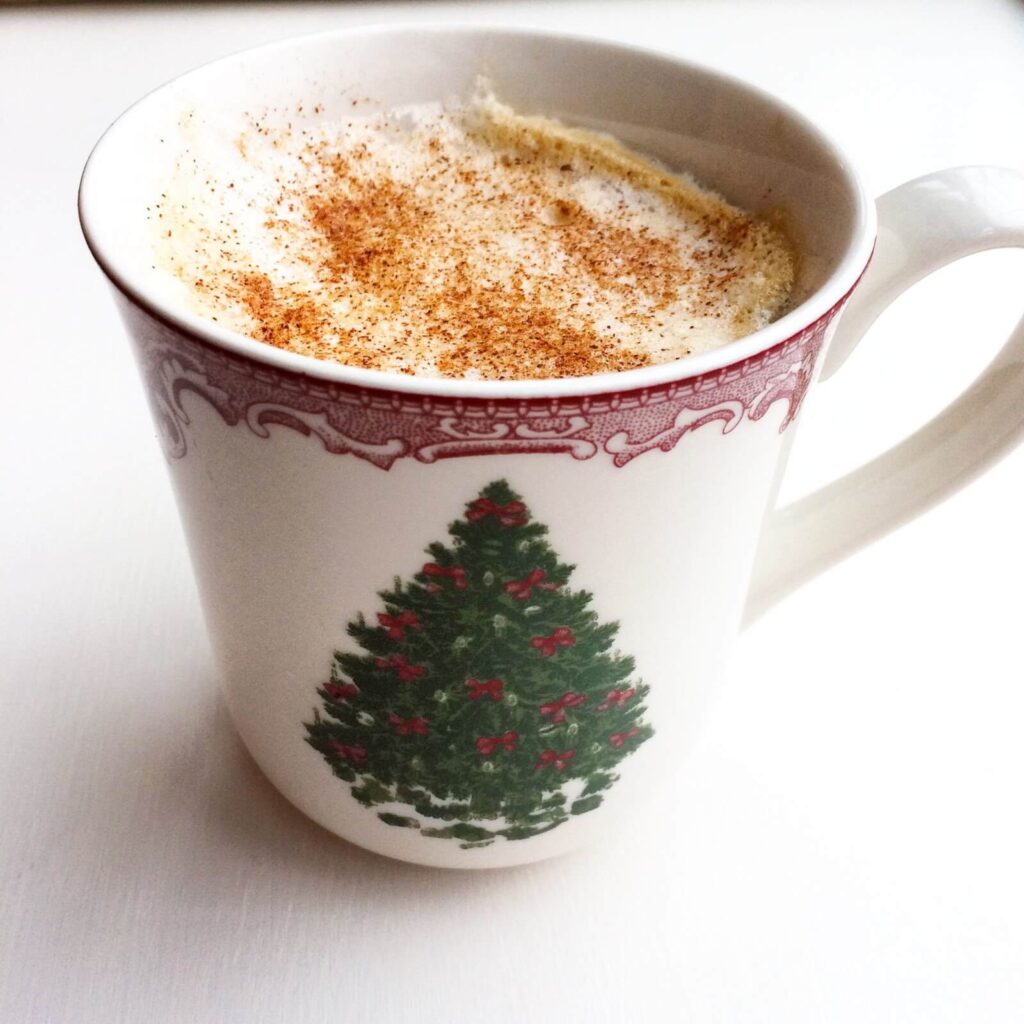 I'm Shanna, from spiriteadrinks.com
Read More:
I'm Shanna, creator of Spiritea Drinks. I'm all about teaching people to grow their own food, tea, cook what they harvest, and eat with the seasons.